NEWSLETTER #28 - December 6, 2003

Shop at Ghostvillage.com | Support Ghostvillage.com | Ghost Chat | Supernatural Auction

Be sure to forward this on to your friends who are interested in the supernatural!
---
You are receiving this email because you or a friend signed you up at http://www.ghostvillage.com. If you would like to be removed from this mailing list, please see the instructions at the bottom.
View this newsletter online at: http://www.ghostvillage.com/newsletters/Dec06_03.htm
---
Dear Ghostvillagers,

We're having our first Nor'easter of the season here at the Ghostvillage.com world headquarters in Bellingham, Massachusetts today. For you Ghostvillagers unfamiliar with a Nor'easter, it means snow... and lots of it.

Old Man Winter is putting a big stake in the ground right now, reminding us that he will be in charge for the next few months, so get used to it.

If the snow isn't enough to remind us December is here, the sparkling lights, holiday music, TV programs, and movies will surely do the trick. But let's not forget that winter is also prime time for ghost stories! Telling ghost stories around a winter hearth has been a tradition for centuries. Don't forget to read a few good ghost stories soon!

This is the last newsletter of 2003 for Ghostvillage.com. It's been an amazing year of growth and new content, and 2004 is shaping up to be even bigger! We will have some very big announcements in the coming months, so watch for them.

Whether you're celebrating Yule, Chanukah, Christmas, or any other holidays this month, I wish you all a happy and healthy season.

Supernaturally yours,



Jeff Belanger
info@ghostvillage.com
Mayor of Ghostvillage.com

Congratulations to Liz Geigel of New York, New York! Liz was last month's winner of a free year's subscription to Mysteries Magazine.



The "winner" icon on the left has been hidden somewhere on Ghostvillage.com. If you're the first to find it, email us with the page it's on, and you win this month's prize. The graphic could be on any page on the Web site -- maybe at the top of the page, maybe the bottom, etc. Once we have a winner, we will announce it on our home page as soon as possible. By clicking on the "winner" icon within Ghostvillage.com, it should launch your email with the appropriate subject. If not, email info@ghostvillage.com, and in the subject or body, put the URL of the page you found the icon on. Good luck! (Only Ghostvillagers who have not won a prize from us in the last year are eligible.)



This month's prize: A Tamara Thorne novel gift pack! You can win autographed copies of The Forgotten and Eternity!

Didn't win? Want to buy a book? Click on the graphic above.

The Supernatural Calendar is the place where thousands will learn about your events of interest to the supernatural world. The service is only available to registered members of the message boards, and it's free! Here's some of what is going on in December:

Friday, December 19: Holiday: Yule

Saturday, December 20: Holiday: Chanukah Begins

Thursday, December 25: Holiday: Christmas Day





Who's Who in the Town Square?

Get to know some of your fellow Ghostvillagers. This month, Ghostvillage.com's own message board administrator speaks up!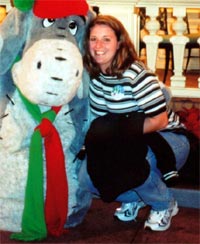 >>mrsspookypants<<

What is your name?
Darci Faiello

How old are you?
29

Where do you live?
Pittsburgh, Pennsylvania

Have you ever had an experience with a ghost? If so, what happened?
Iíve had several experiences through the years. Iíve seen my grandparents as well as some other odd stuff. But the one that sticks out in my mind happened only a few months ago. I was on an investigation with the Pittsburgh Ghost Hunters Association and we were in the basement of a local insane asylum. I felt drawn to the one hallway. There wasnít anything special about it; it was just a set of doors. I walked over and I could see a man standing about ĺ of the way down the hall. He was just standing there, dressed in a blue maintenance uniform, looking at us. I kind of rubbed my eyes, not believing what I was seeing, just chalked it up to my overactive imagination. Another team member walked over and asked me if I saw the man. She then completely described the man that I was seeing. She was able to get a little more detail, but it was odd. He then just followed us through the rest of the building, I guess to make sure the building would be okay. Unfortunately, he didnít show up on film.

Why do you think so many people have ghostly encounters?
Iím not quite sure why so many people have encounters. Heck, I am not even sure why I have them.

Every Halloween you help organize and run one of Pittsburgh's most popular haunted houses. What got you started in that?
It was a psychology project -- well, kind of. I had finished college and I was quite bored with everyday life. I wanted something to do that would benefit others as well as myself. I opened up a local paper and saw an ad for volunteers for the haunted house, and I was hooked. I had been terrified of haunted houses when I was a kid, so I thought it would be neat to see if I could overcome that fear. I guess I did. Now I walk through a haunted house and stop to appreciate the hard work and effort that has gone into it.

If you could visit and communicate with any ghost from history, who would it be, and why?
If I could visit and communicate with any ghost from history, it would be my grandpap. He died long before I was born and I know nothing about him. I would like to meet him and ask a ton of questions about where he came from, what his side of the family was like, and anything else I could think of. I also think it would be cool for him to meet me as well, as he never had a chance to meet his grandchildren.

Ghostvillage.com's book reviewer, Lee Prosser, has brought us new book reviews for November. Have you read one of these books? Want to add your own review? Click >>here<<.

November's Book Reviews:

Hawaiian Magic & Spirituality by Scott Cunningham


Pagans and the Law: Understand Your Rights by Dana D. Eilers
Time Travel: A New Perspective by J. H. Brennan





Legends of the Supernatural

Jeff Belanger is currently working on a very big project. It's about ghosts, it's about history, and you will definitely find out more in the coming months. Because of this huge undertaking, the "Legends of the Supernatural" column is going to come out once per month from now through April. After April, the column will go back to bi-weekly. Watch this newsletter and the Web site for more information on this project. Since our last newsletter, the following columns have run:

Dybbuk - Spiritual Possession and Jewish Folklore - an interview with rabbi and author Gershon Winkler - November 29, 2003

Inside the Psychic Mind of James Van Praagh - an interview with renowned psychic and medium, James Van Praagh - November 15, 2003


If you know of a publication that may be interested in running this column, drop me a line for pricing information. >>email<<

We receive personal encounters from all over the world. Many are scary, some are touching, but they are always profound. If you would like to share your own experience, please click >>here<<. In November, we added the following new encounters:

Little Girl, Long, Red Hair - London, England

Haunted High School Auditorium Apparition - Hibbing, Minnesota

Poltergeists and Shadows - Iceland
Shaking Beds and Psychic Visions - Chino, California
Circling Chinese Bride - Shandong, China
A Name Called and a Bloody Nose - Princess Anne, Maryland
Unwanted Ghostly Roommates - Naples, Florida
Haunted House in Rochester - Rochester, New York



Ghostly Meow - Pittsburgh, Pennsylvania

The Breath of the Soul - Taguig, Metro Manila, Philippines


Our new "Resources" section is a place for editorials, research articles, open letters to our readers, press releases, and other content of interest to Ghostvillagers. If you have a topic on your mind, agree or disagree with something you read recently, we want to hear from you! For guidelines, click here.

New articles added since our last newsletter:
What to Look For in a Paranormal Group by Andrew D. Laird
November 24, 2003

Reincarnation: Thoughts, Aspects, and Musings by Lee Prosser
November 17, 2003


Our >>Supernatural Auction<< has a lot of ghost hunting equipment, books, and videos on it right now. Check out these new and used products today! If you have a product or service to sell, remember, basic listings are still free -- you have no risk in trying to sell your items on our auction.

New members receive $1.00 credited to their account -- this credit can be used for the extras such as bold listings. This supernatural marketplace is a great way to connect with people who are interested in your products and services.

Since our last newsletter, the following people have joined us in the Town Square! Please welcome:
swedy, karma022172, locust_girl, maromas, Natalie2003, anfez, ronin, BobDylaniscool, Ghilliecoise, bogwenbo, Acacia, dkay40, Ghostnerd, Sarah_Louise, chinita, dragonryder, Babysafire66, katie0508, ClownFootPug, Vivid_Scarlet, jhhartsf, Paul_G, fate3, Brandon, Kanchati, skymama99, moonchester, JennaLaLune, ldysnowhawk1, executed_cutie, sketchkat00, qhustler69, nightvisit, Valeria, TRI-STAR, Mister_Ghost, debt, ghost_luver, em, penscal, lucysblood, marine_cat_04, Indigo__Moon, Paradox, cgonzalez, limppimp, texmexvet73, rattie_lover, MANFY28, spacegirl3000, spazmatazz, HeiressOfGondor, mastermind73, lblyrics, CBW, MasonAngels, tammymay, DarknessFalls, Jacqui, Laces6, Sherry, BethinGrandRapids, mystical_light_mia, kennedy_cougar, wkdboy, mflck, carrotcruncher, Venus, SpectoralHigh, wowie, Paullex, TubGoatGirl, Mihr, Turtle, Turtle09, bandit, mr_smith, angelfrancine, celtic_phantom, tregan26, Silverflame, Ghost_Tracer, jdfearl, Donnalee898, pbodle, gjross74, auburnbrat, Lisa_lou, PeaksMillGirl, unnusmarty, truplayaz2003, StrawberryFields26, Sheena16, Suicidal_Birth, blueluna02, Shan, Shipsanchor, that_miss_bitch, mahesh, julie, dragon9, sehedjet senuwi, MaxHunter, demonfunk, keanzo2003, alex0016, bonnaroobas, SpikerWarrior, Iwonder, Shayway, Tisha, tybb, RainGoddess, hateunknown, snow_flake, snow_flake1684, bigcarol, toofreaky, angelmaybab, RobbieT, smellyrobbiet, speedy, devilgirl, SpiritGuide, Makaela, WildLPGirl, bearcrazyeab, TheBluebelly, reeman, spookd, jenny_bean, krummbumm, nicola_jones, Celticelle, Oberon, shackler, sladelaws20, taidje31103, word_life, Enlightened024, missfoxy, lacT, Moonbeam, GhostGirl20, FLJeepTJ, RoseOak, six12grrl, mereminx, Ronin_tmz, chester_bullet, puresugar, Amy, rich_J, thissucks, Yawn, ashtereth, shewolf, amalthia_stormsong, shinyzombiegirl, MOOMOOCOW, cassitygirl, tracyp, Jason_McKinley, robert3081, frank_biggs, djz2546, rottenbody, Tomteta, katatonik, sammydacat, Genkai, sandman1975, and mcfrog.



Ghostvillage.com in the News

This past month, Jeff Belanger was interviewed by the Long Island Ghost Hunters. Thanks to the LIGH's founder, Liz Geigel, for the opportunity.

Be sure to check out the new issue (issue 16) of Troy Taylor's Ghost of the Prairie magazine. There is an article in that issue on Old Hag Syndrome by Jeff Belanger.

Hibbing, Minnesota's The Daily Tribune interviewed Ghostvillage.com's own Brian Leffler and Rhonda Nix regarding their organization, the Northern Minnesota Paranormal Investigators. Click here to read the article.

Please click here for media inquiries.



Ghostvillage.com Quick Stats:

19,156 Messages in the Town Square Message Boards
2,850 Members in the Town Square
91 "Encounters" listed in 2003 so far
349 Paranormal Web sites in the Ghost Search directory
5,974 Subscribers to this newsletter
1,642,103 total Web site "hits" for Ghostvillage.com in November

Ghostvillage.com is growing at an incredible rate. Every day the site grows as more people come to share their experiences, thoughts, and research. Please help us continue to grow by donating, shopping, using our new auction, or by buying a Ghostvillage.com t-shirt. Every little bit helps run our servers and helps the site get bigger and better!

Please email us anytime at info@ghostvillage.com. Your comments, questions, and feedback are always welcomed.