GHOSTVILLAGE.COM NEWSLETTER #52 - December 16, 2005

The World's Most Haunted Places | Communicating With the Dead | The Encyclopedia of Haunted Places | The Nightmare Encyclopedia

Be sure to forward this on to your friends who are interested in the supernatural!

Click here to interpret your darkest dreams! http://www.amazon.com/exec/obidos/ASIN/1564147622/careerpress
---
You are receiving this email because you or a friend signed you up at http://www.ghostvillage.com. If you would like to be removed from this mailing list, please see the instructions at the bottom.
View this newsletter online at: http://www.ghostvillage.com/newsletters/Dec16_05.htm
---
Dear Ghostvillagers,

There is a lot of talk in the news these days about what to call this time of year. There's a strong push by certain parts of the Christian community to have everyone call this season "Christmas," but it's also Chanukah, Kwanzaa, and the Winter Solstice (Yule). Somewhere along the way, people began saying "Happy Holidays" as a simple greeting that could encompass everyone. But lately there's been a backlash by some who accuse those of wishing "happy holidays" as being overly politically correct. It's enough to make one throw all of the holidays out the window and only celebrate "Festivus" á la Frank Costanza on the Seinfeld television series. Here's Frank Costanza telling Cosmo Kramer about the origins of Festivus from episode 166 of Seinfeld:

Frank Costanza: Many Christmases ago, I went to buy a doll for my son. I reached for the last one they had, but so did another man. As I rained blows upon him, I realized there had to be another way.
Cosmo Kramer: What happened to the doll?
Frank Costanza: It was destroyed. But out of that a new holiday was born... a Festivus for the rest of us!
Cosmo Kramer: That must've been some kind of doll.
Frank Costanza: She was.

For those of you who may want to adopt this new holiday, Festivus is celebrated on December 23rd. An aluminum pole is used instead of a Christmas tree and those who participate use the holiday as an opportunity to air their grievances for one another. The day ends with "feats of strength" whereby those involved wrestle the head of the household to the floor.

I'm an inclusive type of person. If there's a way to get more people on the same page, I'm all for it. If I know for certain someone is a Christian, I wish them Merry Christmas, if I know someone is a Witch, I say, "Happy Yule," and if someone if Jewish, "I say Happy Chanukah." If I'm not certain, I say, "Happy Holidays" because I see no need in potentially alienating someone. This is a great time of year no matter what your belief system is, and it's a spiritual time of year. It's a time for ghost stories, it's a time for sharing and caring, and it's a time to think about new beginnings with the coming new year.

2005 has been amazing here at Ghostvillage. It's been a year of growth, of thousands of new faces, and the sharing of a ton of great information. 2006 will only be bigger and better, I promise that. This great thing called Ghostvillage that we're all a part of is running on its own inertia now, and you can look forward to seeing interviews with more big names, great articles and insights, and even more people who take up residence in our village.

From my family to yours, I wish you all a merry Christmas, a blessed Chanukah, a happy Kwanzaa, a cool Yule, and a stress-relieving Festivus. I'll see you in 2006!

Supernaturally yours,

Jeff Belanger
info@ghostvillage.com
Mayor of Ghostvillage.com




Congratulations to Jessica Becker of Chicago, Illinois, who was last month's winner of an autographed copy of Jeff Belanger's new book, The Nightmare Encyclopedia: Your Darkest Dreams Interpreted, a Ghostvillage.com window sticker, and a Ghostvillage.com t-shirt!

This month, we're doing the contest again, but we ask that you first click this link: http://www.ghostvillage.com/index.shtml#winner. If it says, "The search is on" then we don't have a winner yet and go ahead and send in your answer. If you see today's date and "We have a winner!" that means you weren't the first to email us. Sorry, please try again next month.

On to this month's question: This question can be answered by reading a page on Ghostvillage.com. The first person to reply to this email with the correct answer will win this month's prize.

What was the first music album Dennis William Hauck ever bought?

Once we have a winner, we will announce it on our home page as soon as possible. Good luck! (Only Ghostvillagers who have not won a prize from us in the last year are eligible.)



This month's prize: We're giving away an autographed copy of Jeff Belanger's new book, The Nightmare Encyclopedia: Your Darkest Dreams Interpreted, a Ghostvillage.com window sticker, and a Ghostvillage.com t-shirt!


Didn't win? Want to buy a copy? Click on the graphic.



The Supernatural Calendar is the place where thousands will learn about your events of interest to the supernatural world. The service is only available to registered members of the message boards, and it's free! We'd like your help filling our calendar in -- so add your events for thousands of Ghostvillagers to see. There are no events in our calendar for the next 60 days.




Who's Who in the Town Square?

Get to know some of your fellow Ghostvillagers.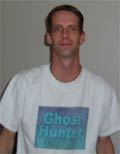 >>damckie<< - member since December 27, 2004

What is your name?
David Mackie

How old are you?
40

Where do you live?
Painesville, Ohio

What do you do for a living?
Machinist.

How did you get into ghost investigations?
Back in 1999 while living in a house in Chesterland, Ohio, we had a spirit living within our home. I was not into the paranormal at that time but for some reason I was not afraid of this spirit. We found out by a medium that it was a 12-year-old boy haunting our house. That is what got me pretty much started into the paranormal field.

What's the funniest thing that's happened to you on an investigation?
The funniest thing that ever happend to me was when Julie [juliet_keller] and myself were doing an investigation at our favorite cemetery. We use walkie-talkies (not anymore) when we decide to split up and go our own ways. I was standing next to a fresh grave, gathering EVP, and I started to walk away from the grave and Julie decided to ask me through the walkie-talkie if I was still there. Usually we chime- in before we speak. She didn't! I probably jumped 3 feet into the air and I believe I said a few things that made Julie laugh while jumping into the air. She got me good that night!

Finish this sentence: All I want for Christmas is______.
All I want for Christmas is to appear on an episode with TAPS and show them how it's done! LOL


Ghostvillage.com's book reviewer, Lee Prosser, has brought us several new book reviews since our last newsletter.


This past month's Library additions:

Sorcerer's Stone: A Beginner's Guide to Alchemy by Dennis William Hauck [AUTHOR INTERVIEW]

Sacred Mushroom of Visions edited by Ralph Metzner

Ghosthunting Illinois by John B. Kachuba

Uriel by Richard Webster

The Fall Lineup from Ghost House Books

The Encyclopedia of Vampires, Werewolves, and Other Monsters AND The Encyclopedia of Ghosts and Spirits by Rosemary Ellen Guiley

Llewellyn Almanacs published by Llewellyn Publications


We receive personal encounters from all over the world. Many are scary, some are touching, but they are always profound. If you would like to share your own experience, please click >>here<<. Since our last newsletter, we added the following new encounters:

The Faucet Turned Itself On - West Virginia

The Dark Phantom at Paris Les Halles - Paris, France

The Haunted Family Home - Exeter, United Kingdom

Mysterious Footprints - Toronto, Ontario, Canada

Precognitive Dream About my Sister's Passing - Orlando, Florida

Remembering G.G. - Long Beach, California

1700s Ghost Lady - Dublin, Ohio

Dad's Message - El Dorado, Arkansas

The Graveyard Woman - Indianapolis, Indiana

Apparition at Senator Bard's Mansion - Ventura, California [PIC]

The Vanishing Soldier - Posovina Corridor, Bosnia


This is the place to find press releases and news items on paranormal happenings around the world. If you have a news item you'd like to submit, please see our guidelines.

Paranormal Phenomena Research & Investigation and the Centre for Parapsychological Studies in Canada Present the 2006 Canadian Paranormal Conference - December 7, 2005 [CONFERENCE WATCH]

ABC Television and Wife Swap are Seeking Families Involved in the Paranormal World - November 29, 2005

The Nightmare Encyclopedia Offers Insight into Our Darkest Dreams - November 17, 2005


Our "Features" section is a place for editorials, research articles, open letters to our readers, and other content of interest to Ghostvillagers. If you have a topic on your mind, agree or disagree with something you read recently, we want to hear from you! For guidelines, click here.

New features added since our last newsletter:

Whose Scrooge? - by Lee Prosser - December 15, 2005 [COLUMN]

Spirit Dor by John Richards - December 9, 2005

The Witchcraft Connection - The Ghostly Carpenter - by Lord Foxglove - December 6, 2005 [COLUMN]

Nature is a Haunted House - by Lee Prosser - December 1, 2005 [COLUMN]

Hollywood Ghost Hunt Weekend by Richard Senate - November 28, 2005




Jeff Belanger's Upcoming Events

This is the place to find out where author and Ghostvillage.com founder Jeff Belanger will be speaking on the subject of the supernatural. If you're interested in booking Jeff for a conference or other event, please email us for more information.

Events Scheduled:

New Jersey Ghost Conference 2006 - April 22, 2006

2006 New England Ghost Conference - October 13-15, 2006


There's only one place where you can tune in to the leading paranormal radio programs available online, and that's right here on Ghostvillage.com's Paranormal Radio: http://www.ghostvillage.com/resources/ghostradio.shtml

Tune in to: A.P.S.R. Talk Radio, Exploring Unexplained Phenomena, The Ghost Chronicles, Ghostly Talk Radio, The Graveyard Shift, Magick Mind Radio, Nightwatch, Weird Stuff Happens, and The 'X' Zone Radio Show.




Hot Threads in the Community

If you have registered for our message boards but haven't validated your account yet, it's simple to do! Look for the email that was automatically sent to you when you registered and click on the account activation link in the email (note: some spam filters may block this email, so you'll need to check your spam folder if the validation email didn't immediately come through). There are always great discussions going on in our huge message board community. We hope you'll get involved. It's free to register if you're not already a member. Here are some of the hot topics this month:

Alistair Crowley
http://www.ghostvillage.com/ghostcommunity/index.php?showtopic=11233
The man and his legend.

What to Look For in an Investigator
http://www.ghostvillage.com/ghostcommunity/index.php?showtopic=1888
Guides and tips to finding the right group.

A Very Active Video from Moon Lake
http://www.ghostvillage.com/ghostcommunity/index.php?showtopic=11436
This video has everything from orbs to blanked out frames from ghostly activity.

Morley Music Hall
http://www.ghostvillage.com/ghostcommunity/index.php?showtopic=11566
This EVP was heard by the investigators themselves.

What the Heck is This Thing?
http://www.ghostvillage.com/ghostcommunity/index.php?showtopic=11582
This is a weird anomaly. Want to guess just what it is?

Dudleytown, Connecticut
http://www.ghostvillage.com/ghostcommunity/index.php?showtopic=8384
A place said to be haunted, and filled with tragic tales and a history of occupants going mad.

Will They Ever Communicate?
http://www.ghostvillage.com/ghostcommunity/index.php?showtopic=10066
Will orbs and spirits in my house ever communicate with me?

What is your Life Altering Experience?
http://www.ghostvillage.com/ghostcommunity/index.php?showtopic=11498
What has changed your life?

SNOW! Not as fun as it used to be!
http://www.ghostvillage.com/ghostcommunity/index.php?showtopic=11632
It's that time of year again for many villagers... snow time.

What's Your Pick for Spookiest Film?
http://www.ghostvillage.com/ghostcommunity/index.php?showtopic=2411
Have a favorite?

Your Past Lives
http://www.ghostvillage.com/ghostcommunity/index.php?showtopic=9271
Who were you?

Appocalypse Now! Share your visions!
http://www.ghostvillage.com/ghostcommunity/index.php?showtopic=11543
Is the end near?

Sensation vs. Perception
http://www.ghostvillage.com/ghostcommunity/index.php?showtopic=11533
Discussion on personal filters and paranormal experience.

A Charlie Brown Christmas Quiz
http://www.ghostvillage.com/ghostcommunity/index.php?showtopic=11616
See how well you know the classic cartoon.

Have a Christmas Recipe?
http://www.ghostvillage.com/ghostcommunity/index.php?showtopic=4912
Step up all you chefs.

Board of the Month -- Holiday Spirits!
http://www.ghostvillage.com/ghostcommunity...hp?showforum=27


In the last month, the following people have joined our ghostly community. Please welcome:

quewww, suzansullivan, ghostwatcher4892, RammsteinGhostGRL, diamondwillow, creepyct2, Aunt Bea, Mark1ready, shadowperson, miket60, jamesdoona, Garett Y., LovingDean, ranch501, badattuide66@yahoo.com, BERNESES, HRTMENDER2000, Amy702, qtip33, Vampire Research Society, gwarner, cassell, agent00shoe, kc5vkg, BlossomingDream, truprophet45, rickiespirit, SpookyGurl84, psy333che, Brian76, cac777chick, Libitina1972, Johnsru23, laserone, owen27, cloud7, The Waide, Angelundercover23, ilovecody, sifukurt, Heavenly_Child, Crkwolf, Helterskelter, iancole, VampireAzriel, debe1952, robinmon, play_girl, SchattenJager, LEXI, Tainted, sensitive3, terelangford, Alpha_Omega, tallyhoo, danamichelle, harra009, quenched_by_blood, zombi69, caela, kevcpratt, krupptwife, Chief Bojack, Tera_Moon, GregoryIrish1960, clemo, lookingforanswers, darkkat, mibbi, seanb1, chrystel, sowaldo1, Deanne, dave33, Faitiana, PerfectDrug, CTBIGDOG, goobygoober, locknester, Kae, teddy_bear_tears, kittierebekah, DaisiesMadness, eternal, rishidhar, newonetoo, Myst, SherBear, cvfd8330, Susan Haneline, spawnofdarkness, bellaoctober1, s7885kh, egon, pare_ann, scootzman, tttoms, LadyIrish2, xaeo, cruiser50, Fabby, MAD IAN, polishedgirl89, babaylan_bsdak, ballack13, terrs33, retta1973, missycaela, monstre, DarkAngel3X3, PPIA_Rodney, tunde, everthink, nightshadowing, st.michael, vicki8881, Tammy1024, lillyz, wyldechylde, Niki, DBghsthntr, rackk003, Sexy_Girl, squirrelgardens, brownbird, Cj Harty, Anarchy_Alternative, Vance, johnsmith1700, keapns, amber rose, 813, sissybaby59, Nosferatuscreams, Ryan-AE, lizard2005, KellyCorry, horibble, mrspsychic, geminichild70, archangels101, lordthorn, Laconic Lurker, heather cross, OklahomaSweetheart48, therube731, marcus_leader, rita61, Kellie, wilkins1633, Juicy Curly Fries, ranma, jtiana54, StarSensations, EmmieLou, ghostgirl888, James Mayle, hmwilkie1408, ariezjapez, grannyann2820, SlipknotWraith, foxmulder, Bim, MyFamiliar, steveECPIRT, chunlip, Ghost 1234, jessicawysocki, PrinceOfThieves, jo716, river21@sbcglobal.net, damienmccrea, frekoashvini, supernaturalbeing, lamfgirl, crazy_canuck, vincent torres, mystereigh1978, badcat, galina, Gregor8, ghostgyal, Clarisse, karlak218, Fellowwiccan14873, orionsbelt, xion_racer, Haunted Yorkshire, IMI, Trinity, kdd7173, leslie_dragonlvr, morrigan, DrClaw27, nanapati, guilford, angiessw, and dreamist.



Ghostvillage.com Quick Stats:

163,429 Messages in the Town Square Message Boards
9,544 Members in the Town Square
438 "Personal Encounters" published on Ghostvillage.com
408 Paranormal Web sites in the Ghost Links directory
17,805 Subscribers to this newsletter
4,201,854 total Web site "hits" for Ghostvillage.com in November


Ghostvillage.com is the Web's largest supernatural community, the central place where people come to share their experiences, thoughts, and research. Please help us continue to grow by buying a copy of The World's Most Haunted Places: From the Secret Files of Ghostvillage.com, Communicating With the Dead: Reach Beyond the Grave, The Encyclopedia of Haunted Places, shopping, or by buying a Ghostvillage.com t-shirt. Every little bit helps run our servers and helps the site get bigger and better! Please also click on our banner ads and support our advertisers -- when you do business with someone who advertises with Ghostvillage.com, let them know you saw their ad with us and thank them for the support.

Please email us anytime at info@ghostvillage.com. Your comments, questions, and feedback are always welcomed.


---
All material is © 2005 Ghostvillage.com
REMOVAL INSTRUCTIONS: To be removed from the mailing list, please go to www.ghostvillage.com/subscribe.shtml.