GHOSTVILLAGE.COM NEWSLETTER #88 - December 16, 2008

Buy Books by Jeff Belanger | Jeff Belanger's Official Web site | Visit UFOvillage.com | Visit us on MySpace | Paranormal for Kids | Meet the Staff

Be sure to forward this on to your friends who are interested in the supernatural!


Jeff Belanger's new book, Who's Haunting the White House? The President's Mansion and the Ghosts Who Live There is now available! For ages 9 and up, take a ghostly tour through America's most haunted and historic haunt! http://www.amazon.com/exec/obidos/ASIN/1402738226/ghostvillagecom
---
You are receiving this email because you or a friend signed you up at http://www.ghostvillage.com. If you would like to be removed from this mailing list, please see the instructions at the bottom.
View this newsletter online at: http://www.ghostvillage.com/newsletters/Dec16_08.htm
---
Dear Ghostvillagers,

How many people, songs, and holiday specials talk about the "spirit of the season?" We know there are haunted locations; buildings or land that have an essence to them, perhaps something residual imprinted there, or maybe it's just a spirit of the place. We know some people seem to draw in energies, spooks, or specters, but what about time periods? Many cultures have a day of the dead, Halloween certainly comes to mind, but what about other times of the year?

Around the holidays we often find ourselves searching our memories, remembering loved ones, those we lost in the previous year, and those who are still with us. Perhaps this emotional endeavor opens us up to tuning in to spiritual experiences. This month we're going to dive in to the spirits of the season. Those who are psychically inclined may have some 2009 predictions for us, and we'll talk about our own holiday memories and encounters. And speaking of psychic predictions, I'd like to welcome Ghostvillage.com's first psychic columnist, Tiffany Johnson. Each month she'll be penning "Your Psychic Life," and answering your questions. You can check out her introductory column here .

Since we're talking about the spirit of the season, I'd also like to introduce you to a new holiday song. It's called "My Christmas Tree is Haunted," by the Ghostvillage Memorial Choir -- an impromptu band slapped together to record goofy songs. You can hear this instant holiday classic on my personal blog here: http://www.jeffbelanger.com/blog/?p=81

2008 has been an amazing year for me, full of great projects, some wonderful conferences and events where I had the chance to meet so many of you, and 2009 is looking even bigger. Next year will mark the ten-year anniversary of Ghostvillage.com, we'll be adding tons of new content, new contributors, and new features. 2009 will be a stellar year for exploring the unexplained. I look forward to continuing the journey with you all.

No matter what your faith is, have a blessed and safe holiday season. I wish you all the best for 2009 -- see you on the other side!

Enjoy the rest of the newsletter below!

Supernaturally yours,

Jeff Belanger
Mayor of Ghostvillage.com
MySpace: www.myspace.com/ghostvillager


Congratulations to Rosemary Normal of Spring Hill, Florida, who was last month's winner of an autographed copy of Jeff Belanger's new book, Who's Haunting the White House?, a Ghostvillage.com window sticker, and a Ghostvillage.com t-shirt!

How to win: Entries will be accepted up until 5:00 PM (eastern time) today (November 17, 2008). At 5:00 PM, we will draw a winner at random from the correct entries that have been received. You no longer have to be the first, but you only have until 5:00 PM to get your answer in. If you click on this link: http://www.ghostvillage.com/index.shtml#winner, you see today's date, and "We have a winner!" that means the contest has ended. Sorry, please try again next month. To submit your entry, simply reply to this email with the correct answer.

On to this month's question: This question can be answered by reading a page on Ghostvillage.com. Remember, reply by 5:00 PM today to be eligible to win.

How many cats does Lee Prosser have, and what are their names?

At 5:00 PM, we will announce the winner on our home page. Good luck! (Only Ghostvillagers who have not won a prize from us in the last year are eligible.)



This month's prize: We're giving away an autographed copy of Lee Prosser's new book, Missouri Hauntings, a Ghostvillage.com window sticker, and a Ghostvillage.com t-shirt!


Didn't win? Want to buy a copy? Click on the graphic.





It Takes a Village - Charity of the Month

The National Alliance to End Homelessness is a nonpartisan organization committed to preventing and putting an end to homelessness in the United States.

According to their most recent estimate, roughly 744,000 people are homeless on any given night. Homelessness can be caused by any number of factors, including: poverty and a lack of affordable housing; divorce; domestic violence; chronic health problems; mental illness; drug and alcohol addiction; and natural disasters.

The National Alliance to End Homelessness works together with public, private, and nonprofit sectors to build state and local capacity, leading to better programs and policies that help communities reach their goal of ending homelessness. Hundreds of communities are devising or have laid plans to end homelessness within ten years. And the movement is growing across the nation.

To donate money online, click here

Other ways to help the Alliance:

1. Register your wedding. You can support the National Alliance to End Homelessness by registering with the I Do Foundation. The I Do Foundation allows couples and their guests to make wedding-related purchases that generate donations for charity. Their registry service also makes it simple for guests to make donations in lieu of gifts. Learn more here [http://www.idofoundation.org/]

2. Go shopping.

• Buy a 2009 calendar here $1.50 from each calendar sold goes to the Alliance.
• Discover new cosmetic products here and be sure to select the NAEH as your charity of choice at checkout.
• Check out GoodShop.com, an online shopping mall with hundreds of stores including Amazon, Target, Gap, Best Buy, ebay, Macy's and Barnes & Noble. Every time you place an order using the above link, you will be supporting the National Alliance to End Homelessness.

3. Bring the issue to light in your community. If you are in a book club, read a book that highlights the issue of homelessness and set a fundraising goal for your group to meet. Some recent releases are Breakfast at Sally's and The Soloist. Or organize a company or community tournament such as kickball, softball, football, basketball, soccer, ultimate Frisbee, golf, or bowling, and have the entry fees benefit the National Alliance to End Homelessness.



The Supernatural Calendar is the place where thousands will learn about your events of interest to the supernatural world. The service is only available to registered members of the message boards, and it's free! Ghostvillage.com now syndicates our calendar of events so other Web sites can also display these supernatural happenings at no charge! To learn more about installing our calendar of events RSS feed, please visit our syndication page. Adding your own local events to our calendar is more important than ever!

December 16: NJGHS Holiday Spirit Gathering - Hackettstown, NJ
December 20: Jeff Belanger Guest Co-Hosting Spooky Southcoast
January 25: Jeff Belanger on Behind the Paranormal Radio
January 28: A Weird MA Evening with Jeff Belanger - Norwood, MA
February 8: Jeff Belanger on NorCal Ghost Talk Radio




Jeff Belanger's Upcoming Events

This is the place to find out where author and Ghostvillage.com founder Jeff Belanger will be speaking on the subject of the supernatural. If you're interested in booking Jeff for a conference or other event, please email us for more information.

Events Scheduled:

A Weird (Massachusetts) Event at the Morrill Memorial Library - Norwood, Massachusetts - 7:30 PM, January 28, 2009

A Weird (Massachusetts) Event at the Tewksbury Public Library - Tewksbury, Massachusetts - 6:30 PM, April 21, 2009

Beyond Reality Events: The Mount Washington Hotel Conference - Bretton Woods, New Hampshire - April 24-26, 2009

East Central Indiana Paranormal Conference - Muncie, Indiana - July 9-11, 2009

A Weird (Massachusetts) Event at the Sutton Historical Society - Sutton, Massachusetts - 7:00 PM, October 6, 2009





Who's Who in the Village?

Get to know some of your fellow Ghostvillagers.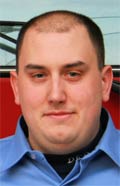 >>801<< - member since October 13, 2008

What is your name?
Nick

How old are you?
29

Where do you live?
Danbury, Connecticut.

What do you do for a living?
I am a professional firefighter.

What got you interested in the paranormal? Have you had a personal experience?
My parents have always been interested in the paranormal and have influenced my intrest. They let my sister and I attend a seminar with the Warrens when we were only 13 (I didn't sleep for awhile after that. They had some scary stuff for a 13-year-old to see.) I grew up watching Unsolved Mysteries and TV specials featuring stories of hauntings. I probably watched "The Haunted" the story of the Smurl family, 50 times. I had a tape of ghost stories featuring a haunted Toys R Us, a haunted abandoned school, and a haunted hotel room which I watched over and over. Three times in my life I have seen something that I can't explain. Maybe an overactive imagination, maybe something paranormal. My first of these "personal experiences" came when I was very young, around six, the second when I was 14 or 15, and the third when I was 21. All three were a figure, clearly defined as a person. The first was see-through and stood there waving its arms. The second was colored blue and I can see it was a male and wearing a plaid shirt. The third was a dark mass, standing there looking at me until it dissapeared. I wasn't scared for my first or my last experience, but felt a sense of calmness and I was intrigued. My second experience was so clear and so real that it frightened me, but still left me wondering. And so my interest and thirst for knowledge about the paranormal continues.

Do you believe the "spirit" of the holiday season can affect the number of encounters we're likely to experience this time of year?
I am not so sure about the time of year, or the "spirit of the season" having a direct effect on the number of encounters. I do, however, feel that maybe people are more open to communication with deceased loved ones or the paranormal around them during the holiday season. People tend to think more about, and dwell on the past during the holiday season, thus opening themselves up to an encounter. When I asked, "Why can't I communicate with my 'spirit guide'?" someone once told me, "Listen, and he will talk to you." Basically meaning you need to be open and be listening to have an encounter, and missing a loved one during the holiday season may provide that opportunity to listen. But that is just my theory and it may be wrong... I am still learning about all this stuff, and I have to give thanks to my friends at Ghostvillage for their knowledge!

What's the coolest holiday gift you recall receiving when you were growing up?
I have had a lot of really cool Christmas gifts over the years (last year's digital Canon Rebel Xti from my wife rocks!). The one that really sticks out to me when I was growing up is the year I got a 13-inch color TV for my room. It may sound like no big deal, but to a 12-year-old it meant freedom. It meant no more being stuck watching whatever Dad wanted to watch. It meant me, a remote, and whatever show cable had to offer. Of course I still watched Unsolved Mysteries and ghost story shows in the living room with the family because someone had to be the brave one, not afraid to watch the scary shows. Too bad that brave one wasn't me. Watch a scary show, all the way on the other side of the house, down the dark hallway, all alone? Heck no! At least Mom and Dad could protect me from the dark side in the living room. You know that darn TV is still kicking around, and works like the day it was made? They don't make 'em like they used to.




Last Month's Theme - Featured Content

Our last month's theme was Native Spirituality. Here's what you missed if you haven't checked in since last month:

Library: The World of Shamanism by Roger Walsh, M.D., Ph.D.
Library: Coyote Healing By Lewis Mehl-Madrona
Features: Spirit Dor by John Richards
Encounters: Native American Shadow Spirit
Features: The Journals of Willard David Firestone: American Indians by Lee Prosser




Shopping at Ghostvillage.com

Have you checked out our Ghost-Mart and Ghostvillage U.?

Ghostvillage U.: "Professor Paranormal" Loyd Auerbach and the HCH Institute's Distance Learning Certificate Course on Parapsychological Studies is now available through Ghostvillage.com. Ready to take paranormal investigation to the next level? Check out the online courses.

Ghost-Mart:
Digital Voice Recorders: Going for EVP? Think DVR.
Paranormal Books: Ghost-Mart has many of the leading paranormal titles.
EMF Meters: Check out our line of EMF meters from cell sensors to tri-field.
Closed Circuit TV: From inexpensive to the high end, we have them all.


Ghostvillage.com's book reviewer, Lee Prosser and the staff have brought you several new book reviews and author interviews since our last newsletter.

This past month's Library additions:

Missouri Hauntings by Lee Prosser [AUTHOR INTERVIEW]
Zombies by Dr. Bob Curran


We receive personal encounters from all over the world. Many are scary, some are touching, but they are always profound. If you would like to share your own experience, please click >>here<<. Since our last newsletter, we added the following new encounters:

Old Hag Syndrome - Little Rock, Arkansas
Phantom Footsteps at HMCS Acadia - Cornwallis, Nova Scotia, Canada
The Woman in a White Robe - Sheffield, Alabama
Strange Lights on Cuba Road - Barrington, Illinois
Wilderness Battlefield Apparition - Locust Grove, Virginia [PIC]
Lighting Candles - Rochester, Minnesota
Pulling My Son's Leg - Chester, Arkansas
Mom's Visit - Rockland, Massachusetts
Shadow People Following Me - Winnipeg, Manitoba, Canada


This is the place to find news items on paranormal happenings around the world. If you have a news item you'd like to submit, please see our guidelines.

From the Desk of Christopher Balzano, Ghostvillage.com News Editor:
It's not chance the most profound ghost story ever written is about a man who finds redemption at Christmas time. You can flip through some of the most intense horror stories or eerie poems written by Poe, but The Ghost of Christmas Yet to Be pointing at Scrooge's grave moves the miser in us all to look at our life. What a perfect fit to have that saving moment come as the year turns and we are forced to examine the one gone by and look ahead to the one to come.

Of all of the specters Scrooge sees that night, Marley might be most like the headlines Ghostvillage covered this year. There may be that moment of fear for the future, or time to look at the present and see the mistakes being made before our eyes, but the long dead business partner reflects both the silent vigil of the news and the keen sight gained with one eye looking back and the other looking forward. Marley's curse, and gift, is he can see the problems and the solutions, and although things for him may be grim, he reaches out with optimism for another.

And a grim year it was. In the six months I have been the editor here at Ghostvillage, no less than four trials have started to place exorcists in jail. They have been charged with everything from fraud to murder, and they continue to perpetuate the negative those outside of the paranormal community feel towards the supernatural. Let us not forget the people who died in rioting after a soccer goalie tried to cast a spell over the opposing team. Then, of course, there was that ghost in the fitness center.

There is also, however, a new day. A recent poll says more people in Britain believe in ghosts than God. A man in Malaysia this week suffered a Dickens-like conversion after a supernatural being kept him captive in a store he was intending to rob. A man writing a book about ghosts was allowed to tour the White House and get interviews with ushers and other staff.

Marley doesn't make the change for Scrooge, but opens the door for him to see the potential in the hearts of all men. It is not his job to convert but to frame the invite. 2009 may see the next big advance made in the field or the perfect piece of evidence. We may see the White House opened up for a full investigation. I have all the hope for the coming year, and Ghostvillage will do its best to frame it for you.

Radio News
The news is hitting the airwaves. Ghostvillage news has begun producing The Haunted Headlines, a weekly recap of the stories making waves in the paranormal community. People hosting paranormal radio shows and podcasts can receive an MP3 file they can insert directly into their broadcasts. The spot is between 3-4 minutes long, and the list of shows picking it up is growing every week.

For now, the best way to subscribe would be to e-mail Christopher Balzano at newseditor@ghostvillage.com, and become a member of the distribution list.


The rest of this month's headlines are below:

Burglar who picked the wrong house The Star Online Kemanan, Malaysia -December 13, 2008 [EXTERNAL NEWS]
NJ Ghost Hunter Society Holiday Spirit Gathering

Photography captures spirit of the spirit world Minnesota Public Radio St. Paul, Minnesota -December 4, 2008 [EXTERNAL NEWS]
California Ghost Hunters Seeking Aid for Tea House Fire Survivors

Local church leader speaks out Trading Markets.com, Daily Iowegian - McClatchy-Tribune Information Services via COMTEXCenterville, Iowa-December 1, 2008 [EXTERNAL NEWS]
Farmer Uses Special Connection To Find Pets WCSH6, Portland NBC Portland, Maine-November 26, 2008 [EXTERNAL NEWS]
Ghost classes are OK; ghost hunts are not The Columbus Dispatch Groveport, Ohio-November 20, 2008 [EXTERNAL NEWS]
Green Park Paranormal Conference to be held in Blowing Rock Nov. 21-23 The Watauga Democrat Blowing Rock, North Carolina-November 17, 2008 [EXTERNAL NEWS]


WANT THESE HEADLINES ON YOUR SITE FOR FREE? Syndicate our news! If you have a Web site or blog, you can syndicate our news feeds to your site for free. Join the growing list of Web sites who carry our news by visiting our syndication page.


Our "Features" section is a place for editorials, research articles, open letters to our readers, and other content of interest to Ghostvillagers. If you have a topic on your mind, agree or disagree with something you read recently, we want to hear from you! For guidelines, click here.

New features added since our last newsletter:

Don't Bark At Me, I'm Not The Dog In The Mirror - by Lee Prosser - December 14, 2008 [COLUMN]
Welcome to Your Psychic Life By Tiffany Johnson - December 1, 2008 [COLUMN]
Fresh Paths to the Paranormal By Beth Brown - November 26, 2008
The Journals of Willard David Firestone: American Indians - by Lee Prosser - November 21, 2008 [COLUMN]




Hot Threads and the Ghostvillage.com Community

In the past month, hundreds of new people registered for free to join our supernatural discussion! Have you?

If you have registered for our message boards but haven't validated your account yet, it's simple to do! Look for the email that was automatically sent to you when you registered and click on the account activation link in the email (note: some bulkmail filters may block this email, so you'll need to check your bulkmail folder if the validation email didn't immediately come through). There are always great discussions going on in our huge message board community. We hope you'll get involved. It's free to register if you're not already a member. Here are some of the hot topics this month:

Haunted Items
http://www.ghostvillage.com/ghostcommunity/index.php?showtopic=26031
Can items be haunted too?

Digital Cameras
http://www.ghostvillage.com/ghostcommunity/index.php?showtopic=26067
What should I look for when considering a digital camera for use on investigations?

Ghosts in the News
http://www.ghostvillage.com/ghostcommunity/index.php?showtopic=26104
More than one ghost?

Haunted Land
http://www.ghostvillage.com/ghostcommunity/index.php?showtopic=25525
Maudslay State Park in Newburyport, Massachusetts.

Regional Haunts
http://www.ghostvillage.com/ghostcommunity/index.php?showtopic=9476
Haunts in Kentucky.

Spiritography
http://www.ghostvillage.com/ghostcommunity/index.php?showtopic=23428
A paranormal orb captured.

EVP
http://www.ghostvillage.com/ghostcommunity/index.php?showtopic=26101
An interesting EVP captured.

Spirit Videos
http://www.ghostvillage.com/ghostcommunity/index.php?showtopic=25964
Boroughs School Investigation.

Personal Encounters
http://www.ghostvillage.com/ghostcommunity/index.php?showtopic=26064
New here and seeing something strange.

Skeptics
http://www.ghostvillage.com/ghostcommunity/index.php?showtopic=18168
Skeptics vs. believers.


Board of the Month -- Holiday Spirits
http://www.ghostvillage.com/ghostcommunity/index.php?showforum=27
Discuss the spirits of the season and offer your own New Year predictions.




Ghostvillage.com Advertising Opportunities

Each month Ghostvillage.com reaches tens of thousands of people interested in the paranormal. We offer the most effective and best-valued advertising and sponsorship packages of any paranormal media outlet. Please visit: http://www.ghostvillage.com/advertising.htm for details.

If you're ready to put Ghostvillage.com to work for your company or organization, send us an email to get started.




Ghostvillage.com Quick Stats:

278,987 Messages in the Town Square Message Boards
23,255 Members in the Town Square
831 "Personal Encounters" published on Ghostvillage.com
1,171 Paranormal Web sites in the Ghost Links directory
27,131 Subscribers to this newsletter
6,639,619 Total Web site "hits" for Ghostvillage.com in November


Ghostvillage.com is the Web's largest supernatural community, the central place where people come to share their experiences, thoughts, and research. Please help us continue to grow by buying a copy of The World's Most Haunted Places, Communicating With the Dead, The Encyclopedia of Haunted Places, The Nightmare Encyclopedia, Our Haunted Lives, Ghosts of War, The Ghost Files, Weird Massachusetts, Who's Haunting the White House?, or shopping in Ghost-Mart. Every little bit helps run our servers and helps the site get bigger and better! Please also click on our banner ads and support our advertisers -- when you do business with someone who advertises with Ghostvillage.com, let them know you saw their ad with us and thank them for the support.

Please email us anytime at info@ghostvillage.com. Your comments, questions, and feedback are always welcomed.


---
All material is © 2008 Ghostvillage.com
REMOVAL INSTRUCTIONS: To be removed from the mailing list, please go to www.ghostvillage.com/subscribe.shtml or click on the link below.