GHOSTVILLAGE.COM NEWSLETTER #134 - December 17, 2012

Buy Books by Jeff Belanger | Jeff Belanger's Official Web site | Visit UFOvillage.com | Like us on Facebook | Paranormal for Kids | Meet the Staff | Advertise with Ghostvillage.com

32,422 Subscribers to this newsletter!

Be sure to forward this on to your friends who are interested in the supernatural!


Check out the new edition of Jeff Belanger's best-selling children's book, Who's Haunting the White House?! http://www.amazon.com/exec/obidos/ASIN/1454900261/ghostvillagecom
---
You are receiving this email because you or a friend signed you up at http://www.ghostvillage.com. If you would like to be removed from this mailing list, please see the instructions at the bottom.
View this newsletter online at: http://www.ghostvillage.com/newsletters/Dec17_12.htm
---
Dear Ghostvillagers,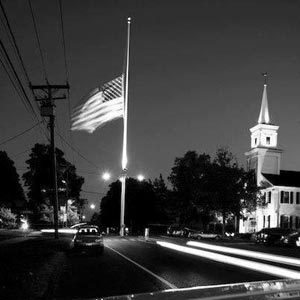 The ancient Mayans are right: The world ends this week. That doesn't mean I'm not making plans for any event beyond December 21st. In fact, my family just decided that we will be spending Christmas in Newtown this year. But the world as we knew it must end. And I'd like to thank 26 heroes for showing us why.

In 1985, my family moved to Newtown, Connecticut. I attended fifth grade at Sandy Hook Elementary School. I recall the giant green footprints that were painted on the street from Riverside Road up to the school's entrance; I remember Mrs. Paige, my fifth grade teacher; and I recall my friends—carefree, learning, trying to be cool—exactly the way elementary school kids are supposed to be.

I am forever a part of that school and town, and it is forever a part of me. I share a kinship with every person who was a student there, who taught there, who walked those halls, and who had a connection with the building. If you were to draw a line between all of those people and all who knew them, it would include a community of millions of human beings. I'm not only saddened by the atrocity that took place at my old grammar school, I'm broken… and ready to be rebuilt.

It's been surreal watching 24×7 television news plastering images of my childhood everywhere. The police press conferences are being held at Treadwell Park, a place where I've played in hundreds of soccer games. St. Rose of Lima Church is the church where I was confirmed. Sandy Hook center is an intersection I've driven through thousands of times. That firehouse and school—less than one mile from the house I grew up in, and the house where my parents still live—are landmarks that we passed almost every time we went anywhere. I can't help but feel naked and vulnerable as the world peers into my hometown.

But since the world is watching, that amazing community has an opportunity to make a stand and say something both comforting and profound here at the end of the world.

It took 26 angels—most of them young children—to accomplish what no single person could have done alone. They made the world stop turning. They made all of humanity pause. They forced us to ask ourselves, "What's really happening to us?" The ancient Mayans may have predicted the end of the world this week, but these 26 heroes fulfilled it.

These angels all have names: Charlotte Bacon, age 6, Daniel Barden, age 7, Rachel Davino, age 29, Olivia Engel, age 6, Josephine Gay, age 7, Ana M. Marquez-Greene, age 6, Dylan Hockley, age 6, Dawn Hochsprung, age 47, Madeleine F. Hsu, age 6, Catherine V. Hubbard, age 6, Chase Kowalski, age 7, Jesse Lewis, age 6, James Mattioli, age 6, Grace McDonnell, age 7, Anne Marie Murphy, age 52, Emilie Parker, age 6, Jack Pinto, age 6, Noah Pozner, age 6, Caroline Previdi, age 6, Jessica Rekos, age 6, Avielle Richman, age 6, Lauren Rousseau, age 30, Mary Sherlach, age 56, Victoria Soto, age 27, Benjamin Wheeler, age 6, and Allison N. Wyatt, age 6.

These fine human beings caused billions of extra hugs in recent days. They started dialogues that need to happen. They woke up a town, a state, a nation, and a world to what really matters. They did not die in vain. It's our duty as humans to carry on their legacy.

The person who won't be named is the shooter. Names belong to people. He doesn't deserve his. The 26 angels are all that matter.

But the shooter also had his role to play. It took only one monster to remind me that people are good, kind, and selfless. Fred Rogers once said, "When I was a boy and I would see scary things in the news, my mother would say to me, 'Look for the helpers. You will always find people who are helping.'"

There was only one monster Friday morning, but hundreds of helpers who ran in—and those are just the first responders. As word spread, you had thousands then millions more who pledged prayers, support, and money to help in any way they could.

Even in the darkest corners of this tragedy, we find light. The word "hero" is thrown around too much today, but already we have heard stories of true heroism from Sandy Hook. Victoria Soto, a first grade teacher, thought quickly when she heard shots fired in her school. She hid all of her students in closets and cabinets. When the gunman entered her classroom, she told him her kids were in the gym. The coward then shot the defenseless teacher. She was quick-thinking, brave, and selflessly traded her life for those of her students. That is a hero. We should name towns and streets after her. No amount of honor will ever be enough. Each of her students will be greater people because of her. They will guide us into this brave new world.

On Sunday, President Obama visited my quiet hometown to help console the victims' families and a grieving nation. While it was right for him to do so, it saddens me that any United States president would have ever even heard of my little town.

As one of my high school friends pointed out in his Facebook post, "The last time shots were fired like this in Newtown was during the Revolutionary War when Rochambeau's army took practice shots at weather vanes." This stuff doesn't happen in Newtown. It shouldn't happen anywhere.

Of all of the human emotions, "helpless" is the worst. If there was something I could build, I'd build it; something I could fix, I'd fix it; something I could break to undo this, I'd break it. For now, all I can do is pray for those who need our support the most.

When the prayers have been said, and the condolences offered, next I will focus this energy on myself, on my family, and those around me. I can be more active in my community. I will try to right the tiny wrongs I encounter in my everyday life. I can hug and appreciate my five-year-old daughter a little more each day. That is a gift 26 angels gave to me on Friday.

I moved away from Newtown after college. But I've never lost touch. My parents live there, as do my sister, my uncle, and so many friends. Today as I write this from my office in Massachusetts, I've never felt so close to, yet so far away from my hometown. I'll be there for Christmas because there's no place on Earth where hope could shine any brighter. There's no town or village that understands the word "community" better than Newtown. This is a place that comes together to help each other in times of need. They're strong in their faith, conviction, and spirit. And that's what this holiday is supposed to be about.

I can't help that the name Newtown will become synonymous with this tragedy. But as the world watches, may they see the light that shines out of every person who shares the unimaginable pain of our neighbors who lost a child, a parent, a spouse, or a friend. Long after the cameras are off and the news vans pull out of town, that light will continue to glow thanks to 26 angels and so many heroes who reminded the world of our humanity.

Yes, the world as we know it has ended, which makes this a time for new beginnings. I'll work each day to make this new world a better place than the old… and Mom and Dad, I'll be in Newtown for Christmas. Newtown is home.




Donations for the families can be made here: https://newtown.uwwesternct.org/

This organization is also accepting donations for the families and survivors: http://www.MySandyHookFamilyFund.com

Please support the Newtown Memorial Fund by liking them on Facebook: http://www.facebook.com/NewtownMemorialFund and visiting their Web site at: http://newtownmemorialfund.org/

Supernaturally yours,

Jeff Belanger
Mayor of Ghostvillage.com
Twitter: @THEJeffBelanger
Facebook: Jeff Belanger
YouTube: www.youtube.com/legendtripping






Jeff Belanger's Upcoming Events

This is the place to find out where author and Ghostvillage.com founder Jeff Belanger will be speaking on the subject of the paranormal. If you're interested in booking Jeff for a conference or other event, please visit: http://www.jeffbelanger.com/lectures.php for more information.

Events Scheduled:

Dead of Winter at Lizzie Borden's - Fall River, Massachusetts - February 23, 2013, 6:30PM
Phenomenology 105 - Gettysburg, Pennsylvania - March 21-24, 2013
Haunting the Houghton Mansion - North Adams, Massachusetts - April 5-7, 2013
The Real Dracula Tour and Ghost Hunt with Dave Schrader and Jeff Belanger - Romania - May 19-27, 2013
A Supernatural Evening with Jeff Belanger - New Braintree Public Library - New Braintree, Massachusetts - October 26, 2013, 7:00PM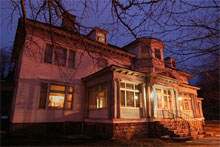 Join us April 5-7, 2013 - As seen on Season One of Ghost Adventures! Built by the first mayor of North Adams in 1890, the mansion is now home to a Masonic Temple, though the secretive society isn't the only resident. The building allegedly holds the ghosts of a suicide victim, A.C. Houghton himself, and the spirit of his daughter, Mary, who died in a tragic car accident August 1, 1914

The event includes: Meet-n-Greet Party, Lectures, Paranormal Experiments, Dinner, and Hours of Investigations.

Click here for more information: http://www.legendtrips.com/houghtonmansion2013.shtml



Our "Features" section is a place for editorials, research articles, open letters to our readers, and other content of interest to Ghostvillagers. If you have a topic on your mind, agree or disagree with something you read recently, we want to hear from you! For guidelines, click here.

New features added since our last newsletter:

Zombie Advocate Greg Lawson December 11, 2012 [VIDEO]
The Real Exorcist Case with Thomas B. Allen November 27, 2012 [VIDEO]
Embracing the Joy of Ghost Hunting by Deonna Kelli Sayed November 28, 2012
LIVE from the Haunted Stanley Hotel November 20, 2012 [VIDEO]



We receive personal encounters from all over the world. Many are scary, some are touching, but they are always profound. If you would like to share your own experience, please click >>here<<. Since our last newsletter, we added the following new encounters:

Guardian Angel? -- Cork, Ireland
Haunted North Dakota -- North Dakota





Ghostvillage.com Advertising Opportunities

Each month Ghostvillage.com reaches tens of thousands of people interested in the paranormal. We offer the most effective and best-valued advertising and sponsorship packages of any paranormal media outlet. Please visit: http://www.ghostvillage.com/advertising.htm for details.

If you're ready to put Ghostvillage.com to work for your company or organization, send us an email to get started.




Hot Threads and the Ghostvillage.com Community

In the past month, tons of new people registered for free to join our supernatural discussion! Have you?

If you have registered for our message boards but haven't validated your account yet, it's simple to do! Look for the email that was automatically sent to you when you registered and click on the account activation link in the email (note: some bulkmail filters may block this email, so you'll need to check your bulkmail folder if the validation email didn't immediately come through). There are always great discussions going on in our huge message board community. We hope you'll get involved. It's free to register if you're not already a member. Here are some of the hot topics this month:

Summoning
http://www.ghostvillage.com/ghostcommunity/index.php?showtopic=32954
Summoning a fictional character's spirit?

Religion and Spirituality
http://www.ghostvillage.com/ghostcommunity/index.php?showtopic=32676
Universal life force energy.

Spirit Communication
http://www.ghostvillage.com/ghostcommunity/index.php?showtopic=32480
Communicating with my brother.

Evidence Alley
http://www.ghostvillage.com/ghostcommunity/index.php?showtopic=33167
Ghost caught on camera.

Personal Encounters
http://www.ghostvillage.com/ghostcommunity/index.php?showtopic=32749
Old veteran's hospital.


Board of the Month -- Christmas in Newtown
http://www.ghostvillage.com/ghostcommunity/index.php?showforum=27
What are your holiday traditions?




Ghostvillage.com Quick Stats:

323,030 Posts in the Town Square Message Boards
30,257 Members in the Town Square
1,115 "Personal Encounters" published on Ghostvillage.com
1,825 Paranormal Web sites in the Ghost Links directory
32,422 Subscribers to this newsletter
3,030,560 Total Web site "hits" for Ghostvillage.com in November


Ghostvillage.com is the Web's largest supernatural community, the central place where people come to share their experiences, thoughts, and research. Please help us continue to grow by buying a copy of The World's Most Haunted Places, Communicating With the Dead, The Encyclopedia of Haunted Places, The Nightmare Encyclopedia, Our Haunted Lives, Ghosts of War, The Ghost Files, Weird Massachusetts, Who's Haunting the White House?, The Mysteries of the Bermuda Triangle, Picture Yourself Legend Tripping, or Chasing Spirits. Every little bit helps run our servers and helps the site get bigger and better! Please also click on our banner ads and support our advertisers -- when you do business with someone who advertises with Ghostvillage.com, let them know you saw their ad with us and thank them for the support.

Please email us anytime at info@ghostvillage.com. Your comments, questions, and feedback are always welcomed.


---
All material is © 2012 Ghostvillage.com
REMOVAL INSTRUCTIONS: To be removed from the mailing list, please go to www.ghostvillage.com/subscribe.shtml or click on the link below.