GHOSTVILLAGE.COM NEWSLETTER #123 - January 17, 2011

Buy Books by Jeff Belanger | Jeff Belanger's Official Web site | Visit UFOvillage.com | Like us on Facebook | Paranormal for Kids | Meet the Staff | Advertise with Ghostvillage.com

37,383 Subscribers to this newsletter!

Be sure to forward this on to your friends who are interested in the supernatural!


Visit Rolling Hills Asylum -- one of America's most active haunts! Open all winter with special rates!http://www.rollinghillsasylum.com
---
You are receiving this email because you or a friend signed you up at http://www.ghostvillage.com. If you would like to be removed from this mailing list, please see the instructions at the bottom.
View this newsletter online at: http://www.ghostvillage.com/newsletters/Jan17_12.htm
---
Dear Ghostvillagers,

Happy 2012! I hope it's a good one for all of us.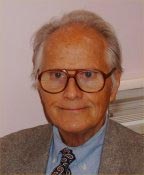 This past week the paranormal community lost a great researcher. This month's Ghostvillage.com Theme of the Month was going to be something different until we noticed how little attention the passing of Dr. William Roll has received. No, Dr. Roll never starred in his own reality show (though he was interviewed on plenty of television shows related to the paranormal during his career), but he did do something that is sometimes forgotten in today's ghost community: research. Tons of it.

William George Roll II was born July 3, 1926 in Bremen, Germany. He studied at the University of Berkeley, Oxford University, and received his Ph.D. from Lund University. In 1957, Bill and his family moved to Durham, North Carolina for a position at the Parapsychology Lab at Duke University. This is the group that would go on to form the Rhine Center under the direction of J.B. Rhine. During his time at Duke, Dr. Roll researched the poltergeist phenomenon.

Many of you may have read about the story of Tina Resch. This photo is arguably more well-known than the facts of the case. In 1984, then-teenager Tina Resch was allegedly exhibiting telekinesis events around her. This phone flying across her lap picture was taken by newspaper photojournalist Fred Shannon of The Columbus Dispatch in Ohio. Tina's story is tragic. The media wanted more, and Bill Roll wanted to study her. Tina said she couldn't make the telekinesis happen on-demand, nor could she control it. Dr. Roll set out to document Tina's abilities as best he could. As with any big claim, controversy followed. Tina was caught on video camera knocking over a lamp, though she later said she did it so the reporters would leave. Tina's life only got worse. In 1992, she was jailed along with her boyfriend for the death of her three-year-old daughter. She is currently serving a life sentence for the crime.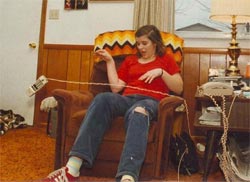 Between 1964 and 1985, Bill served as director of the Psychical Research Foundation where he continued lab testing on ESP, out-of-body phenomenon, and RSPK – Recurrent Spontaneous Psychokinesis. He also tested psychics and mediums.

Dr. Roll did the research. He went on the investigations, and he published his theories. No, not everyone accepted his theories. Unexplained powers of the mind have not been accepted by mainstream science yet. But perhaps Dr. Roll moved us all one step closer by documenting his work. He never stopped pursuing the research or studying the field, right up until his death on January 9th. We could all learn something from him. This month, Ghostvillage.com will remember him and his work.

2012 is already looking great here at Ghostvillage.com. We're working on a complete Web site overhaul in the coming months. If you're a programmer who wants to help, please let me know. We have big plans on keeping our site the biggest and best ghost site out there. More content, more user-friendly features, more of everything related to this amazing discussion.

I also have many events planned for the winter and spring, and my fall is already booking up. Be sure to check out the event we have coming up at Slater Mill in Pawtucket, Rhode Island in April. It will be an amazing dinner and investigation!

Enjoy the rest of the newsletter below.

Supernaturally yours,

Jeff Belanger
Mayor of Ghostvillage.com
Twitter: @THEJeffBelanger
Facebook: Jeff Belanger
MySpace: www.myspace.com/ghostvillager






Jeff Belanger's Upcoming Events

This is the place to find out where author and Ghostvillage.com founder Jeff Belanger will be speaking on the subject of the paranormal. If you're interested in booking Jeff for a conference or other event, please visit: http://www.jeffbelanger.com/lectures.shtml for more information.

Events Scheduled:

Shanley Hotel Lock Down - Napanoch, New York - January 21 - 22, 2012

A Supernatural Evening with Jeff Belanger - New Braintree Public Library - New Braintree, Massachusetts - February 4, 2012, 7:00PM

A Paranormal Evening with Jeff Belanger - Frostburg State University - Frostburg, Maryland - February 8, 2012

Dead of Winter Event 2012 - Lizzie Borden House - Fall River, Massachusetts - February 25, 2012

Phenomenology 104 - Parapalooza - Gettysburg, Pennsylvania - March 22 - 25, 2012

Repeat Offender Event at Mansfield Reformatory - Darkness Radio - Mansfield, Ohio - March 29 - April 1, 2012

Graveyard Shift at the Slater Mill - Pawtucket, Rhode Island - April 21, 2012




Congratulations to Diane Vella of Westfield, Massachusetts, who was the December winner of an autographed copy of Jeff Belanger's latest book, The World's Most Haunted Places, Revised Edition and a Ghostvillage.com window sticker!

How to win: Entries will be accepted up until 5:00 PM (eastern time) tomorrow (January 18, 2012). At 5:00 PM, we will draw a winner at random from the correct entries that have been received. You no longer have to be the first, but you only have until 5:00 PM to get your answer in. If you click on this link: http://www.ghostvillage.com/index.shtml#winner, you see today's date, and "We have a winner!" that means the contest has ended. Sorry, please try again next month. To submit your entry, simply reply to this email with the correct answer.

On to this month's question: This question can be answered by reading a page on Ghostvillage.com. Remember, reply by 5:00 PM tomorrow to be eligible to win.

What is Zak Bagans' New Year's Resolution?

At 5:00 PM tomorrow, we will announce the winner on our home page. Good luck! (Only Ghostvillagers who have not won a prize from us in the last year are eligible.)



This month's prize: We're giving away an autographed copy of Jeff Belanger's book, Encyclopedia of Haunted Places, Second Edition and a Ghostvillage.com window sticker!


Didn't win? Want to buy a copy? Click on the graphic.





Who's Who in the Village?

Get to know some of your fellow Ghostvillagers.



>>Ron Kolek<< - member since August 22, 2005

What is your name?
Ronald John Kolek Sr. (New England's own Van Helsing)

How old are you?
Older than dirt (58).

Where do you live?
Dracut, Massachusetts, USA

What do you do for a living?
Radio Host, Columnist, and Ghost Hunter Extraordinaire (Oh yeah, I sell luggage for Macy's too).

How did you get started in ghost investigating?
Happenchance, a near-death experience, and a bizarre set of events. I decided to use my scientific background (I have a degree in environmental science) to try to make sense of the unknown, unexplained, and the unbelievable world of the paranormal (not to prove to the world the existence of ghosts, but rather to explore it for my own personal edification).

What is your objective for the Ghost Chronicles radio show?
It is a vehicle to explore the many facets of paranormal and to share my personal experiences in investigating the paranormal with the rest of the known world.

What's the most haunted location you've ever investigated?
The Windham Restaurant, the Houghton Mansion, oh... and Old Hill Cemetery (I did get slimed there!).

What's your favorite flavor of ice cream?
Who has time to eat ice cream?




Last Month's Theme: Holiday Spirits

Here were articles from last month's theme: Holiday Spirits.

Paranormal Peeps and Holiday Traditions - Feature
Santa Is a Legend Not a Lie By Jeff Belanger - Feature
Littlest Mummy (A Christmas Story) By Richard Senate - Feature
Our "Features" section is a place for editorials, research articles, open letters to our readers, and other content of interest to Ghostvillagers. If you have a topic on your mind, agree or disagree with something you read recently, we want to hear from you! For guidelines, click here.

New features added since our last newsletter:

Paranormal Pastoring: Part 2 by Reverend Sherrie James January 11, 2012
The Patterson Bigfoot Film with Jeff Hilling January 10, 2012 [VIDEO]
Your Ghost Encounters January 3, 2012 [VIDEO]
Paranormal Peeps and Holiday Traditions December 29, 2011
Littlest Mummy (A Christmas Story) By Richard Senate December 21, 2011
Wartime UFOs with Mack Maloney December 20, 2011 [VIDEO]



We receive personal encounters from all over the world. Many are scary, some are touching, but they are always profound. If you would like to share your own experience, please click >>here<<. Since our last newsletter, we added the following new encounters:

A Night in an Abandoned Asylum - Connecticut
Visit from the Beyond - Suffolk, England
Bubby's Visit - Pomeroy, Ohio
Happy House of Spirits - Columbus, Ohio



This is the place to find news items on paranormal happenings around the world. If you have a news item you'd like to submit, please see our guidelines.

From the Desk of Christopher Balzano, News Editor
It's hard to deny that the media helps to mold our understanding of things. Just listen to the newest buzz word dropped in a prime time comedy or the surge of trips to the hairdresser when the biggest star in the world changes her look. I remember years ago when I worked at a bookstore and we would stack dozens of copies of a book the days after a book appeared on the Oprah Winfrey Show. Think of the methods and ideas about looking for ghosts that have become solidified as the best practices based on the television shows that feature ghost hunters on television. The influence is there, right or wrong.

Those trends are like slaps in the face. They attack you from the front, like a blitzkrieg, and in a modern world built on reaction and overreaction, we can see it and comment on it quickly. But there is a more subtle influence that media has over us as well, and one that builds over time to shape how we see things. Instead of being a part of pop culture, it slips into the cracks and becomes our culture.

I am a teacher, and this week we have been studying the effect of connotation and denotation on writing, so maybe I have been in the right mindset to see it. The media, and the news is a reflection of the media, has long held paranormal terms as go-to expressions, and none of them are positive. Often when looking to express something scary or something overly negative, reporters reach into the ghost bag for something they know will impact the reader. When I search for news, I use keyword expressions, and I am always surprised at the news articles that have nothing to do with the paranormal, that borrow its expressions.

When you commit fraud and create people who do not exist to collect money for them, they are called ghosts (this might go back to the old Chicago tradition of registering the dead as voters to win elections). When there is something you can't get over, a horrible memory or challenge you can't conquer, you are said to be haunted by it. A quarterback is never haunted by the memory of throwing three touchdowns in the fourth quarter to win a playoff game. You may, however, need to exorcise the ghosts of the past to get over a bad loss (no one has ever bothered to tell these writers that one can't exorcise a ghost).

A movie, play, or sound that unsettles you is said to haunt you. There is something dark or overly emotional about it, and your goal is to try and get to normal again. When something strays from that standard, it is paranormal or supernatural, which may be close to the literal definitions of these words, but which taints the cultural use of them.

With all of these terms used as fall-back expressions for reporters, it is no wonder people are scared of ghosts. People are well-programmed to shriek when something happens out of the norm, and it is more than just lessons they've learned from horror movies. Ghosts are something to triumph over because they weigh you down. You need to run from those scary things that are trying to derail you now and make sure there are no holes in your life, which also happen to be referred to as ghosts by the news. There is a bump in the road (or in the night, but don't get me started on that expression) and people respond by being scared and calling their local church or paranormal investigator to get the thing out. There is very little room for understanding.

So be careful when you read. Notice paranormal expressions when you are reading your local news, especially when the story is about politics and sports. See how they are being used, and be aware you are being programmed. It might not come as part of a grand conspiracy, but rather reflects a tradition that has been taught and handed down by generations. It isn't just about wearing the same shoes as Snooki; sometimes the media whispers in our ear when we expect them to shout.

This month's headlines:
Are Spirits Still Milling About at Slater Mill?
Police called out to ghostly goings-on in Peterborough The Evening Telegraph Peterborough, England - December 30, 2011 [EXTERNAL NEWS]
Kim Jong-il death: Media report supernatural phenomena BBC News North Korea - December 27, 2011 [EXTERNAL NEWS]
Boyle Heights' haunted hospital to be turned into senior housing The Eastsider LA East Los Angeles, California - December 23, 2011 [EXTERNAL NEWS]
Spooky night out helps sick children Thorne and District Gazette Rawmarsh, England - December 1, 2011 [EXTERNAL NEWS]

WANT THESE HEADLINES ON YOUR SITE FOR FREE? Syndicate our news! If you have a Web site or blog, you can syndicate our news feeds to your site for free. Join the growing list of Web sites who carry our news by visiting our syndication page.





Hot Threads and the Ghostvillage.com Community

In the past month, hundreds of new people registered for free to join our supernatural discussion! Have you?

If you have registered for our message boards but haven't validated your account yet, it's simple to do! Look for the email that was automatically sent to you when you registered and click on the account activation link in the email (note: some bulkmail filters may block this email, so you'll need to check your bulkmail folder if the validation email didn't immediately come through). There are always great discussions going on in our huge message board community. We hope you'll get involved. It's free to register if you're not already a member. Here are some of the hot topics this month:

Urban Legends, Myths & Folklore
http://www.ghostvillage.com/ghostcommunity/index.php?showtopic=32564
Man trapped in Time Vortex appears in future.

Religion and Spirituality
http://www.ghostvillage.com/ghostcommunity/index.php?showtopic=32225
Azreal: the angel of death.

Spirit Communications
http://www.ghostvillage.com/ghostcommunity/index.php?showtopic=32336
Ouija Board Sessions: an experiment.

General Board
http://www.ghostvillage.com/ghostcommunity/index.php?showtopic=32439
Shadow People: Are they malevolent?

General Board
http://www.ghostvillage.com/ghostcommunity/index.php?showtopic=32509
Can Ouija Boards be haunted?

Skeptics
http://www.ghostvillage.com/ghostcommunity/index.php?showtopic=29732
If ghost exist, why can't anybody prove it?


Board of the Month -- Remembering Dr. William Roll
http://www.ghostvillage.com/ghostcommunity/index.php?showforum=27
Discuss Dr. William Roll's life and work.




Ghostvillage.com Advertising Opportunities

Each month Ghostvillage.com reaches tens of thousands of people interested in the paranormal. We offer the most effective and best-valued advertising and sponsorship packages of any paranormal media outlet. Please visit: http://www.ghostvillage.com/advertising.htm for details.

If you're ready to put Ghostvillage.com to work for your company or organization, send us an email to get started.




Ghostvillage.com Quick Stats:

319,129 Posts in the Town Square Message Boards
29,727 Members in the Town Square
1,073 "Personal Encounters" published on Ghostvillage.com
1,755 Paranormal Web sites in the Ghost Links directory
37,383 Subscribers to this newsletter
3,579,381 Total Web site "hits" for Ghostvillage.com in December


Ghostvillage.com is the Web's largest supernatural community, the central place where people come to share their experiences, thoughts, and research. Please help us continue to grow by buying a copy of The World's Most Haunted Places, Communicating With the Dead, The Encyclopedia of Haunted Places, The Nightmare Encyclopedia, Our Haunted Lives, Ghosts of War, The Ghost Files, Weird Massachusetts, Who's Haunting the White House?, The Mysteries of the Bermuda Triangle, Picture Yourself Legend Tripping or shopping in Ghost-Mart. Every little bit helps run our servers and helps the site get bigger and better! Please also click on our banner ads and support our advertisers -- when you do business with someone who advertises with Ghostvillage.com, let them know you saw their ad with us and thank them for the support.

Please email us anytime at info@ghostvillage.com. Your comments, questions, and feedback are always welcomed.


---
All material is © 2012 Ghostvillage.com
REMOVAL INSTRUCTIONS: To be removed from the mailing list, please go to www.ghostvillage.com/subscribe.shtml or click on the link below.