GHOSTVILLAGE.COM NEWSLETTER #135 - January 18, 2013

Buy Books by Jeff Belanger | Jeff Belanger's Official Web site | Visit UFOvillage.com | Like us on Facebook | Paranormal for Kids | Meet the Staff | Advertise with Ghostvillage.com

32,312 Subscribers to this newsletter!

Be sure to forward this on to your friends who are interested in the supernatural!

The Newtown Memorial Fund's mission is to provide support for those affected by the Sandy Hook Elementary School Tragedy, build a memorial, and provide long-term academic scholarships in the names of the victims. http://newtownmemorialfund.org/
---
You are receiving this email because you or a friend signed you up at http://www.ghostvillage.com. If you would like to be removed from this mailing list, please see the instructions at the bottom.
View this newsletter online at: http://www.ghostvillage.com/newsletters/Jan18_13.htm
---
Dear Ghostvillagers,


Thank you for all of the support you've shown this past month. It's been a hard road for me personally since Newtown, but going there for the holidays, walking around my hometown again, connecting with old friends, and talking to people helped me on the road to healing. There was a week or so where I found myself asking what was I doing with my life? How could I go back to the paranormal? How could I do anything else but try to help this situation? I've said before that I can't change the world, but I can change myself.

As I've been crawling out of this dark place, I realize I'm still a paranormal guy. I still wonder about the big questions. That will never change. But I can always do more to help others. And I can be accountable for the things I do and say. It's a start. The road is long. But I'm committed to staying on it.

For this month's theme, I picked Talking Boards, better known by the brand name Ouija Boards, because I wanted to go back to the beginning of my own paranormal journey. Back to when I was ten years old at a sleepover in a haunted home in Newtown, and exploring the ghostly realm with a Planchette and lettered board. Even then I wasn't completely sure if I was communicating with some deeper part of myself, with some deeper part of the person using the board with me, or something "out there."

Over the years I've watched some people in the paranormal community vilify and attack the Ouija Board. "It's a doorway, and you don't know who or what is on the other side," are the arguments I've heard. That may be true. But couldn't the same be said for using EMF meters to attempt spirit communication? Or conducting an EVP session? Or asking for a knock on the wall of some haunted building? We just don't know what's out there.

But not knowing is the reason I explore the unknown. I want to know. I accept the perils and pitfalls because I feel like I've grown as a person because of it. And it all started on a dark and stormy night long ago, using a Ouija board with friends at a sleepover. I wouldn't trade this path for anything in the world. Thanks for being on the journey with me.

13 may be an unlucky number, but regardless, my hopes are high for a year filled with more humanity than we've seen in a long time. My schedule is starting to fill for the year, new projects are coming up, and I'm ready to get back to work.

Supernaturally yours,

Jeff Belanger
Mayor of Ghostvillage.com
Twitter: @THEJeffBelanger
Facebook: Jeff Belanger
YouTube: www.youtube.com/legendtripping






Jeff Belanger's Upcoming Events

This is the place to find out where author and Ghostvillage.com founder Jeff Belanger will be speaking on the subject of the paranormal. If you're interested in booking Jeff for a conference or other event, please visit: http://www.jeffbelanger.com/lectures.php for more information.

Events Scheduled:

A Night for Newtown - THE MET - Pawtucket, Rhode Island - January 24, 2013, 6:30PM
Dead of Winter at Lizzie Borden's - Fall River, Massachusetts - February 23, 2013, 6:30PM
Phenomenology 105 - Gettysburg, Pennsylvania - March 21-24, 2013
Haunting the Houghton Mansion - North Adams, Massachusetts - April 5-7, 2013
The Real Dracula Tour and Ghost Hunt with Dave Schrader and Jeff Belanger - Romania - May 19-27, 2013
A Supernatural Evening with Jeff Belanger - New Braintree Public Library - New Braintree, Massachusetts - October 26, 2013, 7:00PM



Congratulations to Nathan Huning, who was the November winner of an autographed copy of Jeff Belanger's book, Who's Haunting the White House? and a Ghostvillage.com window sticker!

How to win: Entries will be accepted up until 5:00 PM (eastern time) tomorrow (January 19, 2013). At 5:00 PM, we will draw a winner at random from the correct entries that have been received. You no longer have to be the first, but you only have until 5:00 PM to get your answer in. If you click on this link: http://www.ghostvillage.com/index.shtml#winner, you see today's date, and "We have a winner!" that means the contest has ended. Sorry, please try again next month. To submit your entry, simply reply to this email with the correct answer.

On to this month's question: This question can be answered by reading a page on Ghostvillage.com. Remember, reply by 5:00 PM tomorrow to be eligible to win.

What's the name of the newest 30 Odd Minutes crew member?

At 5:00 PM tomorrow, we will announce the winner on our home page. Good luck! (Only Ghostvillagers who have not won a prize from us in the last year are eligible.)



This month's prize: We're giving away an autographed copy of Jeff Belanger's book, The Ghost Files and a Ghostvillage.com window sticker!


Didn't win? Want to buy a copy? Click on the graphic.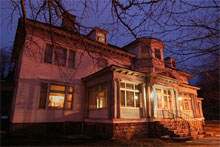 Join us April 5-7, 2013 - As seen on Season One of Ghost Adventures! Built by the first mayor of North Adams in 1890, the mansion is now home to a Masonic Temple, though the secretive society isn't the only resident. The building allegedly holds the ghosts of a suicide victim, A.C. Houghton himself, and the spirit of his daughter, Mary, who died in a tragic car accident August 1, 1914.

The event includes: a Meet-n-Greet Party, Lectures, Paranormal Experiments, Dinner, and Hours of Investigations.

Click here for more information: http://www.legendtrips.com/houghtonmansion2013.shtml



Our "Features" section is a place for editorials, research articles, open letters to our readers, and other content of interest to Ghostvillagers. If you have a topic on your mind, agree or disagree with something you read recently, we want to hear from you! For guidelines, click here.

New features added since our last newsletter:

LIVE from Oddfest 2012 December 18, 2012 [VIDEO]
American Folklore with S.E. Schlosser January 15, 2013 [VIDEO]
Haunted San Francisco with Jeff Dwyer January 8, 2013 [VIDEO]



We receive personal encounters from all over the world. Many are scary, some are touching, but they are always profound. If you would like to share your own experience, please click >>here<<. Since our last newsletter, we added the following new encounters:

The Shaking Mailbox -- Northwest Minnesota





Ghostvillage.com Advertising Opportunities

Each month Ghostvillage.com reaches tens of thousands of people interested in the paranormal. We offer the most effective and best-valued advertising and sponsorship packages of any paranormal media outlet. Please visit: http://www.ghostvillage.com/advertising.htm for details.

If you're ready to put Ghostvillage.com to work for your company or organization, send us an email to get started.




Hot Threads and the Ghostvillage.com Community

In the past month, tons of new people registered for free to join our supernatural discussion! Have you?

If you have registered for our message boards but haven't validated your account yet, it's simple to do! Look for the email that was automatically sent to you when you registered and click on the account activation link in the email (note: some bulkmail filters may block this email, so you'll need to check your bulkmail folder if the validation email didn't immediately come through). There are always great discussions going on in our huge message board community. We hope you'll get involved. It's free to register if you're not already a member. Here are some of the hot topics this month:

Personal Encounters
http://www.ghostvillage.com/ghostcommunity/index.php?showtopic=33197
Serial killer's victim talks about heaven.

Evidence Alley
http://www.ghostvillage.com/ghostcommunity/index.php?showtopic=33195
A vortex.

General Board
http://www.ghostvillage.com/ghostcommunity/index.php?showtopic=33210
Do you really exist?

Spirit Communications
http://www.ghostvillage.com/ghostcommunity/index.php?showtopic=32157
Automatic writing.

Religion and Spirituality
http://www.ghostvillage.com/ghostcommunity/index.php?showtopic=2195
Underground vampire clans.

Paranormal Media
http://www.ghostvillage.com/ghostcommunity/index.php?showtopic=33143
How do you feel about ghost hunting shows?


Board of the Month -- Talking Boards
http://www.ghostvillage.com/ghostcommunity/index.php?showforum=27
What are your experiences with the Ouija Board?




Ghostvillage.com Quick Stats:

323,454 Posts in the Town Square Message Boards
30,274 Members in the Town Square
1,116 "Personal Encounters" published on Ghostvillage.com
1,825 Paranormal Web sites in the Ghost Links directory
32,312 Subscribers to this newsletter
2,702,992 Total Web site "hits" for Ghostvillage.com in December


Ghostvillage.com is the Web's largest supernatural community, the central place where people come to share their experiences, thoughts, and research. Please help us continue to grow by buying a copy of The World's Most Haunted Places, Communicating With the Dead, The Encyclopedia of Haunted Places, The Nightmare Encyclopedia, Our Haunted Lives, Ghosts of War, The Ghost Files, Weird Massachusetts, Who's Haunting the White House?, The Mysteries of the Bermuda Triangle, Picture Yourself Legend Tripping, or Chasing Spirits. Every little bit helps run our servers and helps the site get bigger and better! Please also click on our banner ads and support our advertisers -- when you do business with someone who advertises with Ghostvillage.com, let them know you saw their ad with us and thank them for the support.

Please email us anytime at info@ghostvillage.com. Your comments, questions, and feedback are always welcomed.


---
All material is © 2013 Ghostvillage.com
REMOVAL INSTRUCTIONS: To be removed from the mailing list, please go to www.ghostvillage.com/subscribe.shtml or click on the link below.