GHOSTVILLAGE.COM NEWSLETTER #46
June 15, 2005

Shop at Ghostvillage.com | Support Ghostvillage.com | The World's Most Haunted Places | Communicating With the Dead

Be sure to forward this on to your friends who are interested in the supernatural!

Click here for EVP, spirit photography, Ouija, tarot, ITC, and more: http://www.ghostvillage.com/spiritcommunication/index.shtml
---
You are receiving this email because you or a friend signed you up at http://www.ghostvillage.com. If you would like to be removed from this mailing list, please see the instructions at the bottom.
View this newsletter online at: http://www.ghostvillage.com/newsletters/Jun15_05.htm
---
Dear Ghostvillagers,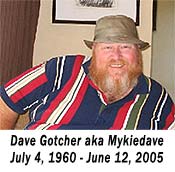 It's with a heavy heart that I need to report the passing of one of our own. Dave Gotcher, better known as Mykiedave in our message board community, passed away Sunday, June 12th from complications related to diabetes -- he was 44 years old. Dave first came to Ghostvillage on July 4, 2003 (his birthday, no less) and was a big presence in our village ever since. Dave most recently served our community as the moderator for the "Personal Encounters" section.

Dave saw his first ghost at age six. He wrote: "When I was six years old, we had stopped in Texas to visit my father's family on our way home to California. His father had never seen us. When we arrived, my younger brother and I had bunk beds and I slept in the top bunk. One night I remember rolling off the top. I knew it was going to hurt, but I wasn't falling. I opened my eyes and an older man had caught me. He was wearing a denim work shirt and jeans. He smelled of pipe tobacco and he gently lowered me to the floor. He was laughing and I felt so completely safe. When he lowered me to the floor, he told me to be good and kissed my forehead. My mother found me on the floor the next morning, and I told her all about my dream. She went and got our family album and there was the fellow -- my grandfather. My mom went to answer the phone a few moments later and it was my uncle calling to tell us that my grandfather had passed away the night before."

I had the pleasure to speak to Dave over the phone on a number of occasions. The first time we spoke was actually on a radio program. I remember it was last year and it was one of the first radio programs I had ever been a guest on, and I was nervous. The host announced, "We have a caller," and I started to sweat. You know how when some people speak over the phone you can just tell that they're smiling? Well, I heard the caller say, "Hi, this is Mykiedave!" Though we had never spoken before (besides exchanging emails and posts on the message boards), I knew he was a Ghostvillager and a friendly voice. I immediately relaxed, and Dave helped ease me into the radio world.

Dave was a performer, writer, and storyteller. He once worked at Universal Studios in Hollywood where he played Oliver Hardy and Santa Claus. I got to speak to Dave about his role as Father Christmas several months ago. We talked about what it was like to be the ultimate celebrity in the eyes of children. After one Christmas parade where Dave played the guest of honor, a local television reporter came up to interview Santa. The reporter asked, "What do you say to kids who don't believe in you?" Dave/Santa replied, "It's okay if you don't believe in Santa, because Santa believes in you." Dave knew how to reach people. Of course, Dave also could let Santa's hair down. He was once hired to play "Bad Santa" long before the movie featuring Billy Bob Thornton ever came out. Dave was the hit of the corporate party as he said the kinds of things the real Santa only wish he could say to these party attendees.

If there is an Internet connection in the afterlife, I know Mykiedave will be checking in on us, and I know he'll be smiling. We'll miss you in the village, my friend. Dave's wife, Holly, asked that if anyone wants to do something in Dave's memory, they should make a donation to their favorite charity.

Ghostvillagers are sharing their thoughts and memories about Dave on our message board here: http://www.ghostvillage.com/ghostcommunity/index.php?showtopic=8719

Supernaturally yours,

Jeff Belanger
info@ghostvillage.com
Mayor of Ghostvillage.com


Congratulations to Brandy Serkey of Torrington, Connecticut, who was last month's winner of an autographed copy of Jeff Belanger's new book, Communicating With the Dead: Reach Beyond the Grave, jazz guitarist, John Judd's new CD, Haunted Heart, and a Ghostvillage.com t-shirt!

This month, we're doing the contest again, but we ask that you first click this link: http://www.ghostvillage.com/index.shtml#winner. If it says, "The search is on" then we don't have a winner yet and go ahead and send in your answer. If you see today's date and "We have a winner!" that means you weren't the first to email us. Sorry, please try again next month.

On to this month's question: This question can be answered by reading a page on Ghostvillage.com. The first person to reply to this email with the correct answer will win this month's prize.

In what year did the film, The Ghost Goes West come out?

Once we have a winner, we will announce it on our home page as soon as possible. Good luck! (Only Ghostvillagers who have not won a prize from us in the last year are eligible.)



This month's prize: we're giving away an autographed copy of supernatural suspense author extraordinaire, Robert Masello's brand new novel, Vigil -- author Jeff Long said of Vigil: "You'll be sleeping with the lights on after reading this one. Haunting and unforgettable... A heart-stopping story of mythic evil, brought to terrifying life in modern-day New York." The prize package also includes a Ghostvillage.com t-shirt (so you can be at the height of fashion).


Didn't win? Want to buy a copy? Click on the graphic.



This Saturday (June 18th), Jeff Belanger will be speaking at the SGRA ParaCon 2005 in Stratford, Connecticut, and he'll also be speaking at the Berkshire Paranormal Conference at the haunted Houghton Mansion in North Adams, Massachusetts July 15-17. If you're in the region, please stop by and say hello.

The Supernatural Calendar is the place where thousands will learn about your events of interest to the supernatural world. The service is only available to registered members of the message boards, and it's free! We'd like your help filling our calendar in -- so add your events for thousands of Ghostvillagers to see. Here's some of the conferences, happenings, and meetings going on in the next two months:


June 17-18: SGRA Summer Paranormal Conference - Jeff Belanger will be speaking at this event
June 18: History & Hauntings Tours Extended
June 22: History & Hauntings Tours Spring/Summer
June 23: 2005 Haunted America Conference, Brian Leffler-krcguns on MagicMind Radio
June 25: Jeff Belanger on KZUM in Lincoln, NE
July 2: History & Hauntings Tours Spring/Summer
July 9: History & Hauntings Tours Spring/Summer, Haunted Overnights for Spring/Summer
July 15: Berkshire Paranormal Conference - Jeff Belanger will be speaking at this event
July 16: History & Hauntings Tours Extended
July 22: Ghostock - Savannah, GA
July 23: Eastern Paranormal Conference, Baltimore




Who's Who in the Town Square?

Get to know some of your fellow Ghostvillagers.



>>AllyLoveLove<< - member since February 10, 2004

What is your name?
Kyra

How old are you?
34

Where do you live?
Northeastern Ohio in a suburb of Cleveland.

What do you do for a living?
I am grateful to be a stay-at-home mom at this point in time, while my kids are little. I plan to return to the work force someday, however, I haven't decided in what area that will be.

How did you get interested in the supernatural?
I can't say for sure. All I know is that as far back as I can remember, I have always had an interest in ghosts/spirits. Although I have never had an encounter of my own that was undeniably paranormal, I remain fascinated by the stories of those who have. With most accounts coming from sound-minded, reliable, intelligent, "normal" people, I can't help but to be intrigued.

Why are you proud to be a Ghostvillager?
Ghostvillage is an incredible community filled with intelligent, friendly, funny, kind, open-minded people. I am so glad to have found the site. It's a fantastic place where people can feel free to discuss topics that they may not feel comfortable bringing up elsewhere. It's a place where people can take a look at the possibilities that lie underneath our everyday expectations. It's a place to explore beyond the limits and boundaries of what we think we know to be fact. It truly is a place to grow, learn, and share. Thanks, Jeff! And, thanks to my fellow GVers!

What's the first record (music) you ever bought?
LOL! Oh boy, let's see... I think it was Quiet Riot Metal Health. I liked the "Come on feel the Noize" song. I was probably about 11 years old, and, yes, it was vinyl. Eeek!


Ghostvillage.com's book reviewer, Lee Prosser, has brought us several new book reviews since our last newsletter.


This past month's Library additions:

New Chakra Healing by Cyndi Dale

Possible Fatal by Joanie Thurston with Wally Johnston

Magickal Mermaids And Water Creatures by D. J. Conway

Gnostic Philosophy by Tobias Churton

Correllian Wicca by Rev. Donald Lewis

The Book of Ordinary Oracles by Lon Milo DuQuette

A Witch's Notebook by Silver RavenWolf

The Golden Builders by Tobias Churton

Gabriel by Richard Webster

Shamanic Wisdom in the Pyramid Texts by Jeremy Naydler

Buckland's Book of Spirit Communications by Raymond Buckland

The Drummer's Path by Sule Greg Wilson

Encyclopedia of Natural Magic by John Michael Greer



We receive personal encounters from all over the world. Many are scary, some are touching, but they are always profound. If you would like to share your own experience, please click >>here<<. Since our last newsletter, we added the following new encounters:

Strange Sounds in Our House - Portland, Oregon

Paris Theatre Orbs - Paris, France [PIC]

My "Daughter" Sarah - Somersworth, New Hampshire

My Creepy Apartment - Amherst, Massachusetts

Nan's Ghostly Girl at St. Mary's - Jersey Channel Islands, United Kingdom

Greatmother's Message - Pittsburg, Kansas

Bessett House Orbs - Bannack, Montana [PIC]

The Disappearing Battery Pack - Honolulu, Hawaii

Paul's Goodbye - UCONN, Storrs, Connecticut

My Haunted Life - Orange County, California

My Ancestors' Spirit at Ruthin Castle - Ruthin, Wales

The Little Red Rocking Chair - Brooklyn, New York

My Uncle's Visits - Wiggins, Colorado


This is a new section we have added to Ghostvillage.com. This is the place to find press releases and news items on paranormal happenings around the world. If you have a news item you'd like to submit, please see our guidelines.

Southern Ghosts Offers A Weekend in Haunted Savannah August 26-28, 2005 - June 15, 2005

The 1st Annual Horror Writing Contest of the Writers Room of Bucks County - June 8, 2005

Las Vegas Paranormal Conference Beckons Ghost Investigators October 2-4, 2005 - May 27, 2005


Our "Features" section is a place for editorials, research articles, open letters to our readers, and other content of interest to Ghostvillagers. If you have a topic on your mind, agree or disagree with something you read recently, we want to hear from you! For guidelines, click here.

New features added since our last newsletter:

Bide One's Time - Why Do We Enjoy Ghost Story Movies? - by Lee Prosser - June 15, 2005

Tibetan Beliefs On Death and Beyond Part 1 of 2 by Janice Cottrill - June 13, 2005

Bide One's Time - We are Each a Living Ghost in Our Own Story - by Lee Prosser - June 1, 2005

Electronic Voice Phenomena (E.V.P.) by Todd M. Bates - May 23, 2005




Jeff Belanger's Upcoming Events

This is the place to find out where author and Ghostvillage.com founder Jeff Belanger will be speaking on the subject of the supernatural. If you're interested in booking Jeff for a conference or other event, please email us for more information.

Events Scheduled in 2005 so far:

2005 California Ghost Hunters Conference in San Diego, California - April 22-24

SGRA Summer Paranormal Conference in Stratford, Connecticut - June 17-18

New England Ghost Project's Berkshire Paranormal Conference in North Adams, Massachusetts - July 15-17

Adsagsona Paranormal Society GhostFest '05 in Red Boiling Springs, Tennessee - August 5-7

Ghost Convention International 2005 on the Queen Mary in Long Beach, California - September 9-11

Las Vegas Paranormal Conference in Las Vegas, Nevada - October 2-4

A Supernatural Evening With Jeff Belanger in Bellingham, Massachusetts - October 25th




Hot Threads in the Community

If you have registered for our message boards but haven't validated your account yet, it's simple to do! Look for the email that was automatically sent to you when you registered and click on the account activation link in the email (note: some spam filters may blosk this email, so you'll need to check your spam folder if the validation email didn't immediately come through. There are always great discussions going on in our huge message board community. We hope you'll get involved. It's free to register if you're not already a member. Here are some of the hot topics this month:

Haunted By My Granny Family's Ghostly Terror
http://www.ghostvillage.com/ghostcommunity/index.php?showtopic=8589
Are you afraid when Grandma comes to call?

EVP Experiments
http://www.ghostvillage.com/ghostcommunity/index.php?showtopic=8451
Do you have a trick or technique that works well for you? Want to share it?

Automatic Writing
http://www.ghostvillage.com/ghostcommunity/index.php?showtopic=8235
Share your successes and failures with automatic writing.

Small town cult occurrences
http://www.ghostvillage.com/ghostcommunity/index.php?showtopic=8385
The stuff you're not supposed to know.

Image of a ghost or just an error in developing?
http://www.ghostvillage.com/ghostcommunity/index.php?showtopic=7224
You decide.

Photo Game!
http://www.ghostvillage.com/ghostcommunity/index.php?showtopic=8468
Find a photo that the previous person is asking for.

Trying to Quit
http://www.ghostvillage.com/ghostcommunity/index.php?showtopic=7240
Smoker, trying to quit. Join your fellow villagers as they fuss and muss over their attempt to be quitters.

Pictures of your pets
http://www.ghostvillage.com/ghostcommunity/index.php?showtopic=4265
Check out Ghostvillagers' pets.


In the last month, the following people have joined our ghostly community. Please welcome:

armenella, Anpu2001, spiritsearcher028, darkangel8916, Sparkle Kitty, mkbennet, Scoob, hausey, lonely leonie, Rindoshi, schleppie, tina&andy, roxychick, psi13_michael, mybabe08, liltuffguy, pittsburghkid, hollyclover, Stevens68, FrankieT32, Romanianfreak, charmed29, robrance, blah, tyebug, CatGoddess37, SirusNY, Breath, Gasping4Air, MidKnight418, ghostboo, Siouxz7, bloodyrose24, Barbiedoll, Bluemoon, taz2107, Abetastic, veyaluch, yella3579, SunfireTee, annfes, web_18designer, ghostdawg52, owlfliesover, Maverick, GentleSpirit, eeeeeeeeee, tessa_cat, Amanda_alv, Jenna-05, Iheartghost, bob28790, livininchrist2000@yahoo.com, Mei, LadyCrow, vicesbabysis, julia blackburne, whizado, robinrenee, cookiecrumb4u, Cheryljo, DarkRose, mjvoket8, vampire1, cute_hapiness, cjane_2, markering_u_het_bent, zurconis, JoeFriday, loneagle1972, loneagle1999, primmrose64, SuperCrip666, bluerose, haz, tamera5894, mattpluserin, TheGateKeeper, midnight_willow, Oleander_flower, Lady_Aleena, bethxxx, buzzsqrd, dudeman027, spiritualPathfinders, brett_the_ghost55, Bastet, Lisa73, * Tara *, Scott K. Walker, phlowersniffer, PattyH, nathan_alf, fatboybigblock, Dr.Fu-Manchu, botarzsombor, BROOKLYN, shazzdracula, Mrs_MHW, kimi76212, hex, shrimpy, foo, BirdsMom, Helmeczi, turokm, Lilyofthevalley, tisoy, HeatherTimmz, mariangel, asdf, daisyofthesun22, redcorn, Jeremy_Pippin, Goddess Four Wins, pudg51new, chattel, Pagie Sawyer, Yapi, deadman walking, softballbabe042002, psi13_paul, hauntedgrl, fatalframe_addict, CECE1964, Ricardo B aguirre, ron57, barbi, Trip, karilyn, EvilDeadlyMinx, stephen1979, WICKEDJUGGALETTE, eaglesclaw121, missy_miller2011, ebrereton001, moomoomama_1, alicec, punkrock_babe101, lachrymose, andywandy, spirited1, kobra3260, andrea_inuyasha, wrestling119, fretybabe, Wave, sassylea, jimbodee, Jeanilou, Cheyenne_34, evilgurl71, brett, BlueLady, LifeafterDeath, bulah1, ghost_chick04, classiladi, REASTWOOD, Daddy'sGirl, ghosthuntress3, sweet-418, suus, jncreitz, cheeky2512, orby, cazbar, terra, darkness, smoke_and_mirrors, scaryimages392, spectre1, KCgirl, Macawdad, Gespenst, beckerz_luvs_nick, x3pinkTati, spookygrl, oOweno, monsterman, Miss_Teek, tammymccue, dunwich, lichway, GhostHunter57, Shadowdancer, scbarbara, leng monica hagoriles, DenPeg, vulcan, RB1, abbeyjf, MagickalDragon, claudia_20, NME_locus, TyroneP24, ihuntghosts, lilmj123, gh0st_9irl_00boo, babydollz_676, chlo flow, chloflow1, Coony, chatoswife, firemountaincat, travelingwriter1@yahoo.com, babyface123, Deferro, Psychicfyre, bonedaddy15, hauntedsouls betterhalf, mrshaunted soul, kel038, Nikkilola, spirit listener, searchers, hdragon50, Pyroman, Sedona, and roseman.



Ghostvillage.com Quick Stats:

132,847 Messages in the Town Square Message Boards
8,173 Members in the Town Square
368 "Personal Encounters" published on Ghostvillage.com
278 Paranormal Web sites in the Ghost Search directory
15,018 Subscribers to this newsletter
5,381,662 total Web site "hits" for Ghostvillage.com in May


Ghostvillage.com is the Web's largest supernatural community, the central place where people come to share their experiences, thoughts, and research. Please help us continue to grow by donating, buying a copy of The World's Most Haunted Places: From the Secret Files of Ghostvillage.com, Communicating With the Dead: Reach Beyond the Grave, shopping, or by buying a Ghostvillage.com t-shirt. Every little bit helps run our servers and helps the site get bigger and better! Please also click on our banner ads and support our advertisers -- when you do business with someone who advertises with Ghostvillage.com, let them know you saw their ad with us and thank them for the support.

Please email us anytime at info@ghostvillage.com. Your comments, questions, and feedback are always welcomed.


---
All material is © 2005 Ghostvillage.com
REMOVAL INSTRUCTIONS: To be removed from the mailing list, please go to www.ghostvillage.com/subscribe.shtml.