GHOSTVILLAGE.COM NEWSLETTER #136 - March 15, 2013

Buy Books by Jeff Belanger | Jeff Belanger's Official Web site | Visit UFOvillage.com | Like us on Facebook | Paranormal for Kids | Meet the Staff | Advertise with Ghostvillage.com

32,316 Subscribers to this newsletter!

Be sure to forward this on to your friends who are interested in the supernatural!

The Newtown Memorial Fund's mission is to provide support for those affected by the Sandy Hook Elementary School Tragedy, build a memorial, and provide long-term academic scholarships in the names of the victims. http://newtownmemorialfund.org/
---
You are receiving this email because you or a friend signed you up at http://www.ghostvillage.com. If you would like to be removed from this mailing list, please see the instructions at the bottom.
View this newsletter online at: http://www.ghostvillage.com/newsletters/Mar15_13.htm
---
Dear Ghostvillagers,


Okay, sure, Julius Caesar certainly should beware the Ides of March, but does that mean the rest of us (and may I point out it's been more than 2000 years since his assassination) also have to tiptoe through the 15th? What was just a day on the calendar has become a thing -- like seeing a pothole way ahead on the road, saying to yourself, I need to go around that pothole then hitting the pothole anyway. If you weren't looking, you might have missed it, but because you fixated, it's like fate gave you no choice but to bend your rim.

According to Greek historian and biographer Plutarch, a seer had warned Julius Caesar to "beware the Ides of March." Caesar didn't heed the warning (he even mocked it) and showed up to the senate meeting in 44 BC for his date with 60 conspirators who stabbed the ruler to death. The Roman calendar didn't number their days; they focused on three fixed points: the Nones, Ides (middle) and Kalends. Caesar is assassinated, centuries later Shakespeare immortalizes the story in his play Julius Caesar, and BAM we're freaked out a little every March 15th.

That's the power of story. The allure of legend. A place garners a reputation for being haunted, for harboring monsters, or being a secret alien landing site, and it's the only thing we can think about. That story is a human connection from one person to another. It's a literal line that connects people to each other, then to places, then to points in time.

I view my job as following that string from person to person, from place to place, and then back in time to see where it leads me. And sometimes, when the conditions are just right… the past comes alive again. We see something that doesn't belong in our present. Those are the moments I live for.

I know I'm not alone. Over the years I've encountered so many of you who also want to explore these events and things that bind us to each other. It's why I love paranormal events. It's the place where we explore what we have in common, not what makes us different.

I hope you'll get the chance to join me next month at one of my favorite haunts: The Houghton Mansion in North Adams, Massachusetts. My buddies Dave Schrader from Darkness Radio, Ron Kolek from Ghost Chronicles, and Tim Weisberg from Spooky Southcoast will be leading the festivities. Come out and see us!

Supernaturally yours,

Jeff Belanger
Mayor of Ghostvillage.com
Twitter: @THEJeffBelanger
Facebook: Jeff Belanger
YouTube: www.youtube.com/legendtripping






Jeff Belanger's Upcoming Events

This is the place to find out where author and Ghostvillage.com founder Jeff Belanger will be speaking on the subject of the paranormal. If you're interested in booking Jeff for a conference or other event, please visit: http://www.jeffbelanger.com/lectures.php for more information.

Events Scheduled:

Phenomenology 105 - Gettysburg, Pennsylvania - March 21-24, 2013
Haunting the Houghton Mansion - North Adams, Massachusetts - April 5-7, 2013
The Real Dracula Tour and Ghost Hunt with Dave Schrader and Jeff Belanger - Romania - May 19-27, 2013
Chicago Ghost Conference 5 - Chicago, Illinois - October 4-5, 2013
A Supernatural Evening with Jeff Belanger - New Braintree Public Library - New Braintree, Massachusetts - October 26, 2013, 7:00PM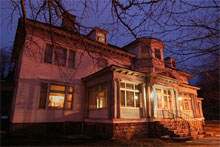 Join us April 6, 2013 - As seen on Season One of Ghost Adventures! Built by the first mayor of North Adams in 1890, the mansion is now home to a Masonic Temple, though the secretive society isn't the only resident. The building allegedly holds the ghosts of a suicide victim, A.C. Houghton himself, and the spirit of his daughter, Mary, who died in a tragic car accident August 1, 1914.

The event includes: a Meet-n-Greet Party, Lectures, Paranormal Experiments, Dinner, and Hours of Investigations featuring Dave Schrader from Darkness Radio, Ron Kolek from Ghost Chronicles, and Tim Weisberg from Spooky Southcoast!

Click here for more information: http://www.legendtrips.com/houghtonmansion2013.shtml



How to win: Entries will be accepted up until 5:00 PM (eastern time) tomorrow (March 16, 2013). At 5:00 PM, we will draw a winner at random from the correct entries that have been received. You no longer have to be the first, but you only have until 5:00 PM to get your answer in. If you click on this link: http://www.ghostvillage.com/index.shtml#winner, you see today's date, and "We have a winner!" that means the contest has ended. Sorry, please try again next month. To submit your entry, simply reply to this email with the correct answer.

On to this month's question: This question can be answered by reading a page on Ghostvillage.com. Remember, reply by 5:00 PM tomorrow to be eligible to win.

What are the names of the ghost hunting couples recently profiled on Ghostvillage.com?

At 5:00 PM tomorrow, we will announce the winner on our home page. Good luck! (Only Ghostvillagers who have not won a prize from us in the last year are eligible.)



This month's prize: We're giving away an autographed copy of Jeff Belanger's book, The Ghost Files and a Ghostvillage.com window sticker!


Didn't win? Want to buy a copy? Click on the graphic.



Our "Features" section is a place for editorials, research articles, open letters to our readers, and other content of interest to Ghostvillagers. If you have a topic on your mind, agree or disagree with something you read recently, we want to hear from you! For guidelines, click here.

New features added since our last newsletter:

Ouija Boards with Karen Dahlman March 12, 2013 [VIDEO]
The Jinn with Marwan El Nashar March 6, 2013 [VIDEO]
Stranded with Josh Gates February 26, 2013 [VIDEO]
Secret Space Program with Tim Swartz February 19, 2013 [VIDEO]
When Ghost Hunting Is A Family Affair February 8, 2013
Rhode Island Bigfoot with the Bigfoot Seekers February 5, 2013 [VIDEO]
The Paranormal Equation with Dr. James Stein January 29, 2013 [VIDEO]
The UFO Singularity with Micah Hanks January 22, 2013 [VIDEO]
American Folklore with S.E. Schlosser January 15, 2013 [VIDEO]





Ghostvillage.com Advertising Opportunities

Each month Ghostvillage.com reaches tens of thousands of people interested in the paranormal. We offer the most effective and best-valued advertising and sponsorship packages of any paranormal media outlet. Please visit: http://www.ghostvillage.com/advertising.htm for details.

If you're ready to put Ghostvillage.com to work for your company or organization, send us an email to get started.




Hot Threads and the Ghostvillage.com Community

In the past month, tons of new people registered for free to join our supernatural discussion! Have you?

If you have registered for our message boards but haven't validated your account yet, it's simple to do! Look for the email that was automatically sent to you when you registered and click on the account activation link in the email (note: some bulkmail filters may block this email, so you'll need to check your bulkmail folder if the validation email didn't immediately come through). There are always great discussions going on in our huge message board community. We hope you'll get involved. It's free to register if you're not already a member. Here are some of the hot topics this month:

Urban Legends, Myths, and Folklore
http://www.ghostvillage.com/ghostcommunity/index.php?showtopic=33270
Experiences with and theories about Black Eyed People.

Russian Holes?
http://www.ghostvillage.com/ghostcommunity/index.php?showtopic=33248
Unexplained round holes found in Russia.

General Board
http://www.ghostvillage.com/ghostcommunity/index.php?showtopic=33263
How to search the history of a house.

Religion and Spirituality
http://www.ghostvillage.com/ghostcommunity/index.php?showtopic=32968
Advice on spiritual balancing.

Spirit Communication
http://www.ghostvillage.com/ghostcommunity/index.php?showtopic=32626
How to help the dead.

Paranormal Media
http://www.ghostvillage.com/ghostcommunity/index.php?showtopic=33259
911 calls from the other side.

Skeptics
http://www.ghostvillage.com/ghostcommunity/index.php?showtopic=33105
An anatomy of motivated rejection of science.

Personal Encounters
http://www.ghostvillage.com/ghostcommunity/index.php?showtopic=33233
Dead hand.

Haunted Places
http://www.ghostvillage.com/ghostcommunity/index.php?showtopic=33239
Hell's Bridge.

Real Life Occurences
http://www.ghostvillage.com/ghostcommunity/index.php?showtopic=33237
Pictures of Ghostvillagers!


Board of the Month -- The Ides of March
http://www.ghostvillage.com/ghostcommunity/index.php?showforum=27
What dates scare you?




Ghostvillage.com Quick Stats:

323,786 Posts in the Town Square Message Boards
30,275 Members in the Town Square
1,116 "Personal Encounters" published on Ghostvillage.com
1,825 Paranormal Web sites in the Ghost Links directory
32,316 Subscribers to this newsletter
2,667,753 Total Web site "hits" for Ghostvillage.com in February


Ghostvillage.com is the Web's largest supernatural community, the central place where people come to share their experiences, thoughts, and research. Please help us continue to grow by buying a copy of The World's Most Haunted Places, Communicating With the Dead, The Encyclopedia of Haunted Places, The Nightmare Encyclopedia, Our Haunted Lives, Ghosts of War, The Ghost Files, Weird Massachusetts, Who's Haunting the White House?, The Mysteries of the Bermuda Triangle, Picture Yourself Legend Tripping, or Chasing Spirits. Every little bit helps run our servers and helps the site get bigger and better! Please also click on our banner ads and support our advertisers -- when you do business with someone who advertises with Ghostvillage.com, let them know you saw their ad with us and thank them for the support.

Please email us anytime at info@ghostvillage.com. Your comments, questions, and feedback are always welcomed.


---
All material is © 2013 Ghostvillage.com
REMOVAL INSTRUCTIONS: To be removed from the mailing list, please go to www.ghostvillage.com/subscribe.shtml or click on the link below.