GHOSTVILLAGE.COM NEWSLETTER #127 - May 17, 2012

Buy Books by Jeff Belanger | Jeff Belanger's Official Web site | Visit UFOvillage.com | Like us on Facebook | Paranormal for Kids | Meet the Staff | Advertise with Ghostvillage.com

35,695 Subscribers to this newsletter!

Be sure to forward this on to your friends who are interested in the supernatural!


Visit Rolling Hills Asylum -- one of America's most active haunts! Open all spring with special rates!http://www.rollinghillsasylum.com
---
You are receiving this email because you or a friend signed you up at http://www.ghostvillage.com. If you would like to be removed from this mailing list, please see the instructions at the bottom.
View this newsletter online at: http://www.ghostvillage.com/newsletters/May17_12.htm
---
Dear Ghostvillagers,

I know what you're thinking… you're thinking that I don't know what you're thinking. Yet, I knew you were thinking that! Confused? Me too. Where was I? Oh yes, Extrasensory Perception. ESP. In short, mind powers. Some may scoff at the notion, but we've all experienced some form of this. ESP is a rather big umbrella that includes precognition, retrocognition (knowing past events that couldn't have been learned by "normal" means), telepathy, and psychic abilities.

A quick example of ESP in the everyday: gut feelings. Have you ever been walking someplace and sensed danger? Or have you heard a great business proposition and knew in your stomach that it was a good idea, or "knowing" something was wrong with a family member or close friend? These are feelings and thoughts we're not picking up with our five senses. And it's not just the stuff of science fiction.

ESP has been tested in laboratories: The J.B. Rhine Center (once part of Duke University) and the former Princeton Engineering Anomalies Research (PEAR) lab at Princeton to name two. The studies are amazing: we have the ability to affect outcomes with our mind. Any athlete will read that last sentence and say, "Well, duh!" Athletes operating at the highest levels know that their mental state is always the difference between winning and losing. "Having heart," "In the zone," or being "on fire," are phrases used, but what they really mean is that the athlete willed their consciousness to overcome the circumstances and their bodies followed suit.

I think a lot about powers of the mind in my own work. When facing deadlines, when stressed, or when I'm feeling unmotivated, I know my mind is what will help me overcome. By placing my thoughts on a better track, I find that the rest of me begins to stir to try and catch up. If we could all harness the powers of our own minds, we can do great things. We can change the world. And maybe, just maybe, we can connect with each other on a deeper level, or the energies of those who have come before us. This month we're going to focus our thoughts, intent, and mental energies on ESP in our Message Board of the Month!

Speaking of message boards, stop by and check out our newly-upgraded community forum! This is the first step in the evolution of Ghostvillage.com. We're going to upgrade the entire Web site in phases because we have a LOT of content. So stay tuned for those exciting changes.

Something else for Ghost Adventures fans to check out, Nick Groff's forthcoming book! I worked on this book with Nick to give readers the whole story of Nick and how the Ghost Adventures Crew came together, plus some behind-the-scenes from some of your favorite cases. Chasing Spirits: The Building of the Ghost Adventures Crew is now available for pre-order on Amazon: http://www.amazon.com/exec/obidos/ASIN/045141344X/ghostvillagecom

I have a ton of upcoming lectures and events, plus I'm booking up many more for the Fall. Be sure to come by and say hello!

Enjoy the rest of the newsletter below.

Supernaturally yours,

Jeff Belanger
Mayor of Ghostvillage.com
Twitter: @THEJeffBelanger
Facebook: Jeff Belanger
YouTube: www.youtube.com/legendtripping






Jeff Belanger's Upcoming Events

This is the place to find out where author and Ghostvillage.com founder Jeff Belanger will be speaking on the subject of the paranormal. If you're interested in booking Jeff for a conference or other event, please visit: http://www.jeffbelanger.com/lectures.php for more information.

Events Scheduled:

A Supernatural Evening with Jeff Belanger - Groton Public Library - Groton, Massachusetts - June 21, 2012, 7:00PM
A Supernatural Evening with Jeff Belanger - Russell Memorial Library - Acuchnet, Massachusetts - July 18, 2012, 6:30PM
Eastern State 2012 Scared Straight - Darkness Radio - Philadelphia, Pennsylvania - July 26-28, 2012
A Supernatural Evening with Jeff Belanger - Townsend Public Library - Townsend, Massachusetts - August 3, 2012, 7:00PM
3rd Annual Michigan Paranormal Convention - Kewadin Casino - Sault Ste. Marie, Michigan - August 10-11, 2012
Dead of Summer - Lizzie Borden House - Fall River, Massachusetts - August 25, 2012, 6:30PM
Central Texas Paranormal Conference - Austin, Texas - October 6-7, 2012
Hales Dam Convention - Guild, Tennessee - October 12-13, 2012
A Supernatural Evening with Jeff Belanger - Mystical Parlors - South Norwalk, Connecticut - October 27, 2012, 6:00PM
Darkness Radio's End of Days Paranormal Conference - Stanley Hotel - Estes Park, Colorado - November 15-18, 2012





Eastern State 2012 - Scared Straight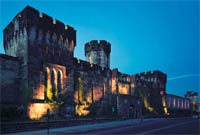 Join us July 26-28, 2012 for the last Darkness Radio Event at Eastern State Penitentiary in Philadelphia, Pennsylvania! This is the world's first penitentiary and it's haunted throughout. Al Capone's cell is still there, plus acres of haunted cell blocks.

Special guests include: Aaron Goodwin and Billy Tolley from Ghost Adventures, Jeff Belanger, Mark & Debby Constantino, Chris Fleming, Dave Schrader, Bill Chappell, Patrick Burns, Michael and Marti Parry, George Noory, and Aaron Sagers!

Click here for more information: http://www.darknessradio.com/TRIPS/easternstate2012/index.html



Congratulations to Stephen Nettles of Romeoville, Illinois, who was the April winner of an autographed copy of Jeff Belanger's book, Picture Yourself Legend Tripping and a Ghostvillage.com window sticker!

How to win: Entries will be accepted up until 5:00 PM (eastern time) tomorrow (May 18, 2012). At 5:00 PM, we will draw a winner at random from the correct entries that have been received. You no longer have to be the first, but you only have until 5:00 PM to get your answer in. If you click on this link: http://www.ghostvillage.com/index.shtml#winner, you see today's date, and "We have a winner!" that means the contest has ended. Sorry, please try again next month. To submit your entry, simply reply to this email with the correct answer.

On to this month's question: This question can be answered by reading a page on Ghostvillage.com. Remember, reply by 5:00 PM tomorrow to be eligible to win.

What factors encouraged Troy Taylor to found the American Ghost Society in 1996?

At 5:00 PM tomorrow, we will announce the winner on our home page. Good luck! (Only Ghostvillagers who have not won a prize from us in the last year are eligible.)



This month's prize: We're giving away an autographed copy of Jeff Belanger's book and DVD, Picture Yourself Legend Tripping and a Ghostvillage.com window sticker!


Didn't win? Want to buy a copy? Click on the graphic.



Our "Features" section is a place for editorials, research articles, open letters to our readers, and other content of interest to Ghostvillagers. If you have a topic on your mind, agree or disagree with something you read recently, we want to hear from you! For guidelines, click here.

New features added since our last newsletter:

Your Paranormal Encounters - 3 Year Anniversary Special May 15, 2012 [VIDEO]
Crop Circles with Patty Greer May 8, 2012 [VIDEO]
After Death Communication with Gary Galka May 1, 2012 [VIDEO]
Living Legend Series: Troy Taylor April 25, 2012
LIVE From Ohio State Reformatory April 24, 2012 [VIDEO]



We receive personal encounters from all over the world. Many are scary, some are touching, but they are always profound. If you would like to share your own experience, please click >>here<<. Since our last newsletter, we added the following new encounters:

Apparition Caught at Rolling Hills Asylum - East Bethany, New York
My Daughter Reaches Out From The Beyond - United States
Doppelganger in the House - United States
Dark Entity - Lancaster, Pennsylvania
Haunted Garage - Watauga, Texas





Hot Threads and the Ghostvillage.com Community

In the past month, tons of new people registered for free to join our supernatural discussion! Have you?

If you have registered for our message boards but haven't validated your account yet, it's simple to do! Look for the email that was automatically sent to you when you registered and click on the account activation link in the email (note: some bulkmail filters may block this email, so you'll need to check your bulkmail folder if the validation email didn't immediately come through). There are always great discussions going on in our huge message board community. We hope you'll get involved. It's free to register if you're not already a member. Here are some of the hot topics this month:

Evidence Alley
http://www.ghostvillage.com/ghostcommunity/index.php?showtopic=32732
Need some help with a picture.

Personal Encounters
http://www.ghostvillage.com/ghostcommunity/index.php?showtopic=32734
Get out of my room!

Horses and Spirits
http://www.ghostvillage.com/ghostcommunity/index.php?showtopic=32696
Can animals sense spirit presence?

Religion and Spirituality
http://www.ghostvillage.com/ghostcommunity/index.php?showtopic=32737
I died and returned... a true case of NDE.

Spirit Communication
http://www.ghostvillage.com/ghostcommunity/index.php?showtopic=31844
Message for a stranger.

Skeptics
http://www.ghostvillage.com/ghostcommunity/index.php?showtopic=30397
NDEs - is it all in the mind?


Board of the Month -- Extrasensory Perception
http://www.ghostvillage.com/ghostcommunity/index.php?showforum=27
Do we all have ESP? Share your experiences!




Ghostvillage.com Advertising Opportunities

Each month Ghostvillage.com reaches tens of thousands of people interested in the paranormal. We offer the most effective and best-valued advertising and sponsorship packages of any paranormal media outlet. Please visit: http://www.ghostvillage.com/advertising.htm for details.

If you're ready to put Ghostvillage.com to work for your company or organization, send us an email to get started.




Ghostvillage.com Quick Stats:

319,503 Posts in the Town Square Message Boards
29,858 Members in the Town Square
1,094 "Personal Encounters" published on Ghostvillage.com
1,775 Paranormal Web sites in the Ghost Links directory
35,695 Subscribers to this newsletter
3,805,914 Total Web site "hits" for Ghostvillage.com in April


Ghostvillage.com is the Web's largest supernatural community, the central place where people come to share their experiences, thoughts, and research. Please help us continue to grow by buying a copy of The World's Most Haunted Places, Communicating With the Dead, The Encyclopedia of Haunted Places, The Nightmare Encyclopedia, Our Haunted Lives, Ghosts of War, The Ghost Files, Weird Massachusetts, Who's Haunting the White House?, The Mysteries of the Bermuda Triangle, Picture Yourself Legend Tripping or shopping in Ghost-Mart. Every little bit helps run our servers and helps the site get bigger and better! Please also click on our banner ads and support our advertisers -- when you do business with someone who advertises with Ghostvillage.com, let them know you saw their ad with us and thank them for the support.

Please email us anytime at info@ghostvillage.com. Your comments, questions, and feedback are always welcomed.


---
All material is © 2012 Ghostvillage.com
REMOVAL INSTRUCTIONS: To be removed from the mailing list, please go to www.ghostvillage.com/subscribe.shtml or click on the link below.