GHOSTVILLAGE.COM NEWSLETTER #39
November 15, 2004

Shop at Ghostvillage.com | Support Ghostvillage.com | The World's Most Haunted Places

Be sure to forward this on to your friends who are interested in the supernatural!
---
You are receiving this email because you or a friend signed you up at http://www.ghostvillage.com. If you would like to be removed from this mailing list, please see the instructions at the bottom.
View this newsletter online at: http://www.ghostvillage.com/newsletters/Nov15_04.htm
---
Dear Ghostvillagers,

After more than 5 million hits, 900 new signups for this newsletter, 600 new registrations for our supernatural community, Ghostvillage.com's fifth anniversary, and 57 trick-or-treaters at my door on October 31st, I'm ready to catch my breath from this past Halloween season. To our new Ghostvillagers, I say welcome! I hope you'll be involved year-round and not just during October, and to those who have been with us through the years, I say thanks, and wow -- you guys are the real cornerstones of our community.

November 1st I slept in -- it was great. But since then I've been hard at work on spirit communication. This subject is incredible, and the research I'm doing is exciting. Since humans could communicate, we've been yearning to speak with those who have passed on. Some, such as psychics and mediums, claim to have this ability on-demand. Others believe that through devices and focusing tools, they can get messages from the other side. Some of the results I've found have brought my inner skeptic to his knees. I'm not quite ready to say more, but I will keep you posted on my findings.

I will say that I've come to know that there's still magic left in the world. I used to not believe that. By the time I got into college and shortly thereafter, I figured the mysteries were all solved. I find it ironic that the older I'm getting, the more I'm believing in magic again.

So with a wave of my wand and a nod of my head, I bid you a happy November. Enjoy the rest of the newsletter below.

Supernaturally yours,

Jeff Belanger
info@ghostvillage.com
Mayor of Ghostvillage.com

Congratulations to Jim Smith of Brooksville, Florida, who was last month's winner of an autographed copy of Jeff Belanger's new book, The World's Most Haunted Places: From the Secret Files of Ghostvillage.com and a copy of the new GHOST! magazine - For the Ghost Hunting Enthusiast! Also, congratulations to Louis Gonzalez of San Fernando, California, and to Jocelyn Fisher of Charlotte, North Carolina, who also won a free copy of GHOST! magazine.



The "winner" icon on the left has been hidden somewhere on Ghostvillage.com. If you're the first to find it, email us with the page it's on, and you win this month's prize. The graphic could be on any page on the Web site (except in the message boards) -- maybe at the top of the page, maybe the bottom, etc. Once we have a winner, we will announce it on our home page as soon as possible. By clicking on the "winner" icon within Ghostvillage.com, it should launch your email with the appropriate subject. If not, email info@ghostvillage.com, and in the subject or body, put the URL of the page you found the icon on. Good luck! (Only Ghostvillagers who have not won a prize from us in the last year are eligible.)



This month's prize: we're giving away another autographed copy of the newly-released The World's Most Haunted Places: From the Secret Files of Ghostvillage.com!


Didn't win? Want to buy a copy? Click on the graphic.



The Supernatural Calendar is the place where thousands will learn about your events of interest to the supernatural world. The service is only available to registered members of the message boards, and it's free! We'd like your help filling our calendar in -- so add your events for thousands of Ghostvillagers to see. Here's some of the conferences, happenings, and meetings going on in November/December:

November 29: Jeff Belanger on Ghost Chronicles Radio




Who's Who in the Town Square?

Get to know some of your fellow Ghostvillagers.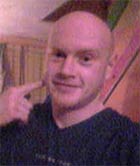 >>MrGrey<< - member since September 4, 2004

What is your name?
Daniel Jackson

How old are you?
I'm 24 years old.

Where do you live?
I live in the Rhondda Valleys in South Wales, United Kingdom -- surrounded by mountains.

What do you do for a living?
I work in a factory making satellite dishes -- very boring work.

Have you ever seen a ghost?
I've seen a few strange things in my time, and can never explain them, but the weirdest one happened a couple of months ago. I was just settling down for bed and starting to drift a bit when my mobile phone went off with a text message. I quickly sat up to answer it, and as I did I could see a silhouette of what looked like a man right by the side of me. It was there for a few seconds and then faded away. It completely freaked me out and I still have no explanation for it. Anyway, the night after, I was settling down again and starting to drift when the next thing I knew, I was lying in the bed and I could see that my PC monitor was on at the back of the room (I always knock it off when I go to bed), and I was aware of something by the side of me but it was invisible to me. The bed clothes were slowly being peeled off me, and all I can remember is absolute fear... I've never known fear like it before and I couldn't speak out or anything. The next thing I knew, I was awake in my bed in a sitting-up position. Needless to say, I had a few sleepless nights after that one.

What first got you interested in ghosts and the supernatural?
I've been interested in the paranormal for as long as I can remember. I don't know what got me into them, but I have always been fascinated by ghosts and spooky happenings. I think there's something about the unexplainable that just draws you to it.

What's the most haunted location you've ever visited?
Well, I've never actually been to an officially known haunted site, unfortunately, but my old grammar school halfway up in the mountains was known for a few hauntings. It was a very spooky place -- had been abandoned for years and then burned to the ground about 4 or 5 years ago. It's now rubble.


Ghostvillage.com's book reviewer, Lee Prosser, has brought us several new book reviews since our last newsletter. Hey, check out the new picture of Lee!

This past month's Library additions:

Your Guardian Angel and You by Denny Sargent

Ghosthunting Ohio by John B. Kachuba

Templars in America by Tim Wallace-Murphy and Marilyn Hopkins

Celebrating the Seasons of Life: Beltane to Mabon by Ashleen O'Gaea

Power Animal Meditations by Nicki Scully

Witchcraft: A Mystery Tradition by Raven Grimassi

Campfire Ghost Stories, Volume 2 by A. S. Mott AND Werewolves and Shapeshifters by Darren Zenko


We receive personal encounters from all over the world. Many are scary, some are touching, but they are always profound. If you would like to share your own experience, please click >>here<<. Since our last newsletter, we added the following new encounters:

Sachs Bridge Ghost Mist - Gettysburg, Pennsylvania [pic]

The Man in the Overcoat - Chicago, Illinois

Witch Bertha's Flying Orb Video - Coleraine, Minnesota [video]

Auditorium Shadow Video - Hibbing, Minnesota [video]

The Apartment in the Former Morgue - Marlborough, Massachusetts

My Father's Visit - Spring, Texas

Knocks, Bumps, a Cemetery, and a Book - Banks, Oregon

The Chase Through Enchanted Forest - Pasadena, California

Ghostly Wisps of Blonde Hair - Ellicott City, Maryland

The Mist of Gunntown Cemetery - Naugatuck, Connecticut [pic]

The Cold Wind and Haunted House - Porterville, California

The Cloaked Figure in Nesbitt Elementary - Montreal, Quebec, Canada

Tormented in My Bedroom - Grand Prairie, Texas

The Little Girl of Grants Pass - Grants Pass, Oregon


Our "Resources" section is a place for editorials, research articles, open letters to our readers, press releases, and other content of interest to Ghostvillagers. If you have a topic on your mind, agree or disagree with something you read recently, we want to hear from you! For guidelines, click here.

New articles since our last newsletter:

A True Tale Of A Truly Haunted House by Albert Donnay - October 31, 2004

Nothing in This World is Not Touched by Death by Lee Prosser - October 20, 2004


In the last month, the following people have joined our ghostly community -- over 600 people in only one month! Please welcome:

ericjmiller99, rwparsons76, ghstbster, strangecharm, Jmsweetp, Kayler, Porch Dog, phyllis, swapna.ravi, christianna, livingdead666, 2003shine, asachance, magickbaby, uninvited_biand, bboss102, Tanuki, vikingqueen, loveghosties13, mjwtx, mystars, wb99, SpookChasers, jmoquin, amandahedrick, coreyt, erin_0725, moonshowr, vampirella67, Oracle, hsbailey, Sumi, spooky cat, Christine1, phaedra9703, theoren11, BLACKSHADOW, dragoness2477, daisey29, Darkknight, Walt, jfishgirl79, beccapierson, jayeaston, dolphinspirit23, vikkistevens, tiffie83, MorenitaFSC2008, nitas45, lunaria, bhudson06, gangsterghost23, crazywierdo66, sanguinedream, cakd3477, kase26y, brown, crystal33695, Rasenna, sharonlt42, Lynnesmagick, sammysue, Rochelle, starlite2, tonyandcathie, jbug67, mr.skeptical, JOLINAR, honeygene, danac, Robin, Deathdealer, heavenlybody, karen75, SW359866963, beahm6, foxygirl1016, Nicekitten, mrsmayhem, hewpumpkin, landerman, shelleylanderman, fullmoon, TimelessEclipse, blahhh01, sandlerin09, vamp29, Amaisdre, ehm, vani_samine, jeraldine, yani, dano, Vazgen, kat, JP3113, Bigfroggymama, Phillip Wynn, katie-d, lisaluvsroy, mscrisbee, cvr0912, GrimSleeper, blueiedblissnj, LISA101, wolf, racer200411, AntSquirly, ediemae, AliceMaude, Rose5, thesameones, biboy, topper, Peanutfish44, dutch_gangsta, shadowgurl, GHOST FACE, ghostwolf001, pin4uk, taniskate, child_of_tha_universe_13, redkatum, Herbach1945, mattyg1273, DAVH62, Sergio_1000000@yahoo.com, KAGOMEA, special_angel_42, ghostworld, Sunray, nytevixen, dOpPelGaNgEr, FlynnFlynn, The Bud Man, marleaugirl408, erica, DEMONKYO, chanty2k4, MoonRoots, shabelle, Scorpia1973, mercedes6255, Whisper, Nemohee, aries_star74, ghostlyglow, tml1432, pinkmomy71, Salem, Canterbury, Fyrewolf, lil_native_girl09, watch4ghosts, ghost_chick04, Southern Comfort, addicted_to_eirik, bhostguster, Micai, jaz_gabrielle, soonerfan55, BankBuckGame, jazzygirl, raneyday100, disturbedcarebear89, Constance, Yvette, scaredycat, rddamw07, aleeinsky, erinashley, HEADLESShorseman, hunniebunnie, wings, untamedmystk, thrlridp, long_forgotten, keybi227, catstanford, itto2, unknown, templar, meg, cayslin, stagedivact, dnice1166, nntt20, vjstron, mummu, gingersnaps, furbys_evil, Dollyo, bareftbabe, muadeeb, judy, pyrokitty1899, ochrotomys, Klaatu, Scientress, Ibelieve420, FreeKey, chrisswalter, wolf_ldy, freebird_21, Noona, jEnIle_jr, garyrister, Scarlet2k, mmagency, gcrow, Mallory, MadHamster, banjoist, BG68, arwicker, alfurn, Juice3, libra6523, barbifav, lewisck, MysteryWoman, SWood10, kelly K, girl25, wrathcome, specie, dexxxy24, Simmy, ItemCo16527, wenhigs, cagedempress, a-huntley, villkat, momrox, Sweet215chica, Angellyon, Didiscareyou87, Barb Scheibel, freeasoul, golgo13, gto1gto1, Icanseethem13, dvmckinley, candlea, edivine, ghettomami86, Glinnis, sogetshu26, tinkerbell908, freaky geeky, lostone, brentsforevergirl, legacy, Jrsm17, fairydust, witchbitch7226, Ghost55, stanczik, Looney, mrittyunjaya, Erica1620, milagro98, cjp, gpmazie, rapqueen01, dragonfly40, Faerydustpixie, madnessism, haunted_eve, holly9zz, Mystical Runt, Magma, Grisan, tooqute4u, psychobitchgoddess, RavenFireWater, denscout1, AngieEnid1981, SFOdyssey, pstixxxc, jckpirate, mysticvelvet, lec77, dnice166, foolbabyny, blink_kid_#182, luckie2004, dragonladymary, Papilio, elizalizard, HppyBnny1387, jolliann, chelle1778, eternalshogunx, pinkphantom, angiekruger, eflores77, ErhnamBurnem, moongrove, tamikitty1, ghost_chaser_girl, cathylj73, billybob, scrboi927, rsn616, DuchessOfDoom, ariadne, ibmrsballeriffic, 80s girl, pschube, bones, wright, gapster_7, eighty_sixed, abby3@sbcglobal.net, Miranda, spookysue, kbaione, vonwickford, jekhavillamero, MJJ_Disciple, babyk, pastajunkie78, vdp94, GhostsRKewl, MORRISON, aycole, nychick1384, bo010, mitchellgrl, stevie_12, specialK, Pixie, pietro, jennyh, silentswordsman, dres, mystical, WakeInTheDark, Lorianne, megs123, Rusty Shackleford, brett76, mudpie421, rosario catalioti, sangre_ignis, lilmisskeri04, Bigdog, bernelle, urday, ervs, dentel, apple_bobbin_rules, paran0rmal1, CDENGEL69, hoosierhunter, Dr. Venkman, mjn41954, Robyn, hgrogers1, cobiadriver, nikkif0rsale, terry, recklessvertigo, chloemartin3@hotmail.com, ANDY74, LUPITWO, lilmomma1144, mlnoakes, kerry, kerry909, paulr, Avehna, stoller1981, rnsak8, Soul09Seeker, boombalu, TanithEllen, baersweetbaer, Covelo, lovemypappy, orangeucrayz, GaryThomas, Jacara, PhantomMist, mary ann, Kezanna, blue_girl05, shorty_g, multongpoltergeist, pcarrieanne9, rebekahthomas, poolez, monkey_kibble, liz313, eagleeyes697, georgiared, Wicked Lil Angel, brian, Tweets, lynda514, suicide_apostle, ptl, haroldsheets, NightHawk, FloridaLizardQueen, wisdomview, rachelkatiejaylynne, cattballou, dumbblond332@aol.com, uglybuoy, tezza98765, Nightangel, mhyqui_21, vheng_17@yahoo.com, roSette, kaybrid, david h, Slipknot, (:Kitten, molly_cat, pixiezsoul, Jean, halo24, Scorpio, DixieAnne19, aprilnwalt, lakeluvr714, Dr. Muldoon, ZOLA, Brandi Nicole, Kristine, tjnn97, scentlessapprentice, suebaz, THeYDiDiT, kizdababe, thegreatescape, mnaw, waffle73, cinedralla, dolly68104, rajemm, wackotaz, Shannonharding, mysticthunder, alexan1j, ladybud38, heather070782, Philosopherboy, edellacca, Snalleygaster, drebins11, DEBDOLFYN, smokespice, Duddieslilgirl, Kingcon69, lovebug0896, spiritwind, Gagenitup, GhOsT_gIrL04, littlewonder6688, jendaija, suganspice2593, MedicMom106, Kathleen, johnnylabeau, -jimbo-, fierflameice, nessa5, lantzinc, Vantalk, Nosyteacher, 87vdubgti16v, gheeann, srtrulyfc, cristinav7, dragonbrth, Iron And Ice, Shivers, asTrid, nannieg39, ghost_freak, evan, Ginevra Weasley, jennval, AliceMcpopher, pam, cbyatte, freerider, JenNAdam15, wakywitch, rockyd57, Gh@$sTlyTr0ll, joe, Emeraldjade, wickedavenged, tanyanmack, bumpinthenight, glib_gurl17, dedoralife, jspeed, tanyaw, cute1di, maidenfox, ced_2005, gingersue, silent spirit, Lomendanar, mcfly_mad_ghost_crazy, normajeane, ghostwiththemost, GhostyLinds1982, cute_guy1976phils, nitin, Yankeeblue65, bloodsender, taffyc, dcevans, Brenda_L, raine_14, darkrapture, eve777adam, ajstyles, alyanna, jhotots, irenemae, halo2_fighter, stephanie23, crudedude48, stonejuly, abeliever, vicki, annebar76, ariesmae17, nohara_megami, MightyMouse51, ilovebrandon, sadako, rika, k-robbo, PhiJay, tony21, GhostTalker, ghostman, merlinsmom, black_cat, irene_0424, hawaii_punk86, demon9, bayley-jevons, Master_Of_Darkness, ralphk, myh3artxbleedz4u, Verbulator, Allen, limelipgloss, jeremiahs_girl, kaens_78, Michele, mwmathieu, happyhank, Amity, astrolifter, ghost hunter, helenahandbasket, magic1, Casper2737, azhuggi, gobux, mhE-aNn, papica, ghosthunter10, kagaguhan, veto, sunny1, kastarra, cat5799, ghosthouse, kuarudy, tmack, beatupyourdad, sugar-britches, prohaska16, OxSWEETHARTxO, Ghostgirl16, nik-nik, whisper2me, koupe2, marauder77, I C Dead People, wolfe04, fry, prncs0312000, ANewNightmare, Ghost Man Of New England, daffy1600, MsOctopuss, chann907, ghostlypresents1, laceywins80, vernadeil, vixta, ghostseeker, ghost_hunter12, mary, AndricsAirborn, rachel3157, thanophile, lucylu, Teresa, everlasting_blackk, polgara, mysticwch, Hawthorn, Lecia, puddyfoot, Brookie, RabidX, ihatelife, ghostlady816, mom23, blackcat42, vlcreations, judithsmiles, and margaretegrace.



Ghostvillage.com Quick Stats:

83,014 Messages in the Town Square Message Boards
6,315 Members in the Town Square
101 "Encounters" listed in 2004 so far
194 Paranormal Web sites in the Ghost Search directory
11,658 Subscribers to this newsletter
5,369,280 total Web site "hits" for Ghostvillage.com in October


Ghostvillage.com just keeps growing and growing. We're the Web's largest supernatural community, the central place where people come to share their experiences, thoughts, and research. Please help us continue to grow by donating, buying a copy of the new book, The World's Most Haunted Places: From the Secret Files of Ghostvillage.com, shopping, or by buying a Ghostvillage.com t-shirt -- new designs are finally up! Every little bit helps run our servers and helps the site get bigger and better!

Please email us anytime at info@ghostvillage.com. Your comments, questions, and feedback are always welcomed.


---
All material is © 2004 Ghostvillage.com
REMOVAL INSTRUCTIONS: To be removed from the mailing list, please go to www.ghostvillage.com/subscribe.shtml.

SUPERNATURAL WEB HOSTING! Check out Emerging Market Web Design and tell them Ghostvillage.com sent you! http://www.emwd.com