GHOSTVILLAGE.COM NEWSLETTER #133 - November 20, 2012

Buy Books by Jeff Belanger | Jeff Belanger's Official Web site | Visit UFOvillage.com | Like us on Facebook | Paranormal for Kids | Meet the Staff | Advertise with Ghostvillage.com

33,707 Subscribers to this newsletter!

Be sure to forward this on to your friends who are interested in the supernatural!


Check out the new edition of Jeff Belanger's best-selling children's book, Who's Haunting the White House?! http://www.amazon.com/exec/obidos/ASIN/1454900261/ghostvillagecom
---
You are receiving this email because you or a friend signed you up at http://www.ghostvillage.com. If you would like to be removed from this mailing list, please see the instructions at the bottom.
View this newsletter online at: http://www.ghostvillage.com/newsletters/Nov20_12.htm
---
Dear Ghostvillagers,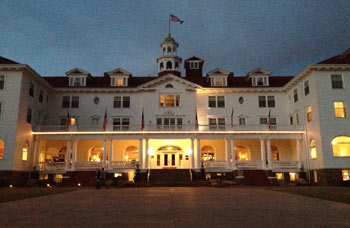 I just got back from the haunted Stanley Hotel in Estes Park, Colorado. This place is beautiful and legendary—seated in the majestic, snow-capped mountains just a few miles from Rocky Mountain National Park. It's no surprise that during a visit, Stephen King was inspired to pen The Shining, imagining what it would be like to be the caretaker stranded in a huge, but lonely hotel for the winter. When you're alone in a haunted building, it's easy to wonder if there's really a ghost, or if your sanity is slipping away. That's why we see so many gadgets and gear on paranormal investigations. We're looking for validation for what we're experiencing.

Ghost investigation equipment is by no means a new phenomenon. Almost a century ago, the original ghost hunter, Harry Price, was using electroscopes and galvanometers to measure static charges in the air in haunted places. He used thermometers to measure temperature fluctuations. He too wanted independent validation of these human experiences. Were these devices designed to look for ghosts? Of course not. He adapted them to try and rule out the supernatural, or at least have some data that could be questioned in regards to poltergeists and other things that go bump in the night.

Today we're mostly using the same ideas and equipment. Electroscopes have been replaced by EMF meters, our thermometers now have lasers on them, and daguerreotype cameras have been upgraded into night-vision, thermal, and infrared cameras. But the concept is the same: can we validate what the human is experiencing? Does the environment change when there's paranormal activity happening?

Over the years I've continually downplayed my use of the gear because my most profound encounters have always occurred with my eyes, ears, and body. There are many natural phenomena that will cause an EMF meter to fluctuate and spike, but far fewer variables that will make an apparition appear before me.

This month we're going to pull out our 9-volt batteries and watch them drain as we discuss the use (and misuse) of paranormal equipment. We'll ask the tough questions like: Why haven't any battery manufacturers ever bought advertising on Ghostvillage.com considering the millions of dollars our community spends with those folks? Ha! I'm only serious.

November is a time of thanks here at the Ghostvillage.com world headquarters. Time to be thankful for surviving another October full of lectures and events, thankful for family and friends, and thankful for you Ghostvillagers. You keep our community growing, and you keep me thinking with each new idea, question, or experience that you share.

Enjoy the rest of the newsletter below.

Supernaturally yours,

Jeff Belanger
Mayor of Ghostvillage.com
Twitter: @THEJeffBelanger
Facebook: Jeff Belanger
YouTube: www.youtube.com/legendtripping






Jeff Belanger's Upcoming Events

This is the place to find out where author and Ghostvillage.com founder Jeff Belanger will be speaking on the subject of the paranormal. If you're interested in booking Jeff for a conference or other event, please visit: http://www.jeffbelanger.com/lectures.php for more information.

Events Scheduled:

A Supernatural Evening with Jeff Belanger - Uxbridge Free Public Library - Uxbridge, Massachusetts - November 26, 2012, 7:00PM
A Supernatural Evening with Jeff Belanger - Canton Public Library - Canton, Massachusetts - November 29, 2012, 7:00PM
Oddfest 2012 - Bellingham, Massachusetts - December 8, 2012, 7:30PM
Dead of Winter at Lizzie Borden's - Fall River, Massachusetts - February 23, 2013, 6:30PM
The Real Dracula Tour and Ghost Hunt with Dave Schrader and Jeff Belanger - Romania - May 19-27, 2013
A Supernatural Evening with Jeff Belanger - New Braintree Public Library - New Braintree, Massachusetts - October 26, 2013, 7:00PM



Congratulations to Cynthia Brown of Provo, Utah, who was the October winner of an autographed copy of Nick Groff's new book, Chasing Spirits: The Building of the Ghost Adventures Crew and a Ghostvillage.com window sticker!

How to win: Entries will be accepted up until 5:00 PM (eastern time) tomorrow (November 21, 2012). At 5:00 PM, we will draw a winner at random from the correct entries that have been received. You no longer have to be the first, but you only have until 5:00 PM to get your answer in. If you click on this link: http://www.ghostvillage.com/index.shtml#winner, you see today's date, and "We have a winner!" that means the contest has ended. Sorry, please try again next month. To submit your entry, simply reply to this email with the correct answer.

On to this month's question: This question can be answered by reading a page on Ghostvillage.com. Remember, reply by 5:00 PM tomorrow to be eligible to win.

How old was Kristina Davis-Rake when she used a Ouija Board on Halloween night?

At 5:00 PM tomorrow, we will announce the winner on our home page. Good luck! (Only Ghostvillagers who have not won a prize from us in the last year are eligible.)



This month's prize: We're giving away an autographed copy of the new edition of Jeff Belanger's children's book, Who's Haunting the White House? and a Ghostvillage.com window sticker!


Didn't win? Want to buy a copy? Click on the graphic.



Our "Features" section is a place for editorials, research articles, open letters to our readers, and other content of interest to Ghostvillagers. If you have a topic on your mind, agree or disagree with something you read recently, we want to hear from you! For guidelines, click here.

New features added since our last newsletter:

Animal Mutilations and ETs with Chuck Zukowski November 13, 2012 [VIDEO]
The Origins of the Devil with Corvis Nocturnum November 6, 2012 [VIDEO]
LIVE From Wareham's Haunted History Night October 30, 2012 [VIDEO]
Real Halloween Ghost Stories -- Part One October 26, 2012
LIVE from the Central Texas Paranormal Conference October 16, 2012 [VIDEO]



We receive personal encounters from all over the world. Many are scary, some are touching, but they are always profound. If you would like to share your own experience, please click >>here<<. Since our last newsletter, we added the following new encounters:

Creepy Old Man at the Foot of the Bed -- Allendale, Michigan





Ghostvillage.com Advertising Opportunities

Each month Ghostvillage.com reaches tens of thousands of people interested in the paranormal. We offer the most effective and best-valued advertising and sponsorship packages of any paranormal media outlet. Please visit: http://www.ghostvillage.com/advertising.htm for details.

If you're ready to put Ghostvillage.com to work for your company or organization, send us an email to get started.




Ghostvillage.com Quick Stats:

322,796 Posts in the Town Square Message Boards
30,257 Members in the Town Square
1,113 "Personal Encounters" published on Ghostvillage.com
1,812 Paranormal Web sites in the Ghost Links directory
33,310 Subscribers to this newsletter
4,830,154 Total Web site "hits" for Ghostvillage.com in October


Ghostvillage.com is the Web's largest supernatural community, the central place where people come to share their experiences, thoughts, and research. Please help us continue to grow by buying a copy of The World's Most Haunted Places, Communicating With the Dead, The Encyclopedia of Haunted Places, The Nightmare Encyclopedia, Our Haunted Lives, Ghosts of War, The Ghost Files, Weird Massachusetts, Who's Haunting the White House?, The Mysteries of the Bermuda Triangle, Picture Yourself Legend Tripping, or Chasing Spirits. Every little bit helps run our servers and helps the site get bigger and better! Please also click on our banner ads and support our advertisers -- when you do business with someone who advertises with Ghostvillage.com, let them know you saw their ad with us and thank them for the support.

Please email us anytime at info@ghostvillage.com. Your comments, questions, and feedback are always welcomed.


---
All material is © 2012 Ghostvillage.com
REMOVAL INSTRUCTIONS: To be removed from the mailing list, please go to www.ghostvillage.com/subscribe.shtml or click on the link below.