GHOSTVILLAGE.COM NEWSLETTER #36
August 16, 2004

Shop at Ghostvillage.com | Support Ghostvillage.com | Ghost Chat | The World's Most Haunted Places

Be sure to forward this on to your friends who are interested in the supernatural!
---
You are receiving this email because you or a friend signed you up at http://www.ghostvillage.com. If you would like to be removed from this mailing list, please see the instructions at the bottom.
View this newsletter online at: http://www.ghostvillage.com/newsletters/Aug16_04.htm
---
Dear Ghostvillagers,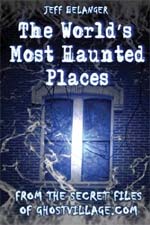 The countdown clock is at zero... IT'S HERE!! The World's Most Haunted Places: From the Secret Files of Ghostvillage.com is a collection of history, folklore, and true ghost stories from some of the world's most notorious haunts. If these places have existed for centuries or more, and if they are where history -- especially tragic history -- was made, ghost stories will inevitably follow. I've interviewed more than 100 witnesses to supernatural events in researching these places, and this book captures the profound nature of the ghost experience.

Okay, folks, I've never asked you for much, but now I'm asking. I'd like your support on this one. I promised my publisher, New Page Books, that I would sell more books than Bill Clinton. Yeah, I know, they laughed at me too, but I said, "You don't know the Ghostvillagers. When we get behind something, we get behind it all the way."

This project has been a labor of love for me. People from all over the world and many different walks of life have shared their very personal and intimate supernatural experiences at some of the world's best known haunts. Places like: Muncaster Castle in England, Monte Cristo Homestead in Australia, Ballygally Castle in Ireland, the White House in Washington D.C., the Whaley House in California, Rose Hall Great House in Jamaica, and many others.

If you click on the book, you'll gain access to the secret files of Ghostvillage.com -- a place to continue the study of the world's most haunted locales. Additionally, a new section of our message boards is now devoted to an open dialogue about some of these places. Amazon.com is accepting pre-orders for the book now, Barnes & Noble's Web site shows they're shipping the book within 24 hours, and you can expect to see it on your bookstore shelves by the first week of September. So after you buy your copy, be sure to tell others about the book. This is a great way to support Ghostvillage.com and keep things growing! If you have any questions after reading the book, don't hesitate to email me. Enjoy the rest of the newsletter below!

Supernaturally yours,

Jeff Belanger
info@ghostvillage.com
Mayor of Ghostvillage.com

Congratulations to Matt Ferrel of Jacksonville, Florida! Matt was last month's winner of an autographed copy of Tamara Thorne's new book, Thunder Road - Next Exit: Terror!



The "winner" icon on the left has been hidden somewhere on Ghostvillage.com. If you're the first to find it, email us with the page it's on, and you win this month's prize. The graphic could be on any page on the Web site (except in the message boards) -- maybe at the top of the page, maybe the bottom, etc. Once we have a winner, we will announce it on our home page as soon as possible. By clicking on the "winner" icon within Ghostvillage.com, it should launch your email with the appropriate subject. If not, email info@ghostvillage.com, and in the subject or body, put the URL of the page you found the icon on. Good luck! (Only Ghostvillagers who have not won a prize from us in the last year are eligible.)



This month's prize: an advanced, autographed copy of The World's Most Haunted Places: From the Secret Files of Ghostvillage.com! (What did you expect this month's prize to be?)


Didn't win? Want to buy a copy? Click on the graphic above.




The Supernatural Calendar is the place where thousands will learn about your events of interest to the supernatural world. The service is only available to registered members of the message boards, and it's free! Here's some of the conferences, happenings, and meetings going on in August/September:

Sunday, August 22: Meeting: metaphysical chat
Sunday, August 29: Meeting: metaphysical chat
Sunday, September 5: Meeting: metaphysical chat
Sunday, September 12: Meeting: metaphysical chat
Saturday, September 18: Conference: Rhode Island Pagan Pride Day, Mothman Festival
Sunday, September 19: Meeting: metaphysical chat Conference: Mothman Festival
Friday, September 24: Conference: The ARC 2004
Saturday, September 25: Conference: Ghostvillage Campout - Gettysburg, Pacific Northwest Ghost Hunters Con, The ARC 2004
Sunday, September 26: Meeting: metaphysical chat Conference: Ghostvillage Campout - Gettysburg, Pacific Northwest Ghost Hunters Con
Thursday, September 30: Radio: Jeff Belanger on Magick Mind Radio
Sunday, October 3: Meeting: metaphysical chat
Thursday, October 7: Conference: A.R.E. Annual Ancient Mysteries Con




Ghostvillage.com Haunted Campout!

We've had a great response to Ghostvillage.com's Haunted Campout in Gettysburg so far! The date is Saturday, September 25, 2004. The place is Granite Hill Campground in the Berger Hill section of the campground, 3340 Fairfield Road, Gettysburg, PA 17325.

If you're interested in going, please email info@ghostvillage.com for more details. Check-in time is 3 PM. For more information, you can visit: http://www.ghostvillage.com/hauntedcampout.shtml.

We'll be going on a battlefield ghost hunt, there will be talks on haunted places, games, and prizes. We'll be adding more information on the agenda in the coming weeks.

We hope you can join for our first get-together!




Who's Who in the Town Square?

Get to know some of your fellow Ghostvillagers.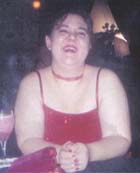 >>masquarade<< - member since September 24, 2002

What is your name?
Georgette

How old are you?
30

Where are you from?
Aliquippa, Pennsylvania

What do you do for a living?
Order titles for mortgage companies.

Have you ever seen a ghost?
Yes, but not materialized. I was a freshman in college working as a cashier at a local restaurant. It was a windy fall evening, so I did not think very much of it when the outer door to my right opened and closed. I was slightly curious when the inner right-hand door did the same. A few seconds later the inner door on the left hand side of the restaurant opened and closed and when the left hand outside door opened and closed, I knew I had seen something.

Why is it important to study ghosts?
We will all be on that side at some point, so it's nice to know where we are heading. Also, by studying the phenomena realistically, it encourages our minds to grow by looking for plausible, mundane explanations.

What's your favorite part of Ghostvillage.com?
The people. It's nice to have somewhere to go where you feel at home and can make like-minded friends. And, unlike some sites, rational thoughts are encouraged, which leads to growth for everyone involved.


Ghostvillage.com's book reviewer, Lee Prosser, has brought us seven new book reviews since our last newsletter. Have you read one of these books? Want to add your own review? Click >>here<<.

This past month's Library additions:

A Voice in the Forest by Jimahl diFiosa

The Psychic Vampire Codex by Michelle Belanger

Llewellyn's 2005 Herbal Almanac by Llewellyn Publications

Celebrating the Seasons of Life: Samhain to Ostara by Ashleen O'Gaea

Druid Power by Amber Wolfe

Essence of the Tarot by Megan Skinner

Shamanic Experience by Kenneth Meadows


We receive personal encounters from all over the world. Many are scary, some are touching, but they are always profound. If you would like to share your own experience, please click >>here<<. Since our last newsletter, we added the following new encounters:

River Styx Cemetery Face - Wadsworth, Ohio [pic]

The Phantom Sentry - Israel

The Flash at Devil's Den - Gettysburg, Pennsylvania

The Little Man of Bihar - Bihar, India

Chesterland Cemetery Mist - Chesterland, Ohio [pic]

The Thing in the Woods at Camp Morgan - White Mountains, New Hampshire

Mom's Cat and Pennies from Heaven - Lindenhurst, Illinois

The Haunted Apartment - Brooklyn, New York

A Friend's Goodbye - Chicago, Illinois

Temporary Possession - Believe It, Or Not - St. Augustine, Florida

The Douglas Arms' Ghostly Argument - Banchory, North East Scotland

Mystic Pizza Place - Saratoga, California

A Sleeper's Disembodied Hands - Winnipeg, Manitoba, Canada


Our "Resources" section is a place for editorials, research articles, open letters to our readers, press releases, and other content of interest to Ghostvillagers. If you have a topic on your mind, agree or disagree with something you read recently, we want to hear from you! For guidelines, click here.

New articles since our last newsletter:

The Use of Psychics on Investigations by Kenneth Biddle - August 4, 2004

False Positive Agents by Kenneth Biddle - July 19, 2004


In the last month, the following people have joined our ghostly community. We're now more than 5,000 strong! Please welcome:
amphibiaphobe, Anathema, shawneliza, Aethelred, salvage1, Arwen, Zanne, superman54, Bobbieann1964, ktweedale, John_Zaffis_Museum, Sharon04, h.richards, Skull_Queen, painless421mystkj9, Irishnana432, lonelywolf04, thea, rhaine, raven420, Wraith-Proctor, Rdrunr4684, Are We Dead Yet?, TaLeah, Janetlynne, FEMMELOVER, Sincherian, Eves_Rain16, andrei_de_kereshtu, pyrostopr, Bebind, akasha, smitty31, Rooster, crazybabe Lady_Akasha, riotgrlpunx, casper28, waterbearer, Headsick, BuffytheSlayer, Fuzzmastaextreme, ApparitionSeeker, michaelsmclean, terrycelt, FormulaEmulation, pagan, DENGLO, ray, chris217, johnthatcher37, dalilboogurl, Jusbuster2003, LiseSilverwolf, Barry Ephraim, gibraltar, emptysoul121, emptysoul, ezkial07, awaken, killua-dylan, angel_dea8899, shai, LOONEY__GIRL, colley527 LOONEY_TUNES, 1STCLASSHONEY, annabelle780, cutechikkie, kathytee, Beaglz, denise3, Elle, itzazooh, gjunk, vonlucre, Bigfoot_In_Mouth, dtownbassplaya04, freddieL, FreddieLake, FreddieLake1, beetlejef, darkeinjhel, Nuriko, bluepoison, Zerhom, phoebe, tishtash, alpha, melanie, Haveasub, Goddessofurlove4 Smp135, HaLeY, Hiddentrack, fullmoon_kid, donnasommer, ghostfan, goldengurl76, xlatin, lolina_lina, Duckie382, Soulcyris, ammunation, bakerlady2470, sallytheragdoll, lowenguard, thetis2105, befana, Indiansbball2009, rakeshunni, Rasitlin, hyperisme666, lola38l, winter_flame, paola_boo08, hansenrp aralius, awakened1, beautiful_babe, Smokie, Popcorn, lilfeet, phoenixr35, irene, Kiwi99, walahum, doobee48, sephineknightblud, feelinsogood88, TipperNikole, kim.m, Needhealing777, joel, daveisaskata, pisces81, MEOWKISS, WITNESS, muffin12182, Lynne2531, graffitibrad nitedivine, opterasis, wtyalor, Ladyshooter, th8raktress, benjilover, wowser, snugglbond, uyuyuy, Sally, LIZ2006, Amethyst, Vinnie, angelicbrat32, rexel22, moon_wolf, thickmamigg, DIXIE, llcoop2518, blueivvy, xredxskiesx, i2freespirit, angelic, dust, martina, hycinth, Falknz38, silverwolf415, logitech, whitegreyhat, rebel_princess, DarkMidnightLA, pontianak, Liberal1984, NJPR_Coordinator, lady006, lollipop2615 phyre, HottieFromBeyond, JD, kibler974, analyn, spirit_cer, cazmarie, jenine_07, rjalvarez08, H3LL5P4WN, dixiespook, nofxchic41, spaulin3, RedneckGhost, jericho, SmokeyFF, princematt, witch_0929, kitty1, 33DEGREE, cindagoda, illushin, Veneda16, bunniboo, AndyCT, Lizbeth, THEDARKPLACE, Looks4Path, SerafinsGirl, KrisInNC, youlovesonya, Keiter, bhAbygirL karlbilano, gemiya, spbswim, onehot_anjel, Karen2952, xbi0s, PayPay, stranger, lone_stranger, Lark, jnoller, chiaca_bella, niki, kodiak7171, a_person, Sizzorfite, yellowdog, Ghost_Angel, Spooky_blonde, Mary in Silicon Valley, terrmax, John_In_Albany, MsMercury01, joie_anne, Wolfman01 professionalsatan, xgaryedgex, BUMBLEBEE, Shalee, ang13, Sammydoll20, jsylvester, poohjoy6, DixieKU, ghosthunterchick, ghosthunter1991, LadyKalma, ghosty79, ghostyy79, raven_spirit, soupbowl, spooked_holz, selenem6, Glamis, black_shuck, thunder13, Ghostsr4real, asia, Danica_sol, hbk26, Dawood, SoLi, Eric_Draven, Pine-TreeGhost angiespare, modelcitizen, Lizzo, riuna, freckles, Jack11, gallows_fool, Schoolhouse1864, nastyboy25, Keri, Renegade76, dedrafann, kaye06, Chika, MsRooRoo, hzizs, spooksnspirits, katiewile, Neeley, helen, Laurie, astralprophet33, wizard_tony, Agent_Orange, scotty-111 scotty-is-11, obsessedwithghosts, Scorge, wildone, OoPink87oO, zman219, jeffro, soul_drifter, hairelchurl4, erna_butter, alexsweet12, the_dude, beleiver25, kjoy, issalay, rockerchiq87, riotgirl87, blonde_beach_bumb, ember61a, kenshin, kcd_baby mycall, mrtsufo, Catfish, janiceseth, pamela_t, Jo, JoH, Tweety, ecko_cute00, Othila_Rune, WiccanBalance, cyborg16, BlueAngel, rivermom, gypsiewillow, dark_devil, joann_allan, Lauren075, Knight_of_Rose_16, SoMePrnmlRschs, Knight_of_valor, IVI-Anubis-IVI, nuug, tootiepatootie, tbear213, ISawAGhost, pearllight, nikkifarrah, drew99999, bushranger, NocturnalGrl1488, GhostHunterinPa025, eikachok, nits, bodil, wxdude, fariedreamr, MsSuze2u, unicorn78239, Laydee_Krazee, silver_drop, RuthYarter, norma, chrizdabiz, jamiefromessex, NativeSpirit, Strangers_Light, freakboy, and Cornholio.



Ghostvillage.com Quick Stats:

62,236 Messages in the Town Square Message Boards
5,012 Members in the Town Square
64 "Encounters" listed in 2004 so far
166 Paranormal Web sites in the Ghost Search directory
9,697 Subscribers to this newsletter
2,727,225 total Web site "hits" for Ghostvillage.com in July


Ghostvillage.com just keeps growing and growing. We're the Web's largest supernatural community, the central place where people come to share their experiences, thoughts, and research. Please help us continue to grow by donating, buying a copy of the new book, The World's Most Haunted Places: From the Secret Files of Ghostvillage.com, shopping, or by buying a Ghostvillage.com t-shirt -- new designs are finally up! Every little bit helps run our servers and helps the site get bigger and better!

Please email us anytime at info@ghostvillage.com. Your comments, questions, and feedback are always welcomed.


---
All material is © 2004 Ghostvillage.com
REMOVAL INSTRUCTIONS: To be removed from the mailing list, please go to www.ghostvillage.com/subscribe.shtml.

SUPERNATURAL WEB HOSTING! Check out Emerging Market Web Design and tell them Ghostvillage.com sent you! http://www.emwd.com