GHOSTVILLAGE.COM NEWSLETTER #60 - August 16, 2006

Buy Books By Jeff Belanger | Go to the Ghost World Conference 2007 Web site

Be sure to forward this on to your friends who are interested in the supernatural!

What if one of your spirit guides had a message for you but had no way to deliver it in a way that you would understand, unquestionably?
Don't let the message go undelivered! Contact one of our psychic mediums today to function as the intermediary between worlds.
Your clairvoyant medium will tell you exactly what you need to know. 3 free minutes to start. Talk to a medium right now!
http://www.kasamba.com/LandingPages/psychic/PsychicAdvice3min.aspx?desid=16,41,17,17&sortby=10,10,10,10&catid=1143,1140,10327,10327&banid=10329
---
You are receiving this email because you or a friend signed you up at http://www.ghostvillage.com. If you would like to be removed from this mailing list, please see the instructions at the bottom.
View this newsletter online at: http://www.ghostvillage.com/newsletters/Aug16_06.htm
---
Dear Ghostvillagers,

I know what you're thinking... you're thinking, "Jeff, you have no idea what I'm thinking." And we'd both be right... sort of. Confused? Don't be, we'll get through this together. My name is Jeff Belanger, and I'm just not a psychic. I don't know what the future holds, but I do get my own gut instincts and intuitions. I have hypotheses and hunches on what lies ahead in my own future, and I'm usually pretty close in the short term. Maybe we're all just a little sensitive to these things.

This month on Ghostvillage we're going to explore psychics, mediums, and those feelings we get that make no logical sense, but we act on them anyway. It's a journalistic journey we're going to take. We'll ask the hard questions like: Why don't psychics win the lottery every night? Then we'll ask even harder follow-up questions like: If psychics are above using their abilities for personal gain like winning the lottery, why don't they tell me the winning numbers?

Our world has always had its psychics and mediums. Throughout history they have had labels like: oracle, prophet, medicine man, witch, shaman, and Carnac the Magnificent. No matter the label, we have always needed those who could offer us insight and a vicarious glimpse into the realm of what lies beyond death. We need these bridges on many levels, and this month we're going to explore psychic reading, using mediums as part of ghost investigations, and delve into our own hunches and impressions. We'll take a walk on the psychic side. To get us started on the discussion, I took a look at the psychic movement; where it came from and where it's going.

It's also mid-August, which means the busy season is coming soon. This past month I had the pleasure to meet the great folks who attended the 3rd Annual Eastern Regional Paranormal Conference in Gettysburg, Pennsylvania, and of course there are many other great conferences coming up in the next few months which offer a great opportunity to meet some fellow Ghostvillagers and paranormal enthusiasts. We also have a great new development to announce this month: Ghostvillage.com is starting to syndicate some of our content. That means if you have a Web site, blog, or page on services like MySpace, you can add content from our site that will be automatically updated for you. Let the world know about the supernatural news and events happening in the realm of paranormal research.

I'd also like to extend a big thank-you to those who picked up my new book, Our Haunted Lives. I appreciate all of the kind words, emails, and great feedback. Enjoy the rest of the newsletter below.

Supernaturally yours,

Jeff Belanger
info@ghostvillage.com
Mayor of Ghostvillage.com


Congratulations to Kristen Dittman of Conklin, New York, who was last month's winner of a copy of an autographed copy of Jeff Belanger's new book, Our Haunted Lives: True Life Ghost Encounters, a Ghostvillage.com window sticker, and a Ghostvillage.com t-shirt!

This month, we're doing the contest again, but we ask that you first click this link: http://www.ghostvillage.com/index.shtml#winner. If it says, "The search is on" then we don't have a winner yet and go ahead and send in your answer. If you see today's date and "We have a winner!" that means you weren't the first to email us. Sorry, please try again next month.

On to this month's question: This question can be answered by reading a page on Ghostvillage.com. The first person to reply to this email with the correct answer will win this month's prize.

What's the first movie author Ursula Bielski saw in a theater?

Once we have our winner, we will announce them on our home page as soon as possible. Good luck! (Only Ghostvillagers who have not won a prize from us in the last year are eligible.)



This month's prize: we're giving away an autographed copy of Jeff Belanger's new book, Our Haunted Lives: True Life Ghost Encounters, a Ghostvillage.com window sticker, and a Ghostvillage.com t-shirt!


Didn't win? Want to buy a copy? Click on the graphic.



The Supernatural Calendar is the place where thousands will learn about your events of interest to the supernatural world. The service is only available to registered members of the message boards, and it's free! Ghostvillage.com now syndicates our calendar of events so other Web sites can also display these supernatural happenings at no charge! To learn more about installing our calendar of events RSS feed, please visit our syndication page. Adding your own local events to our calendar is more important than ever!

August 19: 2nd Annual Paranormal Ghost Hunting Conference
August 23: Jeff Belanger on the Lou Gentile Show
September 14: Jeff Belanger on WCANRadio Phenomenon
September 22: CONTACT: Berkshire Paranormal Conference, Massachusetts - Jeff Belanger will be speaking at this event.
October 1: Second Annual Las Vegas Paranormal Conference
October 5: UNIV-CON - University Park, Pennsylvania, Jeff Belanger on Darker Side of the Moon Radio
October 7: ESP Expo - Spokane, Washington - Jeff Belanger will be speaking at this event
October 14: Jeff Belanger on Exploring Unexplained Phenomena




Who's Who in the Town Square?

Get to know some of your fellow Ghostvillagers.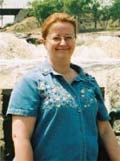 >>Redhead<< - member since March 14, 2004

What is your name?
Dana Burt. My first name is pronounced more like "Donna."

How old are you?
48. Yikes, already?

Where do you live?
La Crosse, Wisconsin. Itís in a valley of the Mississippi River, and very beautiful with a rich history.

What do you do for a living?
Right now I am a homemaker, but looking for a part-time job.

What got you interested in the supernatural?
I grew up in a haunted house. My sister told me that within a couple of weeks of moving into the house, I, age two, was talking and singing to/with an imaginary friend I called Mr. Ghost. You could hear things being moved in the attic late at night, see smoke wisps, objects disappearing and reappearing. When I was about twelve, I woke at dawn and looked out my window to see a man hanging in a tree on our property line, which was about a quarter of a mile from the house. Gradually this figure was gone from my sight. When I was about 18, I would see a man in my closet if the door was left open. He seemed very sad and lonely to me. I have always accepted the paranormal as normal because I grew up with it. I was around 10 when it dawned on me that not everyone has this stuff going on in their house.

Have you ever used your dowsing rods to try and find spirit energy?
I only recently purchased dowsing rods, and am still in the stage of learning how to use them. I am planning to go out to a local cemetery with a reputation to test this soon.

What's in your CD player right now?
The Band/Greatest Hits, The Eagles/Greatest Hits, Soundtrack to Because of Winn Dixie, Wissing & King/Live at the Brew Note (local musicians), and Fleetwood Mac/Greatest Hits.



Last Month's Theme - Featured Content

Our last month's theme was Our Haunted Lives. Here's what you missed if you haven't checked in since last month:

Discussion: How has the ghost experience affected you?

Feature Article: A Look at Our Haunted Lives by Jeff Belanger


Ghostvillage.com's book reviewer, Lee Prosser and the staff have brought you several new book reviews and author interviews since our last newsletter.


This past month's Library additions:

Be Blessed by Denise Dumars

Witch in the Bedroom by Stacey Demarco

On the Prayer of Jesus by Ignatius Brianchaninov

Voices of Flowers by Rhonda PallasDowney

Creepy Chicago by Ursula Bielski [AUTHOR INTERVIEW]

On The Toltec Path by Ken Eagle Feather

Tarot Talismans by Chic Cicero and Sandra Tabatha Cicero

The Remote Viewing Training Course by David Morehouse

The Dream Culture of the Neanderthals by Stan Gooch

The Mysteries of Druidry by Brendan Cathbad Myers

Astrology for Yourself by Douglas Bloch and Demetra George

The Cycle of Cosmic Catastrophes by Richard Firestone, Allen West, and Simon Warwick-Smith

The Pocket Guide to Rituals by Kerri Connor

Ghosts of the World by Susan Smitten

Reader of Hearts by Darrin Owens




Ghostvillage.com Advertising Opportunities

Each month Ghostvillage.com reaches tens of thousands of people interested in the paranormal. We offer the most effective and best-valued advertising and sponsorship packages of any paranormal media outlet. To view our advertising options and discounts, please visit: http://www.ghostvillage.com/advertising.htm

If you're ready to put Ghostvillage.com to work for your company or organization, send us an email to get started.

We receive personal encounters from all over the world. Many are scary, some are touching, but they are always profound. If you would like to share your own experience, please click >>here<<. Since our last newsletter, we added the following new encounters:

Old Woman on Route 10 - near El Paso, Texas

Finding Lost Family - Chicago, Illinois

The Haunting Returns - Middletown/Carlisle, Ohio

Our Haunted House - Waterbury, Connecticut

The Ghost of a Prankster Sailor - London, England

Ghostly Car - Palisade, Nebraska

Golf Course Joker - Ruidoso, New Mexico

Payton's Kiss - Denver, Colorado

The Spinning Ferris Wheel - Albany, New York

Visit From Mom's Patient - Little Rock, Arkansas

The Old Woman in the Hotel - Somewhere in the North Rockies

Grandma's Outline? - Boise, Idaho

Attack at Rolling Hills - Bethany, New York

Pinching Premonition - Auckland, New Zealand

Mammaw and Pappaw's Visit - Toledo, Ohio


This is the place to find press releases and news items on paranormal happenings around the world. If you have a news item you'd like to submit, please see our guidelines.

NEW THIS MONTH: Syndicate our news! In the coming month you're going to see our news section expand to include news items from other sources besides Ghostvillage.com. If you have a Web site or blog, you can syndicate our news feeds to your site for free. Check it out by visiting our syndication page.

West Virginia Boasts Army of Ghosts, Guided Tours The Mercury News San Jose, California - August 14, 2006 [EXTERNAL NEWS]

Ghost Buster - Asia Paranormal Investigators The Star Malaysia - August 14, 2006 [EXTERNAL NEWS]

Ghosts at the Library? Phoenixville News Phoenixville, Pennsylvania - August 14, 2006 [EXTERNAL NEWS]

Author Philip Gardiner Launches Weekly Radio Show

UNIV-CON Poised to Become Largest Paranormal Conference in the U.S. [CONFERENCE WATCH]

Maine's First School of Metaphysics Opens its Doors in Westbrook

Planet Paranormal Introduces Its Paranormal Radio

Alannah Myles to Host Paranormal Series for Renegade Motion Pictures

Ghost World 2007 to Open in Gettysburg, Pennsylvania [CONFERENCE WATCH]

First Annual Spirit Ball to Haunt Old Louisville, Kentucky

2nd Annual Paranormal Conference to Be Held in Crystal River, Florida, August 19th [CONFERENCE WATCH]


Our "Features" section is a place for editorials, research articles, open letters to our readers, and other content of interest to Ghostvillagers. If you have a topic on your mind, agree or disagree with something you read recently, we want to hear from you! For guidelines, click here.

New features added since our last newsletter:

Geof Gray-Cobb - by Lee Prosser - August 15, 2006 [COLUMN]

Orbs: Have They Become that Boring? by Tuesday Miles - August 14, 2006

A Night on Char-Man Bridge by Richard Senate - August 7, 2006

Five Union Soldier Ghosts - by Lee Prosser - August 2, 2006 [COLUMN]

A Visit With Author and Witch Kala Trobe - Interview by Lee Prosser - July 26, 2006

Perceptual Stratigraphy: Making Sense of Ghostly Manifestations by John Sabol - July 24, 2006

Part two of Belle Gunness: McClung Road and the Blood Farm Horror - by Marcus Foxglove Griffin - July 20, 2006 [COLUMN]

The Trouble With Witches - by Lee Prosser - July 15, 2006 [COLUMN]




Jeff Belanger's Upcoming Events

This is the place to find out where author and Ghostvillage.com founder Jeff Belanger will be speaking on the subject of the supernatural. If you're interested in booking Jeff for a conference or other event, please email us for more information.

Events Scheduled:

Berkshire Paranormal Conference, Houghton Mansion - North Adams, Massachusetts - September 22-24, 2006

ESP Expo - Spokane, Washington - October 7-8, 2006

Charlie the Butler's Ghost Party at the Sprague Mansion - Cranston, Rhode Island - October 26, 2006

The 4th Annual Ghost Hunter's Getaway - Astoria, Oregon - November 11-12, 2006

Ghostfest - RMS Queen Mary Long Beach, California - November 17-19, 2006

2007 Haunted America Conference - Decatur, Illinois - June 22-23, 2007

Ghost World Conference - Gettysburg, Pennsylvania - July 20-22, 2007




Ghost World Conference 2007

Tickets to the Ghost World Conference are already selling fast. The early-bird discount won't be around too much longer, so definitely click on the Web site and get your tickets and reservations early. Ghostvillage.com is proud to help organize this giant paranormal conference, tradeshow, and symposium for July 20-22, 2007 in one of the most haunted places on earth: Gettysburg, Pennsylvania. Tickets and booth space are already going fast and space is limited. Be sure to visit the conference Web site for more information or to sign up:


http://www.ghostworldconference.com/


There's only one place where you can tune in to the leading paranormal radio programs available online, and that's right here on Ghostvillage.com's Paranormal Radio: http://www.ghostvillage.com/resources/ghostradio.shtml

Tune in to: A.P.S.R. Talk Radio, Darkness on the Edge of Town Radio, Exploring Unexplained Phenomena, The Ghost Chronicles, Ghostly Talk Radio, The Graveyard Shift, Magick Mind Radio, Nightwatch, Weird Stuff Happens, and The 'X' Zone Radio Show.




Hot Threads in the Community

If you have registered for our message boards but haven't validated your account yet, it's simple to do! Look for the email that was automatically sent to you when you registered and click on the account activation link in the email (note: some bulkmail filters may block this email, so you'll need to check your bulkmail folder if the validation email didn't immediately come through). There are always great discussions going on in our huge message board community. We hope you'll get involved. It's free to register if you're not already a member. Here are some of the hot topics this month:

Hallowe'en 2006
http://www.ghostvillage.com/ghostcommunity/index.php?showtopic=15167
It's getting close... do you have any ideas to share on preparations and surprises?

The TAPS Forum Discussion
http://www.ghostvillage.com/ghostcommunity/index.php?showtopic=5937
Love the show? Hate it? Lots of people are weighing in.

Where is the Soul?
http://www.ghostvillage.com/ghostcommunity/index.php?showtopic=15097
Can your soul find its way back after you are cryonically frozen?

Old Asylum in Connecticut
http://www.ghostvillage.com/ghostcommunity/index.php?showtopic=8342
Myth, legend, and facts.

Spirit Photography
http://www.ghostvillage.com/ghostcommunity/index.php?showtopic=15251
Is this the ghost of a cowboy in the background?

EVP
http://www.ghostvillage.com/ghostcommunity/index.php?showtopic=15365
Listen to the Chestertown, Maryland cemetery EVP and see what you think.

Spirit Video
http://www.ghostvillage.com/ghostcommunity/index.php?showtopic=15131
Two orbs from Minnesota make their way through this video.

Funny and Cute Pet Pictures
http://www.ghostvillage.com/ghostcommunity/index.php?showtopic=15063
Pets add a certain element to life, as well as tell you a bit about your fellow villagers. Come and see what pets other villagers own, and show us yours.

Subliminal Advertising
http://www.ghostvillage.com/ghostcommunity/index.php?showtopic=15270
Are there really hidden messages out there in songs, movies, and advertisements, or is it just our imaginations running wild?

Phrases That Annoy Me
http://www.ghostvillage.com/ghostcommunity/index.php?showtopic=15140
Are any of those cute little quirky sayings that people use repeatedly getting to you? Tell us what they are, and see which phrases annoy others.


Board of the Month -- Psychics, Mediums, and Clairvoyants
http://www.ghostvillage.com/ghostcommunity/index.php?showforum=27
Come in and discuss your sensitive side and your own experiences with mediums.

In the last month, the following people have joined our ghostly community. Please welcome:

txcowboy, GOBHOB, pacemaster, shabeer, coolbluestang, Sanctuary, Uptongirl, cindym, MrsHamlin1, kittychick, chela1995, dickenson, mscott304, captk2k, Smljanuary, Faeden, Kid Cubao, raymie1548, geso420, ValudVatashen, dalien.erasmus@za.nampak.com, celj6, whiteboywilson, LadyJinx, Zoidberg, nygirl761, Tallcaliforniaman, cemetarysong, bigdino, Thashary, ryno, krazyred53@yahoo.com, Tre Coola, sam47, ron ellis, villagedude, AuntSoftie, tinstarmom, fire_spyke, jallyn, jonny909, zein, boo0228, stormyminn, sheila8593, Rhino37a, confederatebluegirl, bluze1, marge88, grok636, ladysculpture1, devinechic, spooky56, kathyweir, applecrumb, acurvyqt4u, snicks_koda12, hungrywolf, adonis74, vedanv2005, stars2noc, juligirl311, pigcop, pinhead, Halo, rjfalzz, Booticon, chupacabara, lunarcub1947, Barbarajean, maddiecnc, cltnc333, Veggiesing, chris robinson, ravi krishna vetagiri, bevdavis63857, Jwilder482, kristina_noels, gost hunter canton, Robin2277, starstruck1, IronsGold, tomthunderhorse, lmweiser, xphile1067, MoralThreat, wendigo, billw2oc, booooo5, mattman, Birdie7, SWAG122, ShadowMan, Mitts, rsliman, fjbrownsr, vanhenry71, waterlilly2, michelle43davis, missmydad, DoLoBo, mpower, GDGoff, masuro, cleggit, jasonbutton, Blisss, madmax, starlighter212, becky8of9, gargoyle62, kbravo, T.T., Lady J, Catmarie, papawal@hotmail.com, kodiakny, Wakko, marcco898, dgberan, Plantscapes, GeorgePenn, rochellekillett, Robert E. Wager Jr., LadyWolf_30, Tbutyl, Apemom04, lappdogg, DAWN77, kramer, txz045, mkessell52, cgasucks, warrenpls, bds, Trace, Guioam, desertburn, kinkylildevil87, lenard, sarum, aura_21_8, gotghosts, G.E.& MIKE, nancy newcomb, ddpope, angelicus, dallas1, jerri, Sixx50, thabird, Lindy1104, kofelover, ShadyLady621, docsmith, MGCT203, jhart5855, ruadcaelnia@msn.com, Doc0367, croskelly, Tab, sgramza, cindynhaley, castinglwp, jdigital13, ilovefob5, auburn47, kimcornell, bender, caber02, puchidevil, jennifersholden@hotmail.com, Roscorocker, moondropmcfarland, xRaexRaex, Kolbers1, miltonlew, Trouble, ~BOO~, linnyloo, Osito, suekim, MysticRage, Kimmy, HellRaZor, enoach_jam, MelB, Navygravy, fishguts, KathyS, Moonchime, DSHALL, luc, john, wicca256, yankee-n-sc, jcjones, 97357867, vertigineux, TIFF, juli, rassy28, shdwrose, DeadWatch, Amy 'Lyse, misstress009, champagne3_21, STAR01, quietsoul, LEBNIZvsNEWTON, madhatter, unalii, Cannavaro, Anju, just_a_boy, Rinabz20, jayeg34, TyTouch, meanderer, tuffgurl_823, Sevinkei, The_Fourth, jobspond, megab, nitetime, NocternalSpirit, nightfairy, monkeylover93, bquinonez, pghniteguy, spiritdave, anass, beltsvilleghosts, MissyO, spiritseekers, Marlena, dinniepoo, stephaniesalad, yankee7, casino7779, Fairy_Girl_KY, Lady Raven Moon, bridget aaa, hauntedmind, melinc701, waterblossumivy, Ncc17lu, James_Cormac2000, hazie, Mitzi, Ghstgirlie, TIPS300, danomac, squee232, hog_mad, abrooks919, Fedora_Hat, nightwind, Buzz, Paper_Doll, ghostinprof, jewel, Carole, p1ckle, theTRUTHspreader, Guy, MissMurderX, TheHaunted13, josiejo, SFGH, hkolln, boohamer, 122457, lysiara, lase_nightshade, wendywoo, rufiocreative, annetanith, aarong, pimpishliving15, 97gstchick, thecb2002, kill the undead, insanityplea, ciries, joeyandjodie, VampireKitten, claw55, kt1066, kristie2605, viperquestor, starlitkate, hfraz018, keeleysmom, Sunny, sylvandance, billsammertrutru, Jill81, vegan, saffronblue, Tuesday, Janeranum, Akiko123, spiritseeker1, dreamofme420, Manfly, Casalena, toyotarockclmbr, thepowderyone, joanne erickson, ouija123, Kimberly77, doctorBeko, reneeliz, bluebabymisty, Samanthazz, Draco53214, sawozniak, NaPUK Jon, deathward_15@yahoo.com, sdavis06, goingbamboo, deb78239, darkening-doors, lawken, xoxhauntedxox, screaming21, LISA44, Bobh9, ncghs, ranger8th, Reby7697, aqualung, chicocowchick, Daytonax, Theli, joyce, SnuggySue, BabyAngel, jeannieangel, mingman36, meach_pie, lalaspookygirl, euri, rroyd, _xDarkXAngelx_, ash66974, rachelrosewarne, pokermikeman, ice queen, anthonyp1850, starrr0707, cher1313, pieschniff, highlandjan, joemayo, River88, A.L.E.X., Oldladybalke, owsleya, romrex, lorraine, sfitzgerald101, belinda727, cx4scott, flyinsoul20, Georgie480@aol.com, steller, TheHaunting, karmicwolff, BeemaBros, Casie, bob_kuger, Hyrth, the_wanlorn, beccilynne, dochazeem, starbook19, Cate, georgem, fairietalz77, Iamallofme, Medic767, jackie21, killasandra69, eric5012, taylor42, debra warley, Amiga, ginny_berg, lutika006, MysticDragon1976, elciek, Wicafreak, pat, jess231, Thunderstruck, MIKEJ, Ethan1321, stylesgame, Foxxwatcher, Khush, prachitibm, jazzy, Liz35, PMan66, ssmith, zorro99, stacybyrd, sherry625, FriskyLibra, Sonofman, devilgirl12345, peepers, samantha_, ingridmagnussen, ghostadmirer?, blue lightning 773, Arkayne, lennox9876, Sparky5115, debbisears, dasblues, jonin kitsune, shaun_reo, silverchic, cornfield13, kithomas, zuess, glolady, mblakey@acsworld.net, tiggyrn, cipan_notres, mtndewrob, axel1, lanndyn, orbitron9, peach_jazzy, CindiSu, ftrice, tommybear1960, jcrawford, HeroCat, arbranton, fallenempire2000, Roxanna, VaBoogiewoman, Paraman316, thevmusic, FauxFang, rhiannonrock, PervyPixie, wolumila765, JTOLEN, ladamedulac, mitchhart, hellevue32290, remdog, vlf126, phsum07, rich mor, Ken Makenson, thaigirl89, kb22783, Alonso, shiprak, Lillie_Steins, Yuske Urameshi, Schneij, softy54534, hut, AngelyXXX, SPLL13, SPLL137, daiseyduke721, wolpert1983, Donnajean, rohitdecryptus, moNkaD8, goddestoffireghost, Stolypin2002, mguarneri, Lorax3, jsmile2222, LottiFurmann, MakGreenland, tiffygal28, Jossy Hanz, fangsoffatima, JohnFlirt007, shinjukai, ninafea, AngelicWolfRainz, rmunky, valentinot, ratfink63, fablelord, Slonopotam845, blue_line_babe, Fegasderty, hm101, datingservices1, Beerinkol, Linda-Reducer, EmeraldRain44, groovyghosthunter, piper, imjonmilkins, harley1987, QUUU, GiantPlayaht, Feed Proper, Vivimart721, danse_macabre, nutusikpusik69, ghost beliver, cris, DE-Vorlage, purplecatfish, withoutwalls, datingservices2, julian, Princess_26, wariniraq, johndoula, heavencreed, Running2thestars, candiekiss, Kkkeeevvviiinnn, Banzaii316, majizzy, goth_girl666, MastaBemSoo, alpra025, jemmsmom, SteveO, Nraseopita, ilona590, buckeye, xSosaherex, Pinkharlequin, tswen, edgeit, 1victoria, SHoltPBS, louella, sponsor3211, grffn1969, CreditOK990, CalamityAnne, Jetredgirl, Rafieka, melbelle1029, amberdawn, freespirit, RIO, dcee63, danteshell, jessie2006, bluechien, TankAtVectisHauntings.com, nergllah, jada198125, shelleyann, weghead, maneet, YuriyHoy, ClermontGhosts, angelmom, sarahlewis, Freaky31, raven136, Tallchap, logindude, chrispike, Nathan S., GauqdtasWVWerndes, sam stevens, faithful_nurse_27, phsum0003, Fromab2u, funkydavid, and liz101.1.



Ghostvillage.com Quick Stats:

199,465 Messages in the Town Square Message Boards
11,479 Members in the Town Square
535 "Personal Encounters" published on Ghostvillage.com
570 Paranormal Web sites in the Ghost Links directory
21,368 Subscribers to this newsletter
4,021,037 total Web site "hits" for Ghostvillage.com in July


Ghostvillage.com is the Web's largest supernatural community, the central place where people come to share their experiences, thoughts, and research. Please help us continue to grow by buying a copy of The World's Most Haunted Places, Communicating With the Dead, The Encyclopedia of Haunted Places, The Nightmare Encyclopedia, Our Haunted Lives, shopping, or by buying a Ghostvillage.com t-shirt. Every little bit helps run our servers and helps the site get bigger and better! Please also click on our banner ads and support our advertisers -- when you do business with someone who advertises with Ghostvillage.com, let them know you saw their ad with us and thank them for the support.

Please email us anytime at info@ghostvillage.com. Your comments, questions, and feedback are always welcomed.


---
All material is © 2006 Ghostvillage.com
REMOVAL INSTRUCTIONS: To be removed from the mailing list, please go to www.ghostvillage.com/subscribe.shtml.