GHOSTVILLAGE.COM NEWSLETTER #30
February 9, 2004

Shop at Ghostvillage.com | Support Ghostvillage.com | Ghost Chat | Supernatural Auction

Be sure to forward this on to your friends who are interested in the supernatural!
---
You are receiving this email because you or a friend signed you up at http://www.ghostvillage.com. If you would like to be removed from this mailing list, please see the instructions at the bottom.
View this newsletter online at: http://www.ghostvillage.com/newsletters/Feb09_04.htm
---
Dear Ghostvillagers,

Ghosts are absolutely everywhere. I live in Bellingham, Massachusetts (if you're on the road to nowhere, Bellingham is somewhere near the middle) and recently I was in our local library doing some research for the book I'm writing on the world's most haunted places. I was talking with the librarian about some famous ghostly legends, and she immediately offered up that the Bellingham Historical Society, the site of the former Bellingham library, is haunted by the spirit of a librarian that passed on. Something I'll look into further in the future for sure.

As some friends and neighbors have learned about what I've dedicated my full-time effort to, many of them have pulled me aside to tell me of their own experiences. He won't think I'm crazy, is what I imagine they're thinking. And they're right. If I had only ever heard one or two people say they've had a ghostly encounter, maybe I would think they were crazy. But today, ghost encounters from people around the world come to my email inbox every day, my phone rings with friends and colleagues telling me about their latest ghostly investigations, and some of these encounters get caught on video surveillance and make world news.

It's a very supernatural world we live in, and I'm glad you're paying attention to it.

January was a great month for our ghostly community. We have more than 3,200 registered members on our message boards, and there are a lot of new features worth checking out, like: a member map -- stick a pin in a world map and show us where you live; build your own homepage in the Town Square; build your own polls, weekly chats in our chat room; and much more! If you're not already registered, please join your fellow explorers soon.

Supernaturally yours,



Jeff Belanger
info@ghostvillage.com
Mayor of Ghostvillage.com

Congratulations to Starr Chaney of Nicholasville, Kentucky! Starr was last month's winner of a one-year subscription to FATE magazine.



The "winner" icon on the left has been hidden somewhere on Ghostvillage.com. If you're the first to find it, email us with the page it's on, and you win this month's prize. The graphic could be on any page on the Web site -- maybe at the top of the page, maybe the bottom, etc. Once we have a winner, we will announce it on our home page as soon as possible. By clicking on the "winner" icon within Ghostvillage.com, it should launch your email with the appropriate subject. If not, email info@ghostvillage.com, and in the subject or body, put the URL of the page you found the icon on. Good luck! (Only Ghostvillagers who have not won a prize from us in the last year are eligible.)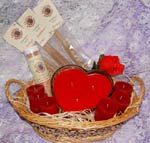 This month's prize: a "Sweetheart Basket" from Celestial Scentsations! It contains a 16 oz. heart candle, 3 packages of incense, an 8 oz. tube of bath salts, and 6 votives. The prize is valued at $39.99! The candle scents are "Love Spell," which is a wonderful blend of sensual scents, their top seller for Valentine's Day. And the winner can have their choice of scents for the bath salts and incense.

Didn't win? Want to buy from Celestial Scentsations? Click on the graphic above.


The Supernatural Calendar is the place where thousands will learn about your events of interest to the supernatural world. The service is only available to registered members of the message boards, and it's free! Here's some of what is going on in February/March:

Tuesday, February 10: Birthdays: fuzzyghost
Wednesday, February 11: Birthdays: Cindy , os_cal
Thursday, February 12: Birthdays: Boo_Boo_Boo , MasonAngels
Friday, February 13: Birthdays: LordRoan , quirk , CherryFlavored , lmackey
Saturday, February 14: Birthdays: caffeine , gc , three_sided_dice , indy , cinderemma , NightElf
Sunday, February 15: Birthdays: SpiritsOfMd , PeaksMillGirl
Monday, February 16: Birthdays: Maria , chryl , dolphinwoman
Tuesday, February 17: Birthdays: Azazel , Midnyte69 , Bridget
Wednesday, February 18: Birthdays: Dennis
Thursday, February 19: Birthdays: SGRAHQ , plarribas , Dreamin2B , Kahuna , reese58 , Majestic
Friday, February 20: Birthdays: Gracie_Lou , annie_36 , haunted_gurl24 , taz34md , dolorosa , snowangeljen , metame
Saturday, February 21: Birthdays: kittengirl , hobo , Belisarius
Sunday, February 22: Birthdays: creepykat , Nativesun43
Monday, February 23: Birthdays: angel_ka , Tamara , susmith , Wicked_666 , deadlyavenger
Tuesday, February 24: Birthdays: dec57 , eveangelion03 , Deadman , talon011
Wednesday, February 25: Birthdays: syhtarnen , valeriev , beebee , WolfMoon
Thursday, February 26: Birthdays: MTV , amythswitch , phaota , whispers_of_fire , elexra
Friday, February 27: Birthdays: MasterOfSeeth , TribalWolf27 , blood_curdle , orchestrope , ghostHost
Saturday, February 28: Birthdays: wolfman
Monday, March 1: Birthdays: HauntedBySpirits , HensPreciousTreasure
Tuesday, March 2: Birthdays: moonshadows , ShannonD03104
Wednesday, March 3: Birthdays: redrum21 , spiritseek , truebeliever21 , ChldOfKoRn1982 , rattie_lover , pbodle , Orig122
Thursday, March 4: Birthdays: DarkStar1237 , kahealani
Friday, March 5: Birthdays: Sc077y
Saturday, March 6: Birthdays: jaredpetersen
Sunday, March 7: Birthdays: bsandromeda , _bright_shadow_
Monday, March 8: Birthdays: songdeva , blAcKwiDoW21 , Demon_Speeding
Tuesday, March 9: Birthdays: SEEKER2034 , moon_dancer , air4cgirl





Who's Who in the Town Square?

Get to know some of your fellow Ghostvillagers.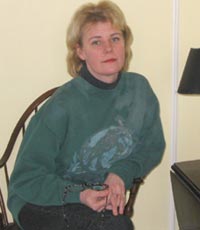 >>Bridget<<

What is your name?
Bridget Brown

Where are you from?
Cascade, Maryland -- a small community nestled in the Blue Ridge Mountains in central Maryland. The area consists of mostly turn-of-the-century homes once occupied in the summer by wealthy diplomats from Washington and Baltimore. (Only about 20 miles SW from Gettysburg and within a few miles of Camp David.)

What do you do for a living?
I am a Graphic Designer and a Fine Artist. I work at home which fortunately enables me to live outside a metropolitan area.

How did you first hear about Ghostvillage.com?
I was originally searching the Web for resources about paranormal activity caught on film. I moved to my current house about a year and a half ago, and since then have captured some anomalies around my property on film. I found Ghostvillage and hoped to try and get a better understanding into what the anomalies might be, or if they could be explained through scientific reasoning. I'm so glad I found GV, because the people there are sincere, knowledgeable, intelligent, and fun!

Have you ever had a supernatural experience?
Yes, when I was about 11 or so, I encountered something I would consider "evil." I was entering a dark room in the house I lived in, and a woman laughed an evil mocking laugh in front of me. I never saw anything since it was too dark. It scared the beejeebes out of me, and have always been looking for some logical explanation since then to no avail. You can read a more detailed account on GV here: www.ghostvillage.com/encounters/2003/09052003.shtml I also had some encounters during seances when I was young, and I had sensitivity to a fire in our house when I was not in the vicinity.

Do you think some areas are more prone to hauntings than others?
I feel that an area with a lot of history probably has more activity. I sense that in my current neighborhood. There has to be some kind of paranormal activity, because the houses are so old and once were the heyday of activity. I've asked several of my neighbors if their houses were haunted, but so far nothing. One of my neighbors I questioned said, "No, why would it be haunted?" (As if it were a bad thing,) I replied, "Because this is such a great place I would think nobody would want to leave." (Even in death.)

I can walk around the block and almost feel some character from some bygone era looking out the window.

Now that I have my digital camera, I will be snapping a lot of pics this spring!

Ghostvillage.com's book reviewer, Lee Prosser, has brought us new book reviews since our last newsletter. Have you read one of these books? Want to add your own review? Click >>here<<.

This past month's Book Reviews:

Secrets of the Ancient Incas: A Modern Approach to Ancient Ritual and Practice by Michael Peter Langevin


Before You Cast A Spell: Understanding the Power of Magic by Carl McColman


Exploring Shamanism: Using Ancient Rites to Discover the Unlimited Healing Powers of Cosmos and Consciousness by Hillary S. Webb


Destiny of Souls: New Case Studies Of Life Between Lives by Michael Newton




Ghostvillage.com in the news

Jeff Belanger's "Legends of the Supernatural" column is on temporary hiatus as he works on his forthcoming book, The World's Most Haunted Places: From the Secret Files of Ghostvillage.com, which will come out this fall. Be sure to check the Legends section for the best of his column!

Also check out the latest issue of Mysteries Magazine (issue #4). Ghostvillage.com's Jeff Belanger has a feature article in the new issue on Dudleytown, a haunted village in Connecticut. You can find Mysteries in your local bookstore's magazine section. Be sure to ask them to order it if it isn't there!


We receive personal encounters from all over the world. Many are scary, some are touching, but they are always profound. If you would like to share your own experience, please click >>here<<. Since our last newsletter, we added the following new encounters:

Sensing a Previous Tenant - Los Angeles, California

Shaking Red Couch - Winnipeg, Manitoba, Canada

Discovered Room Unleashes Spirit - Toledo, Ohio

Graveyard Ectoplasm - Indianapolis, Indiana

Ghost Woman on Video - Chatham, New Jersey



Pennies from Heaven - Cincinnati, Ohio

Blurry Nap-Time Visitor - Boise, Idaho

Vanishing Girl - Davao City, Philippines


Our new "Resources" section is a place for editorials, research articles, open letters to our readers, press releases, and other content of interest to Ghostvillagers. If you have a topic on your mind, agree or disagree with something you read recently, we want to hear from you! For guidelines, click here.

New articles since our last newsletter:

Investigating a Haunted House by Benjamin Radford - January 29, 2004

$50,000 for PROOF of Paranormal in Canada - January 16, 2004

Since our last newsletter, the following people have joined us in the Town Square! Please welcome:
Starr, kcroteau, med_man, calixqbix, rsouthall, vittles, reygjabla, dave_gaines21, Dreamwalker, Jackie, midniteman, randystreu, goosebumpgirl19, officergarber147, spider1, chaama, sunny641, One_Wicked_Witch, epssenthil, monroe_presley, blessedwhispers, melzie, ghost13, evilwevil13, dweezil111, hebee_jeebies, nino14kitty, weirdcountry123, Angel_13, homer_j_fuddpucker, FalseZen, sgbluespro, icemaiden, ghosthunter04, cleokat45, Ohioghostwatcher, Jennefer, lutrafan, MartyJo, spookyboots, blpippins73, nastyghost, paranormakfreak4life, man4171, Christine1964, Flsurfer18, trapezoid, ghostrider, DEADCAT, chellygirl, Azieca, Stasya, bombthrower1, carlytee, nancy_yaaj, TSGenghis, jojo23, gHOSTgEEK, NASCARGURL1, leanne, Colleen, mersey, headstonelvr1, blondie47862, annasrain, Lynne, TruTexasGirl, Dearesttragedy, ghostgrl81, Oxylon, batdude, elbarto592110428, phalien2001, JohnG26, Texanangelwatcher, metame, ahitter, blnk182skater, SuperG0g0g0han, C_r_volmar, MidAtlanticPIT, BOATS, wind_of_light, Mullet, Ghosthunter55, nan, alexarich, TheMyst, doug3060, rsatcus, rastcus, MoonChild, juanaid_bal, Ameila, mellilotflower, tillyoshea, angelinthedark19, starryj13, lawnman, GhostGirl1900, Turkish, Candy, Daggoroth, AcidicTears, ReikiDan, Kelster, wufongtan, MissTeddy, Saber821, bdes64, spellbound, sapphiresdarkhorse, 1ghostlyguy, Witchygirl, wclikers, GhostieGurl2004, jimmy500, kate, GMVasey, Ador, Gemz13, debijl, Bambie347, brystonmama, gbcsc, Amber_Castro, bluenyangel, PhotoTaker, sclisham, gothiKa5, SUNgirl, Eva_Star, JHolden564, pamelakae, Debmark, malialoo8, chuvusi, Mommydoll, v-huntley, ardnasmah, SpectralAffair, exorcist, dennfore, Babygrl_Tuty11, mflesch, were-wolf, KelliAli626, bizkithill, meangel, lilplayergirl67, tomatosun, Soulminersson, trose, mizdominguez, tmpr2050, SassyAss, mulder, outlaw_moon, mysteryiskey, xandor666, Plusch, EEAALP, kaepa_presi, buddy12, erika098, jackot, froggy27, litabramble, purpledreamer, carrol, HoneyKat, Winnieloki, imperez, ephie, and zac.



Ghostvillage.com Quick Stats:

26,466 Messages in the Town Square Message Boards
3,202 Members in the Town Square
12 "Encounters" listed in 2004 so far.
374 Paranormal Web sites in the Ghost Search directory
6,901 Subscribers to this newsletter
1,572,905 total Web site "hits" for Ghostvillage.com in January

Ghostvillage.com is growing at an incredible rate. Every day the site grows as more people come to share their experiences, thoughts, and research. Please help us continue to grow by donating, shopping, using our new auction, or by buying a Ghostvillage.com t-shirt. Every little bit helps run our servers and helps the site get bigger and better!

Please email us anytime at info@ghostvillage.com. Your comments, questions, and feedback are always welcomed.


---
All material is © 2004 Ghostvillage.com
REMOVAL INSTRUCTIONS: To be removed from the mailing list, please go to www.ghostvillage.com/subscribe.shtml.