Shop at Ghostvillage.com | Support Ghostvillage.com | Ghost Chat | Supernatural Auction

Be sure to have your friends subscribe to the newsletter >>here<<
---
You are receiving this email because you or a friend signed you up at http://www.ghostvillage.com. If you would like to be removed from this mailing list, please see the instructions at the bottom.
View this newsletter online at: http://www.ghostvillage.com/newsletters/Jul05_03.htm
---
Dear Ghostvillagers,

I'm a science buff. On the rare occasions I get the chance to watch television, I'm usually glued to the Discovery or Science channels, and I read every nerdy magazine I can get my hands on. Science makes new discoveries almost every day, and we learn that some scientific laws that we took as absolutes are now in fact wrong. 

For example, in the April 2003 issue of Discover magazine, there is an article on how Einstein's theory of relativity (E=MC2 -- Energy = Mass times the Speed of Light Squared) may be flawed because we're finding out now that the speed of light may not always be a constant. Many of us took this as an absolute for decades, and now it makes us rethink our very view of how the universe grows.

There seems to be an ongoing struggle between science and the supernatural. Scientists can be notorious skeptics -- after all, they are seeking real proof before they believe something -- but sometimes science unintentionally supports the supernatural without even knowing it. 

For instance, another law of the universe that many of us agree upon is that matter can't be created or destroyed. If you take this to be true, that means that each of us have always existed, and always will. In what form we will exist is the question. The scientists, religious people, and philosophers' work will never be finished -- their views will evolve as new information and understanding is applied. I do take great comfort in the fact that change is a true constant in the universe.

June was our biggest month ever as far as traffic and new content goes. New people join our village every single day. As we grow in size and diversity, our community only gets better. I appreciate the great minds who are coming to Ghostvillage.com to share their insight. One of those great minds, Troy Taylor, will be joining us for a Ghost Chat Wednesday, July 9, from 9 P.M. to 10 P.M. (EST) -- I hope you can join us. Enjoy the rest of this month's newsletter, below.

Supernaturally yours,


Jeff Belanger
info@ghostvillage.com
Mayor of Ghostvillage.com

Congratulations to Lyn Chapin of Little Rock, Arkansas. Lyn was last month's winner of a year's subscription to Mysteries Magazine.

The "winner" icon on the left has been hidden somewhere on Ghostvillage.com. If you're the first to find it, email us with the page it's on, and you win this month's prize. The graphic could be on any page on the Web site -- maybe at the top of the page, maybe the bottom, etc. Once we have a winner, we will announce it on our home page right away. By clicking on the "winner" icon within Ghostvillage.com, it should launch your email with the appropriate subject. If not, email info@ghostvillage.com, and in the subject or body, put the URL of the page you found the icon on. Good luck!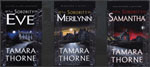 This month's prize: Tamara Thorne has a chilling new trilogy of books out this summer: "At exclusive, isolated Greenbriar University, within the elite Gamma Eta Pi sorority, is a secret society known as the Fata Morgana. Its members are the most powerful women on campus—and the deadliest. For this is a sisterhood of evil, a centuries-old coven, and every girl who pledges herself to their wicked decadence does so for life…or death…" This month, the lucky winner will receive an autographed copy of all three books in the series!

Didn't win? Want to buy the books? Click on the graphics above.

This is a great new feature we added in June to Ghostvillage.com! Our calendar is a place to list your important meetings, conferences, and television programs. The service is only available to registered members of the message boards. Here's some of what is going on in July and August:

Wednesday, July 9: Meeting: Troy Taylor Chat
Friday, July 11: Meetings: Fort Delaware, Mansfield Reformatory
Saturday, July 12: Meeting: West Virginia
Thursday, July 31: Television: Creepiest Dest.
Friday, August 1: Holiday: Lughnasadh



Who's Who in the Town Square?

Get to know some of your fellow Ghostvillagers...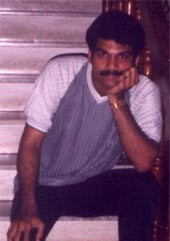 >>MoonChild<<

What is your name?
Sreedhar Aravind

How old are you?
30 -- born Sagittarian on 15th December, 1972

Where are you from?
Kochi, India -- known as the Queen of the Arabian Sea, Kochi is truly a breathtaking city.

Have you ever had an encounter with a ghost?
Yes, I have! Even though I always wanted to see a ghost, my encounter took place on the night of 5th May, 2001. At that time, I was working in the city of Bangalore. I was lying face-down on the bed late at night when I suddenly felt a chill. Mind you, it was summer time for us! I opened my eyes and saw this white, misty figure standing near my bed-side. I was so scared because I was not really prepared for an encounter! I screamed out loud, but no sound came out -- I could see the light outside through the window and could also see the trees swaying in the wind. Moreover, I was sweating too. Well, 10 seconds or so later, this figure just vanished!

What part does your religion play in your belief in ghosts?
I am a Hindu, and our culture revolves around the concept of reincarnation. Yes, we do believe in ghosts and other entities. So, I would rather say, our religion really does support the idea of the supernatural.

In India, do you feel there are a lot of people who believe in ghosts, or is this kind of belief kept quiet?
Since our religion itself supports the idea, there are a lot of people who believe in supernatural phenomena, especially in the rural areas. This belief is not kept quiet, and the rituals and customs actually do happen to appease the ghosts and spirits. In the cities, even though the customs are followed, people, for different reasons, tend to suppress the idea of ghosts -- partially since they are afraid to face it straight away. The career and hectic life takes people away from the mainstream of religious belief, and perhaps that is why they tend to "disbelieve" or keep beliefs suppressed.


Ghostvillage.com's book reviewer, Lee Prosser, has been hard at work this month -- we've added four new book reviews in June! Have you read one of these books? Want to add your own review? Click >>here<<.

June's Book Reviews:

Our Haunted Planet by John A. Keel



Crop Circles: Signs of Contact by Colin Andrews with Stephen J. Spignesi
The Witch Book: The Encyclopedia of Witchcraft, Wicca and Neo-Paganism by Raymond Buckland



Hans Holzer's the Supernatural: Explaining the Unexplained by Hans Holzer






Legends of the Supernatural

Since our last newsletter, the following columns have run:

The Skeptic's View - An Interview With James Randi - June 28, 2003

Mercy Brown, the Rhode Island Vampire - June 14, 2003

If you know of a publication that may be interested in running this column, drop me a line for pricing information. >>email<<

You may notice something new in the Encounters section. The contact email address for all of the encounters will now be info@ghostvillage.com. When you click on the email link, it should bring up the appropriate subject for the email that tells us which encounter witness you are trying to contact. If your email doesn't support this, simply put the date the encounter was added as the subject, and we will forward your email to the person who submitted the article. We're taking this measure to further protect the privacy of the people who share their experiences with our audience. If you have an encounter, please share it by clicking >>here<<. The following encounters have been added in June:

Ghost of the School Caretaker - Fermanagh, Ireland

Forest Park Cemetery Shadow - Troy, New York

One Last Visit From Daddy - Monticello, Arkansas

Vicious Hag - Thornhill, Ontario, Canada

Phantom Tennis Court - North Cambridge, Massachusetts

Mural Orb - Palm Beach County, Florida




Our >>Supernatural Auction<< is still growing in membership, but the amount of items being listed has been lower than we would like to see. In an effort to build up this section, we will once again make the service free for basic listing. Please remember that if you want a bold or featured listing, or if you need Ghostvillage.com to host your images, an additional cost will be applied, and you will be billed monthly.

New members receive $1.00 credited to their account -- this credit can be used for the extras such as bold listings. This supernatural marketplace is a great way to connect with people who are interested in your products and services.

Besides books, ghost hunting equipment, psychic readings, and computer equipment, here are some current featured auctions:



Psychic MEDIUM Reading - References! 1 Hour!


Since our last newsletter, the following people have joined us in the Town Square. Please welcome:
three_sided_dice, polkadottie, CatzMeow007, JimTheBrit, chris2, Andonyx, reprise, smorin1, SBRN91101, PygmyPlaidGiraffe, lone, maharet, pegu9, rdberna, Dreamin2B, JulesFOD, RevEv, Jessiepunk55, tacomatawanda, starlight, Cara, Jujyfruit, vicksy, michiganangel1972, darkstar, hotghostchick12345, krwilliams, plindboe, Bangin, Wicked_666, fsol, Boomer1981, eirono2, waterso2, prankster_69er, Justice, Barbara, J_Victoria, Sammy, lilmisspoing, GlobalSuperstar, tromba3, PREISTESS666, thatd001, flynnpot, DOOM193, softbalgal321, jordan, ghoul44, dnbg03, Vicky_Green, moon_dancer, evil_monkey, seg9, deadskin, tachi, Hannah, Pink_Pear, blueboy31, misty12ove, m15helle, mishaa, cool, CherryFlavored, my3sons0525, K-Anne, MRPatak, nemrel, sharbunny, bigpoppa, caliguy1995, chesta, Ericka, hobo, Thump691, Kimie, JwL2SprkL, tohicha, Thor, Kahuna, hotmama, abzorb, Micer, Toby, tgrize1978, nancy_davidson, rustypouch, Ghoststalkers, evil666, Dean, kashmere, Amanda_0314, stevenedel, Kiki, ghostlover, Duke_of_Dunstable, scarryme, heidiwilk, madsquirrel97, Vampchick21, awh2002, Mike1954, Amba44, Angel, all4luvgrl, Seth, cedeldp, caligrl25, moonkeeper, amohamo1982, bethw, fuzzyghost, spooky_sc, foxy09173, PhoenixFlame, PRECIOSA01, ghastly001, kiwiegirl, nightcrawler2003, pyro_2003, elexra, MissMissouri, Freda, MrWhite, dfdl530, pohowe, Bonehead, boy_raecr, aprillynn93, shaggy, tamme67, monkeys999, lanewooten, vb, cutelilbear, Muffin, Mykiedave, and Holly.



Ghostvillage.com Quick Stats:

19,671 Messages in the Town Square Message Boards
1,813 Members in the Town Square
36 "Encounters" listed in 2003 so far
293 Paranormal Web sites in the Ghost Search directory
3,672 Subscribers to this newsletter
1,713,321 total Web site "hits" for Ghostvillage.com in June

Running Ghostvillage.com takes a lot of time and money. You can help by donating, shopping, using our new auction, or by buying a Ghostvillage.com t-shirt. Every little bit helps run our servers and helps the site get bigger and better -- your support will keep the growth going!

Please email us anytime at info@ghostvillage.com. Your comments, questions, and feedback are always welcomed.