GHOSTVILLAGE.COM NEWSLETTER #59 - July 13, 2006

Buy Books By Jeff Belanger | Go to the Ghost World Conference 2007 Web site

Be sure to forward this on to your friends who are interested in the supernatural!

From Amityville to your own backyard, read about ghost encounters that have changed the way people think about the afterlife forever.
Click here to buy the book through Amazon.com: http://www.amazon.com/exec/obidos/ASIN/1564148564/ghostvillagecom
---
You are receiving this email because you or a friend signed you up at http://www.ghostvillage.com. If you would like to be removed from this mailing list, please see the instructions at the bottom.
View this newsletter online at: http://www.ghostvillage.com/newsletters/jul13_06.htm
---
Dear Ghostvillagers,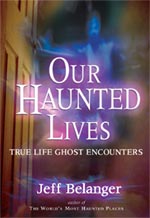 This month I'm very proud to announce the arrival of my new book, Our Haunted Lives: True Life Ghost Encounters! The little feller was born this month weighing in at 222 pages and costs $14.99. I survived the labor pains and am recovering nicely, thank you.

Our Haunted Lives is a book that arguably I began working on in 1997. Back in '97 I had no idea I would be writing any books, but I knew I wanted to know more about ghosts and the supernatural. It was back in '97 that I was talking to someone who said she saw a ghost in Dudleytown, Connecticut. Now, I wasn't there when she had her experience, so I can't tell you with certainty that she saw something. But I can tell you beyond any doubt that this girl was moved by whatever it was that she did see. The way she described her experience, her eyes only looked away from mine in order to find the right words, and the way her body tensed up with fear as she relived her moment of contact made me a believer in her. Short of having a supernatural experience for yourself, speaking one-on-one with a witness to a ghostly event is the most compelling evidence for ghosts that there is.

For years people have been telling me about their ghost experiences -- their testimony is gripping. Since my days as a newspaper reporter I have always kept my trusty hand-held tape recorder by my side. When I interview a witness, the tape rolls so I can pay attention to our conversation and so I don't miss anything. Replaying the tape for me was almost like reliving the encounter. In Our Haunted Lives, I present the experiences in the words of the witnesses. I want you to read what I heard. I tried to ask the questions you might have asked. It's a new approach to documenting ghost encounters, and I hope you'll all support me on this and pick up the book. You can click on the book cover to buy it through Amazon or ask for it in your local bookstore. Our Haunted Lives is also the place where I present the entire interview with George Lutz, the man whose experiences in Amityville, New York back in 1975 sparked many books and movies that often exaggerated or completely made up what really happened. I spoke to Mr. Lutz for hours about everything he's experienced since the summer of 1975 right through present day. Sadly, George Lutz died this past May and this interview was one of the last major discussions he ever had on the record. Was Amityville a hoax? See what George Lutz himself had to say about it.

This month's theme is a discussion of our very haunted lives. Talk about the book or share your own experiences in our message board of the month. I'm also pleased to announce that this Friday I will be a guest on the Jeff Rense radio program and Sunday I will be on Coast to Coast AM with George Noory. If you're listening, please call in and say hello! Enjoy the rest of the newsletter below.

Supernaturally yours,

Jeff Belanger
info@ghostvillage.com
Mayor of Ghostvillage.com


Congratulations to Reuben Febus of New York, New York, who was last month's winner of a copy of an autographed copy of Jeff Belanger's first book, The World's Most Haunted Places, a Ghostvillage.com window sticker, and a Ghostvillage.com t-shirt!

This month, we're doing the contest again, but we ask that you first click this link: http://www.ghostvillage.com/index.shtml#winner. If it says, "The search is on" then we don't have a winner yet and go ahead and send in your answer. If you see today's date and "We have a winner!" that means you weren't the first to email us. Sorry, please try again next month.

On to this month's question: This question can be answered by reading a page on Ghostvillage.com. The first person to reply to this email with the correct answer will win this month's prize.

According to Thomas D'Agostino, what's the most important piece of ghost investigation equipment?

Once we have our winner, we will announce them on our home page as soon as possible. Good luck! (Only Ghostvillagers who have not won a prize from us in the last year are eligible.)



This month's prize: we're giving away an autographed copy of Jeff Belanger's brand-new book, Our Haunted Lives: True Life Ghost Encounters, a Ghostvillage.com window sticker, and a Ghostvillage.com t-shirt!


Didn't win? Want to buy a copy? Click on the graphic.



The Supernatural Calendar is the place where thousands will learn about your events of interest to the supernatural world. The service is only available to registered members of the message boards, and it's free! Very soon, Ghostvillage.com will begin syndicating our calendar of events so other Web sites can display these supernatural happenings. Adding your own local events to our calendar is more important than ever!

July 14: Jeff Belanger on Jeff Rense Radio with co-host Brad Steiger
July 15: The Paranormal Experience At The Depot, Duluth MN
July 16: Jeff Belanger on Coast to Coast AM with George Noory
July 21: 3rd Annual Eastern Regional Paranormal Conference
July 22: Jeff Belanger on Audiomartini- Cable Radio Network
July 27: Brian Leffler (krcguns) begins Co-Hosting Magick Mind Radio with John Zaffis as their first guest
August 5: Jeff Belanger on Speaking of Strange Radio with Joshua Warren
September 14: Jeff Belanger on WCANRadio Phenomenon




Who's Who in the Town Square?

Get to know some of your fellow Ghostvillagers.



>>wayne2241<< - member since October 25, 2002

What is your name?
Wayne Hackler

How old are you?
39

Where do you live?
Sun Prairie, Wisconsin, a nice suburb of Madison

What do you do for a living?
A Realtor with Century 21

What got you interested in the supernatural?
The home I grew up in, on the property that my family has lived in for over 200 years, is haunted. My mother instilled in me a belief in ghosts and hauntings. We accepted it as a normal thing. We have several entities living there with us, not all of them nice. I am performing an ongoing investigation there whenever I go home, usually 2 or 3 times a year. My family gathers evidence for me during my absence using sound, established protocols.

Are you aware of any real estate laws in your area concerning disclosing to potential buyers if you feel your house is haunted?
Here in Wisconsin, there are no rules or laws about disclosing a potential haunted property to a person... yet. With a growing population with new age beliefs, it is only a matter of time.

Have you ever had a customer ask about selling or buying a haunted home?
I havenít had anyone ask about it yet, but Iím on the lookout for a haunted property or two for myself.

What's your all-time favorite movie?
My all-time favorite movie, thatís a toughie. I would have to say The Last Man On Earth with Vincent Price. He was the man as far as cerebral horror goes.



Last Month's Theme - Featured Content

Our last month's theme was Extrasensory Perception (ESP). We featured an article with an interview with Loyd Auerbach and Dr. Susan Belanger and had some good discussions going in our message board. Here's what you missed if you haven't checked in since last month:

Discussion: Telekinesis

Discussion: Science Points to a 'Sixth Sense'

Discussion: ESP or Parapsychology?

Feature Article: ESP, M&Ms, and Reality by Jeff Belanger


Ghostvillage.com's book reviewer, Lee Prosser and the staff have brought you several new book reviews and author interviews since our last newsletter.


This past month's Library additions:

Supernatural California by Preston Dennett

Da Vinci Tarot by Mark McElroy

The Weiser Concise Guide to Alchemy by Brian Cotnoir

The Case For Ghosts by J. Allan Danelek

Interview with author Devadatta Kali [AUTHOR INTERVIEW]

The Healing Power of Neurofeedback by Stephen Larsen

Tranceformers: Shamans of the 21st Century by John Jay Harper

Companion for the Apprentice Wizard by Oberon Zell-Ravenheart

The Lost Civilization of Lemuria by Frank Joseph

Haunted Rhode Island by Thomas D'Agostino [AUTHOR INTERVIEW]




Ghostvillage.com Advertising Opportunities

Each month Ghostvillage.com reaches tens of thousands of people interested in the paranormal. We offer the most effective and best-valued advertising and sponsorship packages of any paranormal media outlet. To view our advertising options and discounts, please visit: http://www.ghostvillage.com/advertising.htm

If you're ready to put Ghostvillage.com to work for your company or organization, send us an email to get started.

We receive personal encounters from all over the world. Many are scary, some are touching, but they are always profound. If you would like to share your own experience, please click >>here<<. Since our last newsletter, we added the following new encounters:

Ghostly Gray Cat - Jim Thorpe, Pennsylvania

Demonic Presence in the Bedroom - Kyger Creek, Ohio

A Sign of the Cross - Long Beach, California [PIC]

The Ghost of Flying Hawk - Albany, New York

Footsteps at Nashua Fresh Air Camp - Greenfield, New Hampshire

White Streamy Woman - Winterberg, Germany

The Man With the Tall Black Hat - Fall River, Massachusetts

Grandmother's House - Garden Grove, California

Woman in White at the Whaley House - San Diego, California

Spectral Attack While Sleeping - Durban, South Africa

Help Me, Help Me, Help Me - Fayette, Missouri


This is the place to find press releases and news items on paranormal happenings around the world. If you have a news item you'd like to submit, please see our guidelines.

Our Haunted Lives Puts a Chill in Your Summer Reading With Real Ghost Encounters

Cape Cod Haunted Map Unveiled

The National Ghost Hunters Getaway Presents The Shining Investigation


Our "Features" section is a place for editorials, research articles, open letters to our readers, and other content of interest to Ghostvillagers. If you have a topic on your mind, agree or disagree with something you read recently, we want to hear from you! For guidelines, click here.

New features added since our last newsletter:

An Active Ghost Hunt at a Haunted Bed and Breakfast by Richard Senate - July 7, 2006

Lee Prosser, 1969 - by Lee Prosser - July 4, 2006 [COLUMN]

My Theory on Spirits by Edward L. Shanahan - June 28, 2006

Belle Gunness: McClung Road and the Blood Farm Horror - by Marcus Foxglove Griffin - June 23, 2006 [COLUMN]

Ethnoarchaeoghostology: A Humanistic-Scientific Approach to the Study of Haunt Phenomena by John Sabol - June 19, 2006

Christopher Isherwood & Lee Prosser in 1969 - by Lee Prosser - June 16, 2006 [COLUMN]




Jeff Belanger's Upcoming Events

This is the place to find out where author and Ghostvillage.com founder Jeff Belanger will be speaking on the subject of the supernatural. If you're interested in booking Jeff for a conference or other event, please email us for more information.

Events Scheduled:

Berkshire Paranormal Conference, Houghton Mansion - North Adams, Massachusetts - September 22-24, 2006

2006 New England Ghost Conference - South Portland, Maine - October 13-15, 2006

Charlie the Butler's Ghost Party at the Sprague Mansion - Cranston, Rhode Island - October 26, 2006

Ghostfest - RMS Queen Mary Long Beach, California - November 17-19, 2006

Ghost World Conference - Gettysburg, Pennsylvania - July 20-22, 2007




Ghost World Conference 2007

Ghostvillage.com is proud to announce that we're helping to organize a giant paranormal conference, tradeshow, and symposium for July 20-22, 2007 in one of the most haunted places on earth: Gettysburg, Pennsylvania. Tickets and booth space are already going fast and space is limited. Be sure to visit the conference Web site for more information or to sign up:


http://www.ghostworldconference.com/


There's only one place where you can tune in to the leading paranormal radio programs available online, and that's right here on Ghostvillage.com's Paranormal Radio: http://www.ghostvillage.com/resources/ghostradio.shtml

A special congratulations to Ghostvillage.com's Brian Leffler (krcguns) who will now be co-hosting the Magick Mind Radio Show!

Tune in to: A.P.S.R. Talk Radio, Darkness on the Edge of Town Radio, Exploring Unexplained Phenomena, The Ghost Chronicles, Ghostly Talk Radio, The Graveyard Shift, Magick Mind Radio, Nightwatch, Weird Stuff Happens, and The 'X' Zone Radio Show.




Hot Threads in the Community

If you have registered for our message boards but haven't validated your account yet, it's simple to do! Look for the email that was automatically sent to you when you registered and click on the account activation link in the email (note: some bulkmail filters may block this email, so you'll need to check your bulkmail folder if the validation email didn't immediately come through). There are always great discussions going on in our huge message board community. We hope you'll get involved. It's free to register if you're not already a member. Here are some of the hot topics this month:

The Candy Man
http://www.ghostvillage.com/ghostcommunity/index.php?showtopic=12399
Are the Candy Man, Bloody Mary, and Nicholas Nails all one and the same, or are they completely different entities, summoned in similar ways?

Spiritography
http://www.ghostvillage.com/ghostcommunity/index.php?showtopic=14732
Is this anomaly due to the camera, photographer, or a result of the paranormal? You decide!

EVP
http://www.ghostvillage.com/ghostcommunity/index.php?showtopic=14428
What exactly does this EVP say? Give it a listen and see what you think!

Spirit Video
http://www.ghostvillage.com/ghostcommunity/index.php?showtopic=14712
Camera movement or a paranormal result? Check this video out for yourself.

Witch School Opens in Illinois
http://www.ghostvillage.com/ghostcommunity/index.php?showtopic=14697
Courses range from Druid and Celtic history to crystal and gem magic.


Board of the Month -- Our Haunted Lives
http://www.ghostvillage.com/ghostcommunity/index.php?showforum=27
Come in and discuss the new book and your own brush with the supernatural.

In the last month, the following people have joined our ghostly community. Please welcome:

emmaleesmomma, Shantstrich, IceQueenDeseree, daisyfun28, buddabean, rlavoe, Kikyo_Angel19, bunyaboo, christinamarth, SalemDad, shellz153, brianusi, mylz, celestialkarma, MeanMon, rscorpiogirl76, josh cooper, Roger LeBlond, Nautical_Nightmare, nealparr, jackielea, balthasarangel, laurensgrover, spookyjudes, hurstae01, mamallama, burkey, Kenfmkenner, julieccampbell, ghostdancer27, OOTWG, DRL, Lyght, DawnRL, bluehaze, Mimimax, Chatsworthy?, Poppychainz, sdew, kazua, cerelia, ladyscorpion, smoodiver, carl, WyckdWitch, cool1, mish_mash, ShineMoonDrei, speak1104, Hermit, emsquared, ghostkitty, whiteSpirit, tisha22276, Tuesday Miles, dreamwalker66, pro, karley52, belly, twinssun, fab4fan57, Candy_Jones, wildlover05, Cortana3, danielle_rain, Stretch, Windy City cemetery hunter, Tattoo Vampire, jnegron, ghostluver_ghostgirl101, sweetsense77, crystalb, Isolated, brandi123abc, ltetrax, michael_bapi, Granite State Paranormal, mystikalmoon15, JamilaLovesAdam, caitlyn0217, temp, abneyl0679, bwilson, DK7, shammrock, paranormalwv, vamps, cdhall57, adamglowka, turner774, aries_brylwynn, vcrdr1, thumper_1, Gallamist, djslacker, cara wright, dont read my name!!, ValerianaAtropa, sweetee67, hello there sir, ManForse, magamagnifico, sighwebmaster, lshaw, Allison101, Cleveland Girl, ghostgirlkammy!, Blaq Dalia, rottie2t, OfCourse, saphore, rebelgirl2270, rebbie, 3xmema, Isis9, kitkats_meow, alfa2, cody, GeorgiaGhostGirl, TiffanySEOP, silverwolf185, dc_mac, shainat543, LadyMew1999, emzie_w, lg1987, jamesplatek, emzie-w, ieatglass, gardenlady, okieboo, indigofirefly, AGHOST, Reen, girikums, LauraMoon, DEGhostHunter, fedrabaroness, snowyuki, Zaffar, Caligirl75, boatsen69, melinda0717, "50,000 Tears I've Cried", VAMountainMist, True_Believer, dragon_gurl666, born2shop101, brandongrovecity, MrSlyDisco, tvlgrl, hollie, freaky, alexistorrez, Olivia540, Kevin Hinch, Kate Panic, mosiesileo, frombeyond, kkelly06, Karin, kalyman, dale3afan4life, regina, Isabelle, kevwilz, notjill, Sheal, i b kyle, wopslori, icykool, KassieCash, silverfoxx690, restlessspirithunter, parafinder250, ghostguy1324, wwells, k1rambo, trat, missangelic, kevthms8, Rock a dundee, MollyUnwin, Elizabeth, justmee, teeboogie, Geri, francesca, RedorGreen, gb66, fathommm, Tupac, pjboy, provenciot@netzero.net, teenytinyfeet, pulaski_paranormal, justDonna, jennie8245, palinore, heavensturn99, glhricko, papu, littledannyj1, WSPIR, tm4free, coastguardman, nicolekirk99, ttown_kiwi3, kathy123, SeventhEntity, maccafan, Borderlineangel, loopylou, rainbowjimmies, irishguy89, ranjanmmisra77, Saroj, chela08, jackhorz, ErinM85259, hrmiller, dpal1974, RLMora, bmichaud, saracollar, beefydogg, kristy007, vwjr, KELLIS, Hannah852000, catface, xMyFinestWordsx, gj_sydney, familyof7, megalodon, ninag1208, bekajune, ghostlillie, snarcher, spiritcrazed, dreamer616, melissagaston, aliah, Brittany, ruffrich, DeliofWPS, frank123, frank1234, kenneth, CTghosthunters, puplia2, knight67, aurora1381, imahookd1, hounds, Inptct, audiomartini, blondieOne, Island Girl, ryanziegler, ryanziegler4, dark_crystalgen, wchriswilliamson, Chiagurl77@yahoo.com, timtrav, chewyski, Lee78, SirRoundSound, DanitaRichards, purplegal, megalodon156, mano369, Bidder1972, NateBrown5150, tennesseeghostchasers1, Marti, kerriada, powries, pme1959, jasminespring, believer_62, pitbull, Ghostt, bagoober1212, lazyleo0478, DeadTrish, Kaligyrl, miss, daisy78, michael_lrm, xxxmattxxx80, seedy1, crazylynn77, Morbid, gypsy.kyrie, free2b, and Supernatural4real.



Ghostvillage.com Quick Stats:

191,068 Messages in the Town Square Message Boards
11,066 Members in the Town Square
520 "Personal Encounters" published on Ghostvillage.com
545 Paranormal Web sites in the Ghost Links directory
20,573 Subscribers to this newsletter
3,828,181 total Web site "hits" for Ghostvillage.com in June


Ghostvillage.com is the Web's largest supernatural community, the central place where people come to share their experiences, thoughts, and research. Please help us continue to grow by buying a copy of The World's Most Haunted Places, Communicating With the Dead, The Encyclopedia of Haunted Places, The Nightmare Encyclopedia, Our Haunted Lives, shopping, or by buying a Ghostvillage.com t-shirt. Every little bit helps run our servers and helps the site get bigger and better! Please also click on our banner ads and support our advertisers -- when you do business with someone who advertises with Ghostvillage.com, let them know you saw their ad with us and thank them for the support.

Please email us anytime at info@ghostvillage.com. Your comments, questions, and feedback are always welcomed.


---
All material is © 2006 Ghostvillage.com
REMOVAL INSTRUCTIONS: To be removed from the mailing list, please go to www.ghostvillage.com/subscribe.shtml.