GHOSTVILLAGE.COM NEWSLETTER #34
June 14, 2004

Shop at Ghostvillage.com | Support Ghostvillage.com | Ghost Chat

Be sure to forward this on to your friends who are interested in the supernatural!
---
You are receiving this email because you or a friend signed you up at http://www.ghostvillage.com. If you would like to be removed from this mailing list, please see the instructions at the bottom.
View this newsletter online at: http://www.ghostvillage.com/newsletters/June14_04.htm
---
Dear Ghostvillagers,

First, let me apologize for our little email glitch last month that sent a few weird emails with the subject of "[Ghostmail] plz talk 2 me" to our entire mailing list. No one's email address was compromised, and the problem has been fixed on our end. For a complete explanation, click here.

This past weekend I started reading Waiting for Mary: America in Search of a Miracle by Mark Garvey. Garvey documents -- very objectively, I might add -- some of the many alleged Virgin Mary, mother of Jesus sightings that have occurred around the United States in the 1990s. He reports from some of the locations where people claim Mary will show up at a very specific time and place, and he joins thousands of pilgrims who wait to experience the supernatural.

Many people Garvey speaks with show him photos they've taken that feature what they believe are visions of Mary, Jesus, and even Satan. In reading Waiting for Mary, I was struck by how similarly the story parallels those of us who research and explore ghosts, folklore, and magick. We are, after all, seeking proof -- or at the very least some evidence -- of that hunch that sits deep inside all of us. That hope that there is something more out there beyond death. The people in Garvey's book share their Polaroid photos of Mary in a cloud bank with the same zeal I've seen ghost hunters show me pictures of orbs and ectoplasmic mist or recordings of an EVP. To the person who was actually there when the photo or recording was taken, this is tangible proof of what they witnessed.

We are all on a spiritual quest, after all. Whether that quest falls within the structure of an organized religion, or whether you dart through old buildings with EMF readers, cameras, dowsing rods, or spirit boards, it's very comforting to get a sign that we're on the right path. It's important that we all keep sharing our evidence and ideas -- just as the pilgrims shared their stories in Garvey's book, just as Ghostvillagers share their findings online.

May was our busiest month ever here in the village. We unveiled our new "LINKS" section -- everything has been updated, and the old and outdated links have been dropped. The new section is also searchable. If you want to add your site, please click here for instructions. Please keep spreading the word about us to your friends -- judging from the countdown clock on our homepage -- something big is coming soon. Stay tuned...

Supernaturally yours,

Jeff Belanger
info@ghostvillage.com
Mayor of Ghostvillage.com

Congratulations to Scott Ditmer of East Petersburg, Pennsylvania! Scott was last month's winner of a Cryptique Spirit Board from Salem, Massachusetts!



The "winner" icon on the left has been hidden somewhere on Ghostvillage.com. If you're the first to find it, email us with the page it's on, and you win this month's prize. The graphic could be on any page on the Web site (except in the message boards) -- maybe at the top of the page, maybe the bottom, etc. Once we have a winner, we will announce it on our home page as soon as possible. By clicking on the "winner" icon within Ghostvillage.com, it should launch your email with the appropriate subject. If not, email info@ghostvillage.com, and in the subject or body, put the URL of the page you found the icon on. Good luck! (Only Ghostvillagers who have not won a prize from us in the last year are eligible.)



This month's prize: a free one-year subscription to Mysteries Magazine. Four times a year, Mysteries explores the mysteries from modern times to yesteryear.


Didn't win? Want to buy a subscription? Click on the graphic above.


The Supernatural Calendar is the place where thousands will learn about your events of interest to the supernatural world. The service is only available to registered members of the message boards, and it's free! Here's some of the conferences, happenings, and birthdays going on in June/July:

Monday, June 14: Birthdays: Keller , hunnylou , MistDru , nightvisit , zenreix
Tuesday, June 15: Birthdays: yudhishthira , Ericka , Amie77Tx , Tristan , aids
Wednesday, June 16: Birthdays: NewJonno , darkgoddess
Thursday, June 17: Conference: Haunted America Birthdays: grlyfreftr123 , rockyroo , Justice , hellraiser1208
Friday, June 18: Conference: Metaphysical 2004, Haunted America Birthdays: maharet , mudhugs , fairytales , thaikih , MecaBro
Saturday, June 19: Conference: 8th Annual IGH, Haunted America, Metaphysical 2004 Birthdays: Shawna , rotorman17 , Vici
Sunday, June 20: Conference: Pagan Spirit..., Haunted America, Metaphysical 2004 Birthdays: KarenSue1973 , EntitySeekers
Monday, June 21: Birthdays: thirteen , lestatfan , Wicked_Howell
Tuesday, June 22: Birthdays: SelobsSkeleton , SickfilledNoise , legend671
Wednesday, June 23: Birthdays: Bearman , nightshadeparlor , literarybear , seakla , lestat
Thursday, June 24: Meeting: IANDS Conference Other: Ouija Chat Birthdays: lilmisspoing
Friday, June 25: Meeting: IANDS Conference Birthdays: GyoengyiG , Velvety Angel , BIGlittleHoRn
Saturday, June 26: Meeting: IANDS Conference Conference: Music and Medium. Birthdays: Maurice , Brenda , april141912 , waynewato
Sunday, June 27: Conference: Music and Medium.. Birthdays: Angel69 , Blah blorg , hayley
Monday, June 28: Birthdays: BaDdOlly13 , reneerain , BooMama , Andis , bookman60
Wednesday, June 30: Birthdays: Kittii , heart143 , spritseeker69 , star , knowitall , ghosthuntress16 , kimghosthunter , Squall_AJMV
Thursday, July 1: Birthdays: faillace0701 , nanram1979 , Nermlkitee , munerva2003
Friday, July 2: Birthdays: Catherine , FaeryLights , kathl33n35 , Brianne , catherinek
Saturday, July 3: Birthdays: SpiritWulf , dresmith , nemeny_watts , PinkPjs , Starfish888 , karollynn , RavenNWolf
Sunday, July 4: Birthdays: DevilMan666 , xxConscriptionest , Mykiedave
Monday, July 5: Birthdays: judecat1 , honeypotsofluv
Tuesday, July 6: Birthdays: MojoJojo , Dntueva , kjaneil , SpazzicSamantha , ZhirosXav
Wednesday, July 7: Birthdays: ladyphoenix , monkeys999 , Haunted_PA , ghostly , gopanthers_927
Thursday, July 8: Birthdays: sharbunny , beekers , WhyteWatcher , ghosthunterofscspr , BlooButter , Aithne
Friday, July 9: Birthdays: MyDevlin , The_Night_Man
Saturday, July 10: Birthdays: Gwendolian , colorado ruby
Sunday, July 11: Birthdays: 6thSenseSeeker , Alaglindeiel , psychosharona
Monday, July 12: Birthdays: ButterflyJazz , Ph33R , Willow , moonshadow , juliekell , Prometheus , pfnarrghmglexxxurrh , vittles , kareknl



Who's Who in the Town Square?

Get to know some of your fellow Ghostvillagers.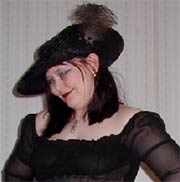 >>Yosei<<

What is your name?
Heidi Evans

How old are you?
28

Where are you from?
Salt Lake City, Utah

What do you do for a living?
Fashion designer and vintage boutique owner.

Have you ever seen a ghost?
I felt more than I've seen, but yes. I shared my bedroom with a cat ghost for a number of years (may still be there, but now that I have live cats it's hard to tell...), whom I saw on two occasions, once as misty gray ears and tail without the rest of the body, and once as a sort of clear outline, like crystal or the camouflaged alien in the movie "Predator." On the second occasion, he was sitting in a beam of moonlight purring like live cats do in the sun, which I found very cute and amusing.

What's your favorite part of Ghostvillage.com?
Well, the message boards generally, especially Personal Encounters and Spirit Communication.


Ghostvillage.com's book reviewer, Lee Prosser, has brought us new book reviews since our last newsletter. Have you read one of these books? Want to add your own review? Click >>here<<.

This past month's Library additions:
Secrets of a Medium by Larry Dreller

Sticks, Stones, Roots & Bones: Hoodoo, Mojo & Conjuring with Herbs by Stephanie Rose Bird

The Kabbalah Tree: A Journey of Balance and Growth by Rachel Pollack



We receive personal encounters from all over the world. Many are scary, some are touching, but they are always profound. If you would like to share your own experience, please click >>here<<. Since our last newsletter, we added the following new encounters:

Ghostly Stalker - Nashville, Tennessee

Jerry's Visit to Say Goodbye - New Mexico

Grandmother's Premonition - Spring Green, Wisconsin

Grandpa's Message - Los Angeles, California

Seeing the Light - Perham, Minnesota


Our new "Resources" section is a place for editorials, research articles, open letters to our readers, press releases, and other content of interest to Ghostvillagers. If you have a topic on your mind, agree or disagree with something you read recently, we want to hear from you! For guidelines, click here.

New articles since our last newsletter:

Psychics, Cold Readings, and Parlor Tricks by Chris Richardson - June 7, 2004

Pets and the Afterlife by Barb Mallon - May 21, 2004


Since our last newsletter, the following people have joined our ghostly community in the last month! Please welcome:
angiet123, creatureofthenight, GaGhostSociety, Bizzy, naghprs, graywolf, KarenO, SKneiper, darkpoochie, nightwalker16, jeffers, maxoverton, dyl0905, stacia, CynWann, savagedarksider, mom4jaimee, Dennis Hatley, jay435, Timewalker, msblanch, xxSaMmYxx, Pom1K9, BMobs, Chippi1, NCRedNeckWoman, starplayer, Arquimedes, Crimson_Oblivion, bkdragon_69, stupidiestskunc, SJC1217, sharlynn, ghost_lover, burnie_primary_sux, Bcaspersr88, liljade, had17had, Ashlin, Lady8604, donsvile, punkofthetoe, icarryknives, butterflypoet, zombie, Joan, Sexyinlace, sweetistorchid, Scoobertdooshag, jayitaly, xUji_Bx, candylee, ayil, phoeniqz_kiz, snookers, munerva2003, patience, Right_next_to_me, gammeister, LIZARDKING, Lily, Candi, lalunnaroja, pinkyroo, kanndiegirl, Bluemonkey, KanndieGirly, hotshot80, whitelighting, LostSoul, announcer1980, kiernan92, lestat, angeliquereder, beryl, Blackmystic, gothic_nerd, BillyRae, SokMunkie, believer1, punky, Stormcrow, juniperlop, amyo0o0, BLUEGHOST, demonchaser, raised_by_poodles, Sorbet, joanmarie, jazziger, gretchen28, lastride, notsogay8, Agent_Scully, Wraith_Proctor, sandyinorrum, lilo, Shard, nilbog11, lady_of_the_herb, Christi, phxghosthunter, jenellybean, rocky, aids, Misstrismist, seahag, sandyyb21, fingeryoutodeath, joani3, nlean, Evillive, dolliebell, element842, Karim, hawk2k3, Freak_of_nature, ZhirosXav, hoppergal, bearbear, hairpin, mls29, cremix, Ariesrayn, candice55732, eturner65608, whatthehello, shaiderfly8, TheBritishGuy, carly, BlooButter, BIGDADDY, TrappedInABox, xLizx7x, im_an_other, nexus_mike, karolyn, aymajo, sillygyrl9990, xxpsychoponyxx, curious_cute, cute_pogi, Shade, saturngoddess, pisces420, sweetheart55, badreligionx5, badreligionx7, badreligion x 6, KimmyK, sarahsmiles, cute_and_cuddly, Cutie875432, majoko, bsumter, angus32, rcl1216, rakoshi, mambabarang, aajan, aaron73, Metal_Man, Cipher, anan96, ShadowedWhispers, ghostinvaders, TippiG, ladygrim, midevilfire, Ghostly_designs, Krystle, goodmajoko, saturday, TamiRae, apone, lukeda, MALLRATZ, atomicsnapper666, moonchild11, ghostchaser, sadale143, Tino1977, tami20, scott215, Debunker, spiritlistener, XaimzX, mescheuerman, blackkwhind, sammy_gst, fangbird49, ferrouge, gymnast_007, ghost_group, charmed_4_ever, FyrePhoenix, Celebrate_We_Will, jurk, petra, GothicGhostWitch, RavenNWolf, JimmyDang, shygl01, vixxy, jakal9, bookman60, jenny7985, xxx_bitemeplz_xxx, pambrow, hauntednacho, fiveboys2many, Ashley_Mitchell, breezys-mommy, ghost-rat, cheerleader1454, shadie, ainee, jeannieshand, riotgirl20000, rollnrocker, sp1der, tabbycat, hotchick666, poopigator, jmcurtice, ghostgals, princessofcomo, alexis, Aithne, Kelly__Wonders, Kelly__thinks..., nofearinfaith, toockie_wun, Paul C. Anagnostopoulos, kazy, mystified1313, ghosthunter13, greengecko, fabian, kitty2004, bunk, southernzombie669, unfamous, seaker, dimarioraven, Vici, Dicknwc, scruple, kornkid, ScaredHeidi, robineve, demonic_prey, d3v1ls_pr3y, Sever, sarahmae, Spookycat1, InGrindW3Crust, Vanilla2677, blondiegrl149, blue, pantherfirephd, gertrudemcfull, tb9857, FLACA69, KissMeorilHv2Cry, flingum, Adam, l3lizzard, BlueSoul, rok_royalty, kkryo, shoyie, Skellator, Geraldsghost, SILVERLINING, speedo62, Salman, Chaotic_Fiend, kikobert, teza, norse71, ironwood, raychel77, reddragon97301, samira, Shattered, xlost, annangisrikanth, kareknl, Flutterby77, KalebKellum, Kkellum, chelle_1989_38610, ghosthunter83, evil, ghostbuster20, Ghostbuter20, and jknoll.




Ghostvillage.com Quick Stats:

54,776 Messages in the Town Square Message Boards
4,348 Members in the Town Square
38 "Encounters" listed in 2004 so far
143 Paranormal Web sites in the Ghost Search directory
8,812 Subscribers to this newsletter
2,649,333 total Web site "hits" for Ghostvillage.com in May


Ghostvillage.com is growing at an incredible rate. Every day the site grows as more people come to share their experiences, thoughts, and research. Please help us continue to grow by donating, shopping, or by buying a Ghostvillage.com t-shirt. Every little bit helps run our servers and helps the site get bigger and better!

Please email us anytime at info@ghostvillage.com. Your comments, questions, and feedback are always welcomed.


---
All material is © 2004 Ghostvillage.com
REMOVAL INSTRUCTIONS: To be removed from the mailing list, please go to www.ghostvillage.com/subscribe.shtml.

SUPERNATURAL WEB HOSTING! Check out Emerging Market Web Design and tell them Ghostvillage.com sent you! http://www.emwd.com