GHOSTVILLAGE.COM NEWSLETTER #57 - May 16, 2006

The World's Most Haunted Places | Communicating With the Dead | The Encyclopedia of Haunted Places | The Nightmare Encyclopedia

Be sure to forward this on to your friends who are interested in the supernatural!

How do you score? Take the quiz and find out. Get free stuff too.
http://www.teenpregnancy.org/national/quiz/
---
You are receiving this email because you or a friend signed you up at http://www.ghostvillage.com. If you would like to be removed from this mailing list, please see the instructions at the bottom.
View this newsletter online at: http://www.ghostvillage.com/newsletters/may16_06.htm
---
Dear Ghostvillagers,

Folklore plays an integral part in the study of ghosts and the supernatural. In many cases, hauntings aren't documented when they happen. The reason we even find out that a location may have ghosts inside is because of folklore. Someone witnessed an event they couldn't explain, they in turn told a friend or two about what they experienced, those friends found the story compelling enough to share with others, and so on. Once the story is two or three people away from the original witness, certain embellishments and other new elements can come into the story. A person's account might start as: "I saw the outline of a man walk right through a wall at work," but turn into: "A moaning man looked right at the girl who worked there. He reached out for her and then disappeared into the wall with a blood-curdling scream."

The second version may be more interesting or frightening, but it's not what really happened. It is worth noting, though, that some truth is still in the second version: a male figure disappeared into a wall. It's our job to track down the source of the original story if we can, and document what really happened. Folklore gives paranormal investigators just about all of our leads and it's a subject that deserves closer inspection. Folklore is also what helps connect us to each other. Oral tradition, storytelling -- it's part of our religions, our families, our lives. So let's gather 'round the campfire this month at Ghostvillage and explore folklore more closely.

To get us started on defining what folklore is, we'll hear from Dr. Michael Bell, a man with a Ph.D. in Folklore who has spent his career exploring the subject. Be sure to check out his interview, it's this month's feature article. We also welcome your input in Folklore: Ghostvillage.com's message board of the month.

This past Sunday we did have an issue that I'd like to quickly address. Our message board system was hacked early in the morning and the hacker emailed out a nefarious email to some of our members saying they should click on some links to clean out a virus. We have corrected this problem. None of your user information was compromised in the process. Click here to read more.

I've had the opportunity to meet some of you at the various conferences I had the pleasure to speak at, and I welcome all of our new villagers who have made their way to our corner of the Web over the last few weeks. This is a great time to be exploring this amazing field of study and I enjoy sharing the journey with you all. Enjoy the rest of the newsletter below.

Supernaturally yours,

Jeff Belanger
info@ghostvillage.com
Mayor of Ghostvillage.com


Congratulations to Teri Ciulla of Galloway, Ohio who was last month's winner of an autographed copy of Jeff Belanger's book, The Encyclopedia of Haunted Places: Ghostly Locales from Around the World, a Ghostvillage.com window sticker, and a Ghostvillage.com t-shirt!

This month, we're doing the contest again, but we ask that you first click this link: http://www.ghostvillage.com/index.shtml#winner. If it says, "The search is on" then we don't have a winner yet and go ahead and send in your answer. If you see today's date and "We have a winner!" that means you weren't the first to email us. Sorry, please try again next month.

On to this month's question: This question can be answered by reading a page on Ghostvillage.com. The first person to reply to this email with the correct answer will win this month's prize.

What music is in Vince Wilson's CD player right now?

Once we have our winner, we will announce them on our home page as soon as possible. Good luck! (Only Ghostvillagers who have not won a prize from us in the last year are eligible.)



This month's prize: We're giving away a copy of the new DVD documentary, The Woodland Haunting-A True Ghost Story, a Ghostvillage.com window sticker, and a Ghostvillage.com t-shirt!


Didn't win? Want to buy a copy? Click on the graphic.



The Supernatural Calendar is the place where thousands will learn about your events of interest to the supernatural world. The service is only available to registered members of the message boards, and it's free! Very soon, Ghostvillage.com will begin syndicating our calendar of events so other Web sites can display these supernatural happenings. Adding your own local events to our calendar is more important than ever!

May 19: Jeff Belanger at Book Expo America - Washington DC
May 20: First Annual Ghost Conference - New London, CT
May 27: SpiritFest '06 @ Rolling Hills (Buffalo/Rochester)
June 8: AAEVP Conference - Atlanta, Georgia
June 16: 8th Annual SGRA Paranormal Conference, Milford, CT - Jeff Belanger will be speaking at this event
June 25: Jeff Belanger - Darkness on the Edge of Town Radio
July 1: Forbidden Knowledge Conference, BBQ and Ghosts Weekend
July 8: Jeff Belanger on Spooky Southcoast Radio



Who's Who in the Town Square?

Get to know some of your fellow Ghostvillagers.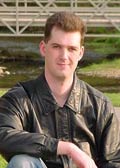 >>evp-catcher<< - member since January 31, 2005

What is your name?
Sean Dudley

How old are you?
32

Where do you live?
I live in Loudon, Tennessee (right outside of Knoxville in East Tennessee).

What do you do for a living?
I own a computer hardware sales business.

What got you interested in Electronic Voice Phenomena (EVP)?
One day I was watching Universal HD (a Hi-Definition channel on satellite) and saw a trailer for the movie White Noise. In it, they showed a real EVP that said, "Get out of my house." I had not heard of this phenomenon before, and wondered if it was really true that you could record spirits' voices. So, I figured what better way to find out for sure than to try it myself. I did, and have had much success in doing so.

Tell us about the most compelling EVP you've captured.
I am a member of the East Tennessee Paranormal Society. A fellow investigator who was in the same room with me got an EVP that said, "Micka-Nicka-Hi-Nicka-Hiney-Hiney-Lo," in a girl's voice. Then, a loud "NO!" came through, and then the whisper, "micka-nicka-hi-nicka-hiney..." came through. This one about made me fall out of my chair when I heard it! I think it is the best we have gotten as a group. As far as the best one I have personally gotten, I would have to say it is the one that is 3 EVP that came in back-to-back which goes like this, "I'm getting cranky...look behind you...you doin' alright?" The first one comes in very loud, and she sounds cranky. The 2nd one I don't think had anything to do with the first EVP, just another spirit there saying something, and the 3rd one I think was in response to the first spirit. These EVP can be heard by clicking on them.

What's your dream ghost investigation location?
I would very much like to investigate a big, old building that has lots of activity. An old war hospital or something like that. I would love to find a location where I can get video of some apparitions and video of some objects moving on their own. I did get what I believe to be a spirit in the form of a ball of light, but that is the only video evidence I have gotten so far. The ball of light video I got (which was shot in infrared) can be viewed at the following URLs: http://www.byterunner.com/evp/orb.mov - Full speed and http://www.byterunner.com/evp/orbslow.mov - Slowed down to 1/4th speed.

What's your favorite TV show?
My favorite TV show I would have to say is Lost, but my second favorite is Ghost Whisperer.



Last Month's Theme - Featured Content

Our last month's theme was Reincarnation. We had a number of articles and thoughts on the subject, and we definitely learned a few things in our message board discussions. Here's what you missed if you haven't checked in since last month:

Book Review: Beyond Reincarnation by Joe. H. Slate Ph.D.

Feature Article: Talking Reincarnation with Dr. John Gilbert by Lee Prosser

Ghostvillage.com's book reviewer, Lee Prosser and the staff have brought you several new book reviews and author interviews since our last newsletter.


This past month's Library additions:

The Virgin Mary Conspiracy by Graham Phillips

Facial Reflexology by Marie-France Muller

Ghost Tech by Vince Wilson [AUTHOR INTERVIEW]

Silver's Spells for Love, Abundance, and Protection by Silver RavenWolf

Aleister Crowley and the Practice of the Magical Diary edited by James Wasserman

Sacred Plant Medicine by Stephen Harrod Buhner

Self Hypnosis by Dr. Bruce Goldberg

Merlin and the Discovery of Avalon in the New World by Graham Phillips

The Reflexology Atlas by Bernard C. Kolster, M.D. and Astrid Waskowiak, M.D.

Roads to Eternity by Sarah Wilson Estep

Beyond Reincarnation by Joe. H. Slate Ph.D.


A big thank-you to those who sent in a donation last month! Ghostvillage.com is the Web's largest supernatural community, the central place where people come to share their experiences, thoughts, and research. Running this site not only requires a great deal of time, but money as well. Here are ways you can help us continue to grow:

-Consider donating a dollar (or more if you can) to us through PayPal. Think of it as an incredibly inexpensive subscription to a great newsletter and Web site!
-Buy a copy of The World's Most Haunted Places, Communicating With the Dead, The Encyclopedia of Haunted Places, or The Nightmare Encyclopedia.
-Buy a Ghostvillage.com t-shirt.
-Advertise your business or service with us. Ghostvillage.com reaches tens of thousands people interested in the paranormal and New Age markets.

Every little bit helps run our servers and helps the site get bigger and better! Please also click on our banner ads and support our advertisers -- when you do business with someone who advertises with Ghostvillage.com, let them know you saw their ad with us and thank them for the support.

Please email us anytime at info@ghostvillage.com. Your comments, questions, and feedback are always welcomed.

We receive personal encounters from all over the world. Many are scary, some are touching, but they are always profound. If you would like to share your own experience, please click >>here<<. Since our last newsletter, we added the following new encounters:

Maddie in the Mirror - Fort Scott, Kansas

Something Grabbed My Leg - Scott Depot, West Virginia

Grandpa's Flag - Kissimmee, Florida

Strange Happenings at the Jefferson Hotel - Jefferson, Texas

An Evil House - Elmira, New York

The Giggling Girl - South Gate, Kentucky

Sensing a Presence - Las Cruces, New Mexico

More Spirits on the Land - Milton, Florida [PIC]

The Black Form at the Foot of My Bed - Mobile, Alabama

The Smell of the Devil? - Mission, Texas

The Hopping Couch - Trumbull, Connecticut


This is the place to find press releases and news items on paranormal happenings around the world. If you have a news item you'd like to submit, please see our guidelines.

Saloon Row Ghost Tour Opens in Williams, Arizona

Third Annual Eastern Regional Paranormal Conference held in Gettysburg [CONFERENCE WATCH]



Our "Features" section is a place for editorials, research articles, open letters to our readers, and other content of interest to Ghostvillagers. If you have a topic on your mind, agree or disagree with something you read recently, we want to hear from you! For guidelines, click here.

New features added since our last newsletter:

Swami Chetanananda and Lee Prosser - by Lee Prosser - May 15, 2006 [COLUMN]

Theatre, Sťance, and the Ghost Script: Performances at Haunted Locations by John Sabol - May 5, 2006

Willard David Firestone and the River Ghost - by Lee Prosser - May 1, 2006 [COLUMN]

When the Spirits Held Sway at the White House by Richard Senate - April 25, 2006

Part Three: Investigation: Primrose Road - Adams St. Cemetery - by Marcus Foxglove Griffin - April 20, 2006 [COLUMN]




Jeff Belanger's Upcoming Events

This is the place to find out where author and Ghostvillage.com founder Jeff Belanger will be speaking on the subject of the supernatural. If you're interested in booking Jeff for a conference or other event, please email us for more information.

Events Scheduled:

SGRA's 8th Annual Paranormal Conference - Milford, Connecticut - June 16-18, 2006

Berkshire Paranormal Conference, Houghton Mansion - North Adams, Massachusetts - September 22-24, 2006

2006 New England Ghost Conference - South Portland, Maine - October 13-15, 2006

Charlie the Butler's Ghost Party at the Sprague Mansion - Cranston, Rhode Island - October 26, 2006

Ghostfest - RMS Queen Mary Long Beach, California - November 17-19, 2006 (more information coming on this soon)

There's only one place where you can tune in to the leading paranormal radio programs available online, and that's right here on Ghostvillage.com's Paranormal Radio: http://www.ghostvillage.com/resources/ghostradio.shtml

Tune in to: A.P.S.R. Talk Radio, Darkness on the Edge of Town Radio, Exploring Unexplained Phenomena, The Ghost Chronicles, Ghostly Talk Radio, The Graveyard Shift, Magick Mind Radio, Nightwatch, Weird Stuff Happens, and The 'X' Zone Radio Show.




Hot Threads in the Community

If you have registered for our message boards but haven't validated your account yet, it's simple to do! Look for the email that was automatically sent to you when you registered and click on the account activation link in the email (note: some bulkmail filters may block this email, so you'll need to check your bulkmail folder if the validation email didn't immediately come through). There are always great discussions going on in our huge message board community. We hope you'll get involved. It's free to register if you're not already a member. Here are some of the hot topics this month:

Bigfoot In Southern Malaysia
http://www.ghostvillage.com/ghostcommunity/index.php?showtopic=11850
Evidence of a sighting or a hoax?

Spiritography
http://www.ghostvillage.com/ghostcommunity/index.php?showtopic=12944
A ghost in the urn? You decide.

EVP
http://www.ghostvillage.com/ghostcommunity/index.php?showtopic=13802
3 EVP in one recording. Check it out.

Spirit Video
http://www.ghostvillage.com/ghostcommunity/index.php?showtopic=13838
A chase on the lake.

An American Haunting
http://www.ghostvillage.com/ghostcommunity/index.php?showtopic=13846
A new movie based on the famous (or infamous) Bell Witch story from Tennessee. Have you seen it?

Thornton, Illinois - Widow McCleary's Pub
http://www.ghostvillage.com/ghostcommunity/index.php?showtopic=12869
Come explore the mysteries of this haunted Illinois pub.

Ghost Hunter vs. Paranormal Investigator
http://www.ghostvillage.com/ghostcommunity/index.php?showtopic=13736
Is there really a difference? What do you think?

How do I tell my parents what I am?
http://www.ghostvillage.com/ghostcommunity/index.php?showtopic=2294
How do you tell your parents you're not going to follow in their religious footsteps?

The Exercise Thread
http://www.ghostvillage.com/ghostcommunity/index.php?showtopic=12818
What are you doing to get in shape?


Board of the Month -- Folklore
http://www.ghostvillage.com/ghostcommunity/index.php?showforum=27
Come in and discuss the legends and lore of our lives.

In the last month, the following people have joined our ghostly community. Please welcome:

gemntherockstarz, EvilNeedsCandy666, bevrearick, bloodyangelcordelia, Malinche, littlegm, cool dude, Sizwe, darktranquility, fzyo0001, Uaine_Teine, ghosthunter039, g7jiq, Romeo, Iron Bess, firefighter13, johnspurling, melinda, xx_Blue_Eyez_xx, patsdogs, bgm, iceshark, cool disco don, randytuggle, lbubbles4u, Robbie2Tones, Anomaly, kult, HULLKE, marie, Fogfrog, Jace, Banned, NicoleElla, psstockk, scullybee1013, tusher, olddog, nativeqt, Interstellardweller, dragoncomfit, whitneymchenry, midnight_ravynhawk, not2scared2bhere, Monstermaker, Andr3w, Spooky_78, edgie345, jarocki, LisaME, djcammy06, lovemetal666, Sincerely_Zodiac, insaineelizabeth, ifindspirits, myblazer2, brussolino, DisneyHopes, Mr.Joecat, nicnic90, tulips, HamRadioRick, nanceezee, joeb4d, roseb, Buffy1, ingamaria, Beezfan77, rosebutterfly, capricorn13, dj9680, anima241, Jera, Jonnyboy, Gymnast231, purle1, Not_Scared_but_silent, tammybery, tearsofblackicry, poopski, soulmuske, ghostlyguy1990, hobodan, glaelynn, cjtcc, wyldefyre67, MaryCeleste, horty, stormyeyez49, Heather_2940, HeatherFromMilton, jezusjezus, Annah, Momady, RevT, Loveless Wonder, marcsullivan2k2, GotYouInMySights, Roe, bettiepage, Casper123, xxBlueEyezxx, Crystalj21SC, ashtar, ghostly-vixen, donski32, dawnm6770, bleucrabb, casper08, Magrathea82, shesgotsushi, angel_leea96, Sogoode519, UFOiler24, Serenitys_mom, SianLP, himansu, WickedBrat, wicca, saint_pain, iaintafraid, scotish_moonlight, luvkittys07, kmorin5927, goolagong, white_children_only, meb5581, scottishsusie, kazsymonds, mesiahofthedogs, steldoz, Independentgrlny, Ashlee, banjk, jastone837, broadwayrocker, agretz, Tabby936, strawberry1224, Larabeelver, forgiving_moon, Tigger, llking75, conchi, goth_kitty, wisp, leah_elago, ghost-jennie, Dea, k210791, Caveat Emptor, Janistx1, kkelly, Paige La Verne Webber, rebelbrat, radiokillsrock, Gambit23, Karra, brandy183, mamagirl, XxshyxuniquexX, voluptuos124, telemarket_telephone, piku, Secnz, MEVESTAL, skellington girl, HeeyaNinja, edithklaver@hotmail.com, Dynalite, vintage-eyes, Ritual, juggiano, z/t/f, red legos, weldon1231, lfranks, heatherramos, lynda, Gopher_43066@Yahoo.com, jedi, DSPY, fairycakes, dtrainor85, daniellegranger, Em_gozizzers927, azsxdc, captain_honkey, bahnisiain, gubitosa, bowdog, Ectomaniac, Libby, Shomertat, NoelBrock, Pati, blackstoneghostman, Milamber, grigori_group, cjsull, chachawarren, Pandora, maidencats, mackmacy, staci, dparsons, Ryucan, Grantara, rafaela, 3637, morbidity, mst3000, froggerblonde, one_big_hottie, jason2550, ECParanormal, Barbie, nursegreen427, cwfm100, kentuckyladya, annerepopoulos, SupernaturalBlkGothChick05, msoden, johnjanbea1, Mick, maggie_hall, ainomiadue, tdolphins89, trugate, elementskater166, Moon_light, perrin, bamelement166, butterfly1966, SweetBriana, Jynnx13, gemjar, evilfurby, hmwilkie, dmaron, abold, DavidB, neverspooked, tony1, wayhersc, corsica1, greekboy, nuttinnice, meherdas, celticshamrock1, younger, angiy@verizon.net, wildboutghost37, Valc, r3adah3ad, missbrit58, jen1981, sweetpea1278, maleficent, anitalostinga, pattiken, Annette2399, melinoska, adhd14t, suelauner, savannah3993, SPOOKGIRL, ncdragon2003, ghostseeker123, shadowman187, LHunterN, wolflady, Combat_medic11, scarletfire32, kenandkathy, BooBustingBabes, Mordha, NEARKeith, graveyardshift, cbacome, Tim Heckman, pyromainiak89, tiberius797, jem33, kellyannqt, TheGreatLennon, Sarahkite, Ghostseeker2006, CVI, butterflygirl, huni43113, Witchyone, Ted Bell, nicksauntie, BlueValkyrie, lulu, dido118, joeygreene, sabinaz, Vanguaard, Bev, Frogbat, gibby, brightbluepeepers, moinuddin, danni90, amir_smtpp, FeliciaO, deadman7589, oldpeople, GIBBON345, keighley130, deWriterMD, HealthySkeptic, Zuly, rezkid, marty in oz, 123456, barbc, sharon3357, Gseekersleadinvestigator, vimaljee, FrankS, tayzer, FallenAngel, Stacked, ldfindlay, Jovis666, ladytripp, smiley, blkings, the_midnight_society, jpope, alyssa_wendorff, Splizo, bellamoon, shakram, disenchanted, aimee_h35, auntter55, CaptKundalini, jehanne78, ccgrand, LBowers, lajoy05, Ghosthunterslover, Texas_Angel20, Stargazer, Lucky3643, alfonso26, docnmia, bad13oy, pillow.case, Firefly99, Red Jester, tangiemoff, aerowigs, broadwayfreak92, Druid, Iam, bsanchez, sadiexmurder, dprettygirl82, geanie, Hoodie, tahrae35, carrotfairy, rosalieb1956, darkandbrokenone, killgore, Debsghosts, ihatebirds, fahad, royncez, yourmom, YESHUA, ragdoll, mmaielua, kimgodfrey, and brad.



Ghostvillage.com Quick Stats:

183,540 Messages in the Town Square Message Boards
10,604 Members in the Town Square
498 "Personal Encounters" published on Ghostvillage.com
515 Paranormal Web sites in the Ghost Links directory
19,813 Subscribers to this newsletter
4,352,559 total Web site "hits" for Ghostvillage.com in April



---
All material is © 2006 Ghostvillage.com
REMOVAL INSTRUCTIONS: To be removed from the mailing list, please go to www.ghostvillage.com/subscribe.shtml.