GHOSTVILLAGE.COM NEWSLETTER #45
May 17, 2005

Shop at Ghostvillage.com | Support Ghostvillage.com | The World's Most Haunted Places | Communicating With the Dead

Be sure to forward this on to your friends who are interested in the supernatural!

Take the The National Day to Prevent Teen Pregnancy Quiz at: http://www.teenpregnancy.org/national/quiz/
---
You are receiving this email because you or a friend signed you up at http://www.ghostvillage.com. If you would like to be removed from this mailing list, please see the instructions at the bottom.
View this newsletter online at: http://www.ghostvillage.com/newsletters/May17_05.htm
---
Dear Ghostvillagers,

Life is a roller-coaster ride, full of many twists, lots of dips, and plenty of ups and downs. When we're lucky, we get a few weeks of straightaway to catch our breaths for the inevitable jars and jumps that are coming down the track or around the next corner. This past month has been a bumpy one on my own roller-coaster ride. I'll begin with the sad news.

This past month I lost my grandmother. She was my last living grandparent. A part of your childhood melts away when all of your grandparents are gone. That living connection to so many fond memories growing up gets broken when your last grandparent passes on. My "Nana," as we called her, had a rough finish to her own journey. A heart attack caused a fall that left her in a barely-conscious state for her final 10 days. Everyone closest to her had the opportunity to say goodbye and as with any passing, the sadness is cleansing in a way. I realized the only reason I was so sad was because she was actually worth missing. I count myself blessed for having known her as long as I did. Nana was also a bit of a fireball, and to share an inside family joke with you, the day she passed, we knew the event would have consequences in the afterlife. My grandfather died about four years earlier, and when Nana died, we knew his vacation was over -- the boss is back.

On a happier track, this past month I had the opportunity to visit San Diego, California, and speak at the Ghost Trackers' California Ghost Hunters Conference. A big thank-you to Gloria and the rest of the Ghost Trackers for having me out there. We toured a legendary haunted hot spot while in town -- the Whaley House. Our group got to go in after hours, so there were no other tours at the time. When we walked in the door, I thought I heard footsteps coming from the upstairs. I can confirm there was no one upstairs when we entered, but I don't know for sure if one of the staff members walking around the back of the building didn't cause some kind of echo. Either way, it was a great start to an intriguing visit.

You may have noticed that Ghostvillage.com has a new look! We've added a new section for even more great content. Be sure to take a look when you have a minute. Summer is coming soon here at the Ghostvillage.com world headquarters. Time to get out for some outdoor ghost investigations and haunted campouts. Thank you to everyone who has purchased my new book, Communicating With the Dead, and to those of you who haven't yet, I suggest you do... before I sic the spirit of my Nana on you. Enjoy the rest of the newsletter below.

Supernaturally yours,

Jeff Belanger
info@ghostvillage.com
Mayor of Ghostvillage.com


Congratulations to Aimee Levesque of Kenmore, New York, who was last month's winner of an autographed copy of Jeff Belanger's book, Communicating With the Dead: Reach Beyond the Grave and a Ghostvillage.com t-shirt!

This month, we're doing the contest again, but we ask that you first click this link: http://www.ghostvillage.com/index.shtml#winner. If it says, "The search is on" then we don't have a winner yet and go ahead and send in your answer. If you see today's date and "We have a winner!" that means you weren't the first to email us. Sorry, please try again next month.

On to this month's question: This question can be answered by reading a page on Ghostvillage.com. The first person to reply to this email with the correct answer will win this month's prize.

What is Troy Taylor's favorite junk food?

Once we have a winner, we will announce it on our home page as soon as possible. Good luck! (Only Ghostvillagers who have not won a prize from us in the last year are eligible.)



This month's prize: we're giving away an autographed copy of Jeff Belanger's new book, Communicating With the Dead: Reach Beyond the Grave, a Ghostvillage.com t-shirt, and a copy of Jazz guitarist John Judd's new CD, Haunted Heart!


Didn't win? Want to buy a copy? Click on the graphic.



The Supernatural Calendar is the place where thousands will learn about your events of interest to the supernatural world. The service is only available to registered members of the message boards, and it's free! We'd like your help filling our calendar in -- so add your events for thousands of Ghostvillagers to see. Here's some of the conferences, happenings, and meetings going on in the next two months:

April 16: "Cape Encounters" Book Signing
May 18: Jeff Belanger on Truth Talk Live Radio
May 21: History & Hauntings Tours Extended
June 4: History & Hauntings Tours Spring/Summer
June 11: History & Hauntings Tours Spring/Summer, Mansfield Reformatory Overnight
June 17: SGRA Summer Paranormal Conference - Jeff Belanger will be speaking at this event
June 18: History & Hauntings Tours Extended
June 22: History & Hauntings Tours Spring/Summer
June 23: 2005 Haunted America Conference
June 25: Jeff Belanger on KZUM in Lincoln, NE
July 2: History & Hauntings Tours Spring/Summer
July 9: History & Hauntings Tours Spring/Summer, Haunted Overnights for Spring/Summer
July 15: Berkshire Paranormal Conference - Jeff Belanger will be speaking at this event




Who's Who in the Town Square?

Get to know some of your fellow Ghostvillagers.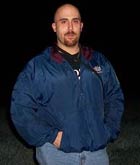 >>DukeofBoogie<< - member since March 3, 2005

What is your name?
Anthony Salem

How old are you?
27

Where do you live?
Cleveland, Ohio (actually a suburb called Brooklyn)

What do you do for a living?
Massage Therapist

How did you get interested in the supernatural?
When I was 10 years old, strange things began to happen in my house. At first it scared the daylights out of me, but the fear soon turned into fascination. I've been obsessed ever since.

Have you ever seen a ghost?
I've yet to see a full-figured apparition. I do, however, see figures moving about all the time. Not just shadows either. I can see colors, and shoes and clothing, but it goes by so quick. I would like to develop my psychic abilities a little further, though. I really want to experience more. When I finally do see a full-on ghost, Ghostvillage would be the first to know about it!

What's your favorite ice cream flavor?
It's a tie between chocolate and butter pecan.


Ghostvillage.com's book reviewer, Lee Prosser, has brought us several new book reviews since our last newsletter.


This past month's Library additions:

Weird Illinois by Troy Taylor - author interview

Cathedral of the Black Madonna by Jean Markale

Pyramid of Fire: The Lost Aztec Codex by John Major Jenkins and Martin Matz

The Druids: Celtic Priests of Nature by Jean Markale

Communicating With the Dead by Jeff Belanger - author interview

Geomancy: A Method for Divination by Franz Hartmann

Queen of the Night by Sharynne MacLeod NicMhacha

The Archidoxes of Magic by Paracelsus

Hara: The Vital Center of Man by Karlfried Graf Durckheim

Being A Pagan by Ellen Evert Hopman and Lawrence Bond

Witch on the Go by Cal Garrison

The Rosicrucians by Christopher McIntosh


We receive personal encounters from all over the world. Many are scary, some are touching, but they are always profound. If you would like to share your own experience, please click >>here<<. Since our last newsletter, we added the following new encounters:

Strange Sounds at The Rock - San Francisco, California [PIC]

A Visit From Ole Pete - Sharpsburg, Virginia

Shadow Figures - Sykesville, Maryland

Flagler Museum Energy Ribbon - Palm Beach, Florida [PIC]

Phantom Perfume at the Whaley House - San Diego, California

Floating Red Eyes - Uvalde, Texas

Ivy's Watchful Vigil - Cheltenham, Gloucestershire, United Kingdom

Mists and Streaks in the Philippines - Cebu, Liloan, Philippines [PIC]

Six Days of Torment - Old Wethersfield, Connecticut

Scratching Torment - Palm Coast, Florida

Granny's Bouncing Lights - Jemison, Alabama

Visions From Lourdes - Lourdes, France [PIC]


This is a new section we have added to Ghostvillage.com. This is the place to find press releases and news items on paranormal happenings around the world. If you have a news item you'd like to submit, please see our guidelines.

Communicating with the Dead... Truth or Hoax? - May 9, 2005

"Ghost Hunt Nevada" - an Exciting New Class at WNCC - May 4, 2005

"CONTACT" – The Berkshire Paranormal Ghost Conference and Seminar Coming to North Adams, Massachusetts, July 15-17, 2005

Ghost Convention International: Convening Global Ghost Hunters and Researchers at the Haunted Queen Mary in Long Beach, Sept. 9–11, 2005

Our "Features" section is a place for editorials, research articles, open letters to our readers, and other content of interest to Ghostvillagers. If you have a topic on your mind, agree or disagree with something you read recently, we want to hear from you! For guidelines, click here. Be sure to check out Lee Prosser's new column, "Bide One's Time."

New features added since our last newsletter:

Bide One's Time - Sensitive to Ghosts - by Lee Prosser - May 17, 2005

Emotions of the Paranormal by Brian Leffler - May 13, 2005




Jeff Belanger's Upcoming Events

This is the place to find out where author and Ghostvillage.com founder Jeff Belanger will be speaking on the subject of the supernatural. If you're interested in booking Jeff for a conference or other event, please email us for more information.

Events Scheduled in 2005 so far:

SGRA Summer Paranormal Conference in Stratford, Connecticut - June 17-18

New England Ghost Project's Berkshire Paranormal Conference in North Adams, Massachusetts - July 15-17

Adsagsona Paranormal Society GhostFest '05 in Red Boiling Springs, Tennessee - August 5-7

Ghost Convention International 2005 on the Queen Mary in Long Beach, California - September 9-11

Watch for Jeff at an event in early October in Las Vegas, Nevada -- details coming in the next newsletter!


Hot Threads in the Community

There are always great discussions going on in our huge message board community. We hope you'll get involved. It's free to register if you're not already a member. Here are some of the hot topics this month:

What is your myth?
http://www.ghostvillage.com/ghostcommunity/index.php?showtopic=7817
Help on a school project by telling us about your area/region/country's myths and legends.

Hallucinogenic Tea
http://www.ghostvillage.com/ghostcommunity/index.php?showtopic=7966
Religious sacrament or dangerous drug that should be banned?

Are they real or not?
http://www.ghostvillage.com/ghostcommunity/index.php?showtopic=6368
You decide, but these are some of the best ghost photos out there anywhere.

Voices from the grave
http://www.ghostvillage.com/ghostcommunity/index.php?showtopic=7565
What is it saying? You be the judge.

Meditation
http://www.ghostvillage.com/ghostcommunity/index.php?showtopic=8029
How do you become one with the universe?

New Emoticons and Smilies
http://www.ghostvillage.com/ghostcommunity/index.php?showtopic=8113
Many Ghostvillagers have been asking for new smilies, so here they are!

Recipes
http://www.ghostvillage.com/ghostcommunity/index.php?showtopic=2983
Pamper your taste buds -- some of our Ghostvillagers are culinary masters.


In the last month, the following people have joined our ghostly community. Please welcome:

sammygiscool, Zaphrod9, laiken, RavensLove789, nallard, Tom, CINDYTOMAC, yan, suspiria_lucretia, sabz, Nicneven, britneyspear, heartsniper, devildad, lakynsmom, lady_girl_yourfriend, thestarlitsea, evildead2, connied, baby_bq, yxkklcz, lunaangel213, jaybaa99, natz32475, rocketrooster, agstrube, amylou, morggy37, dudeyhollie, spiritchaser74, overseer10, connie, Monster!, spectrums, Shalianna, x-jordy-lou-x, Moonfleur, ghostlypartner, charada_ck, pervinkavarana, Nain Rouge, princess25, Spirit Talker, softwisper, jackie537, tedghost989, lorason61, UltraViolet, roop, sage1313, augustlion, kim_09, sara1981, Our Lady of Sorrows, ghosthunter69, Izumi, TammyT, jackfrancis, traindriver, behind the light, pmooney170, research_bug, erby05, ashley, Ghost face killa, BriP93, jackie3311, BonnieForClyde, smithi rox, ghosts, bluecatmia, jeanie, angelboo, babsy409, Twisted, darkangel21, gettysburg, Tiffany_sxtn, starshine, Alien004, Marcia959, amityvillefan29, pullkins, blood31, Thomas, buzzinglife, xxRoxiexx, sprace, Fearchara, mommashellbell, pheltory15, SamLuvsEli04, bernard_03, Spiritseeker2, heather, villager#13, betsyd1963, ghostgurl, emily1305, celestial_kel, los44, nitesnook30, Dr Phibes, candace, Phantom487, Skiangel6137, magers, in2, novemberrayne, Alister, scary demon, nitepanther, amadeus, Dejavu, Foxxy, ghost of the world, mistyblue1956, thering_7days, cookoocrew, sensingsinceseven, maris_don_jhun_jeff, a_geraets, rock_royalty361, lois poh, tattyannie, mwaha ha ha!, ghostfinder, Lethan, C.L.S.J.H., sandradee43, Ann-Marie, divinelygothic, HEAVONLYANGEL, janeenjinx_91, fairygirl81, angiy, Ayna, jeannette, shez, spracemini, Kristin, smackarels, kerry3860, Melchizedek, dh1021, JMcA, shadhelmstetter, arca84, Virro, kcq, red butterfly, adriaticnyc, lalabear, RavenTheDemonicVampire, kerrielaws@yahoo.com, REDSMICHELLE2, minisprace, leachy17, king, sepia, ur_fired_2005, bugaboo, poorpucker, witchcraft, rmphktc, bride of chucky, BloodyMary17, scardycat777, mikeb, Forseeker, Ali_Nui1275, ghosthunter90, ghostgrl15, todgens, Eddy_?, mitchy334, jenbrown, Bodine, demon_knite, alison, maeparker04, pusakalq7, ecfl, dessa, tessymae, lightviolet26, fstfrstib, MARESTILDONNARDJHUNMARJEFFERSONH, tex1891, clint, azhotdevil, amypugh, nicegurl182005, NVGhost, Britt88, blackmagdalina, thedarkbasement, Extrabio47, zach daddy2, dodo_gal, cindymatt2, Dreamer, kirisma, witchisalive, crspencer, the_holy_angel989, greid, alvarado, wyldchild1231, SpaceMonkey, becky, mommeslilangels2, kattbluerose, OldeStarre, mystypagan, mavis, sherwin, obake_girl, stormbringer, spacegirl0417, Auntlunie, poisonivy82, reno, soundselectah, KateKate, peigril, debodail, rmgibson, lizajeanne, joet33, maggie11, mishakantartzis, phillip, desiree22, ANKRAFT, ghostdoc85, Lucy, prom00dy, EvilJay182, hullycat1, chillartist, precious_colton, firehawk, abner marsh, coybin, holli, Meister, pinklibra2004, ladywilde, killer, charliesmama, mdw2778, mja, yaritza_zaragoza2468, Victorcrz, gravedigger2000, primdragon, AngelicSoul17, whitelady, ghosthnter511, johnnyfxy, OKIEGHOST, 8472wolf, TartanGal, ltsghosts, scbushell, Darkgoddess05, Colorado, sandwich814, ThePunisherXXV, oceandeep, Punk~Princess, prettyinpink, drizree, DuztyWhyte, britmissus, jedione12, dfwerp, Matches, jmoriarity, Skeptic Believer, fatday666, hanchesdesucre, Funkengruven79, Mairi, collaredvixen, MaleNurse, katelynn89, Pucca1387o6, FantasticVoyage, Hank, jennmorrison, Rach421, Rachel, djraymon, kittenstar, Nick, azer4evr, dizzy, inay, april1721, ghostkiller354, june, beth, kiowa, akrovaka, mazurian, cute_mdr, tinahaile, starry_of_fire, jessxxxgurl, NightFrightz, bratte16, jimpif, DonnaP, Jamiejbd, coolman42, Brunette_Beauty, maerek, bluewkdlass, Boukon Okabore, Raven60, idol, DAvila05, Derek, Nividia, hot?, nikstnblueangel, nikibby, Denise, ChrisR, ghostkayz, faeryblue, srinivassantv, cocopops212, Ruf, sav, redsox101, rosieposie38, evil_dead_chick_777, ghostgirl11, juliekimm, allie77cat, tanya868, phantom1, Lilyvillaf, The Guardian, Truegho, LJStone, solotkogirl, sparkplug, grayboy, haunted soul, guesswho, natasha, and Dee.



Ghostvillage.com Quick Stats:

123,893 Messages in the Town Square Message Boards
8,026 Members in the Town Square
355 "Personal Encounters" published on Ghostvillage.com
268 Paranormal Web sites in the Ghost Search directory
14,732 Subscribers to this newsletter
5,303,841 total Web site "hits" for Ghostvillage.com in April


Ghostvillage.com is the Web's largest supernatural community, the central place where people come to share their experiences, thoughts, and research. Please help us continue to grow by donating, buying a copy of The World's Most Haunted Places: From the Secret Files of Ghostvillage.com, Communicating With the Dead: Reach Beyond the Grave shopping, or by buying a Ghostvillage.com t-shirt. Every little bit helps run our servers and helps the site get bigger and better! Please also click on our banner ads and support our advertisers -- when you do business with someone who advertises with Ghostvillage.com, let them know you saw their ad with us and thank them for the support.

Please email us anytime at info@ghostvillage.com. Your comments, questions, and feedback are always welcomed.


---
All material is © 2005 Ghostvillage.com
REMOVAL INSTRUCTIONS: To be removed from the mailing list, please go to www.ghostvillage.com/subscribe.shtml.