GHOSTVILLAGE.COM NEWSLETTER #51 - November 15, 2005

The World's Most Haunted Places | Communicating With the Dead | The Encyclopedia of Haunted Places | The Nightmare Encyclopedia

Be sure to forward this on to your friends who are interested in the supernatural!

Click here to interpret your darkest dreams! http://www.amazon.com/exec/obidos/ASIN/1564147622/careerpress
---
You are receiving this email because you or a friend signed you up at http://www.ghostvillage.com. If you would like to be removed from this mailing list, please see the instructions at the bottom.
View this newsletter online at: http://www.ghostvillage.com/newsletters/Nov15_05.htm
---
Dear Ghostvillagers,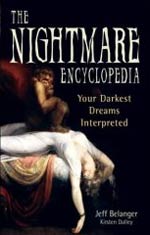 Everyone dreams. Though we may not be able to remember all of our dreams, we certainly remember our nightmares. Hell hath no fury and no horror compared with what we can create from the deepest bowels of our own imaginations and psyches. Religious texts and folklore are filled with accounts of dreams, and their interpretations have played a significant role in the decision-making of religious and political leaders. But what do dreams mean? Why do nightmares affect us so powerfully?

I'm proud to introduce my latest book, The Nightmare Encyclopedia: Your Darkest Dreams Interpreted. Myself and my co-author, Kirsten Dalley, have put together a tome that features hundreds of entries on the role of dreams and nightmares in various cultures around the world, on the influence of nightmares in popular culture, music, literature, and art, and what some of the many dream symbols mean. The best person to interpret the meaning of a dream is the dreamer, because only the dreamer can put the images into the context of his or her life.

So little is understood about dreams and sleeping, and the topic incorporates so many aspects of the supernatural. For example, some people claim to have out-of-body experiences during sleep, others believe they have been the victim of a spectral or old hag attack, and some have woken up believing they have just received a premonition in their dream. All of these are human experiences and worth talking about. This was an amazing project to work on because it forced me to pay closer attention to my own dreams and to ask more questions of their meaning. The most true answers from life's most important questions always come from within. Dreams and nightmares are oftentimes the conduit for some of those answers.

This past month has been the busiest ever at Ghostvillage.com. We welcome all of the new names and faces to our global discussion of the supernatural. We encourage you to get involved, to ask questions, and to find your own answers.

Supernaturally yours,

Jeff Belanger
info@ghostvillage.com
Mayor of Ghostvillage.com


Congratulations to Melissa Noakes of Mesa, Arizona, who was last month's winner of an autographed copy of Jeff Belanger's book, The Encyclopedia of Haunted Places: Ghostly Locales from Around the World, a Ghostvillage.com window sticker, and a Ghostvillage.com t-shirt!

This month, we're doing the contest again, but we ask that you first click this link: http://www.ghostvillage.com/index.shtml#winner. If it says, "The search is on" then we don't have a winner yet and go ahead and send in your answer. If you see today's date and "We have a winner!" that means you weren't the first to email us. Sorry, please try again next month.

On to this month's question: This question can be answered by reading a page on Ghostvillage.com. The first person to reply to this email with the correct answer will win this month's prize.

According to author Mary Roach, what should one never order in Milwaukee?

Once we have a winner, we will announce it on our home page as soon as possible. Good luck! (Only Ghostvillagers who have not won a prize from us in the last year are eligible.)



This month's prize: We're giving away an autographed copy of Jeff Belanger's new book, The Nightmare Encyclopedia: Your Darkest Dreams Interpreted, a Ghostvillage.com window sticker, and a Ghostvillage.com t-shirt!


Didn't win? Want to buy a copy? Click on the graphic.



The Supernatural Calendar is the place where thousands will learn about your events of interest to the supernatural world. The service is only available to registered members of the message boards, and it's free! We'd like your help filling our calendar in -- so add your events for thousands of Ghostvillagers to see. Here's some of the conferences, happenings, and meetings going on in the next two months:

November 18: Jeff Belanger on The Ghost Chronicles
November 30: Jeff Belanger on CKWR FM in Ontario




Who's Who in the Town Square?

Get to know some of your fellow Ghostvillagers.



>>becksrn<< - member since September 6, 2005

What is your name?
Jen L. (It's a short Irish/Italian name.)

How old are you?
32

Where do you live?
In the boonies... heeheehee... yes, literally! It's a town called Latrobe in southwestern Pennsylvania. We live out in the country at the foot of the mountain and get tons of snow... it's awesome! No one out of state has ever heard of it until I mention Rolling Rock beer; then they smile and nod their head.

What do you do for a living?
I'm taking a break from the medical field right now as I work for an advertising firm. It's a wonderful change from the craziness of healthcare. A lot less stressful in my eyes.

What brought you to Ghostvillage.com?
Actually, I was missing Fall and Halloween (my favorite time of year) and I used a search engine to look up ghost stuff and stumbled along Ghostvillage. I stopped in and looked around, and thought it would be really cool to swap experiences/ideas/stories with others and meet new people. Now since I've joined, I'm here almost every day! My husband doesn't believe in the supernatural and doesn't get excited about ghosts or Halloween, so it's a real bummer this time of year when the season just calls for it. I mean, really, who wouldn't enjoy getting the bejeezus scared out of them?

What's it like living with a skeptic?
Well, "boring" when it comes to ghost hunting/exploring or attending the festive events of Halloween. He's definitely not into it and doesn't get excited about it as much as me. He doesn't like to go to haunted houses or watch horror movies. I've always heard him mention that he doesn't believe in ghosts, so it makes it hard to ask him about anything and get feedback from him. That's another reason I'm on Ghostvillage. My friends here don't think I'm nuts, they don't think I'm hearing things or making up stories, and some of them have even had similar experiences. I've already gotten a lot of answers about what's going on in my current house. My husband thinks I'm either asleep and dreaming about the stuff and it's not really happening, or "it's just the wind." If I had a nickel for every time I've heard that! Don't get me wrong, he's a wonderful guy. We're just polar opposites when it comes to the supernatural.

Do you think there is a way to convince everyone that ghosts exist?
In my opinion, I think we've got a lot of "doubting Thomases" around. People want proof that they exist. They hear a story about one and don't believe it because they weren't there to see it, hear it, or touch it. I myself have never seen one, but that doesn't mean I don't believe. I've experienced enough to make me believe. That's all the proof I need. I don't need a ghost/presence to slap me in the face to let me know that they're around.

What was the first movie you ever saw in a theater?
Funny you should ask. Would you believe me if I told you it was E.T. The Extra Terrestrial?



Ghostvillage.com's book reviewer, Lee Prosser, has brought us several new book reviews since our last newsletter.


This past month's Library additions:

Spook: Science Tackles the Afterlife by Mary Roach [AUTHOR INTERVIEW]
The Mystic Christ by Ethan Walker [AUTHOR INTERVIEW]
The Fog by Rob MacGregor and Bruce Gernon
How Ganesh Got His Elephant Head AND How Parvati Won the Heart of Shiva by Harish Johari and Vatsala Sperling


We receive personal encounters from all over the world. Many are scary, some are touching, but they are always profound. If you would like to share your own experience, please click >>here<<. Since our last newsletter, we added the following new encounters:

Belleview's Haunted Biltmore Hotel - Clearwater, Florida

In Memory of Uncle Fred - Shelby Twp., Michigan

Floating Down the Stairs - Omaha, Nebraska

Our Old-Time Visitor - Savannah, Georgia

The Footsteps and Opaque Mist - Fraser, Michigan

Graveyard Shift at the Water Plant - Dayton, Tennessee

University of West Florida Pirate Apparition - Pensacola, Florida [PIC]

The White Lady of Easton - Easton, Connecticut [PIC]

A Spirit Saved My Life - Austin, Texas

My Sign From Dad - Kansas City, Missouri

Gram's Warning - Philadelphia, Pennsylvania

Jordan's Vigilant Watch - Tehachapi, California

A Strange Light in Willer Hall, Quincy University - Quincy, Illinois


This is a new section we have added to Ghostvillage.com. This is the place to find press releases and news items on paranormal happenings around the world. If you have a news item you'd like to submit, please see our guidelines.

Ghost Hunting 101 at the Houghton Mansion in North Adams, Massachusetts October 29th - October 17, 2005


Our "Features" section is a place for editorials, research articles, open letters to our readers, and other content of interest to Ghostvillagers. If you have a topic on your mind, agree or disagree with something you read recently, we want to hear from you! For guidelines, click here.

New features added since our last newsletter:

Clairvoyance, Ghosts, and Music - by Lee Prosser - November 15, 2005 [COLUMN]

Halloween and the End Times - by Lee Prosser - November 1, 2005 [COLUMN]

The Witchcraft Connection - Resurrection Mary: The Conclusion - by Lord Foxglove - October 20, 2005 [COLUMN]

1 Corinthians 12:10 - by Lee Prosser - October 15, 2005 [COLUMN]




Jeff Belanger's Upcoming Events

This is the place to find out where author and Ghostvillage.com founder Jeff Belanger will be speaking on the subject of the supernatural. If you're interested in booking Jeff for a conference or other event, please email us for more information.

Events Scheduled:

New Jersey Ghost Conference 2006 - April 22, 2006


There's only one place where you can tune in to the leading paranormal radio programs available online, and that's right here on Ghostvillage.com's Paranormal Radio: http://www.ghostvillage.com/resources/ghostradio.shtml

Tune in to: A.P.S.R. Talk Radio, Exploring Unexplained Phenomena, The Ghost Chronicles, Ghostly Talk Radio, The Graveyard Shift, Magick Mind Radio, Weird Stuff Happens, and The 'X' Zone Radio Show.




Hot Threads in the Community

If you have registered for our message boards but haven't validated your account yet, it's simple to do! Look for the email that was automatically sent to you when you registered and click on the account activation link in the email (note: some spam filters may block this email, so you'll need to check your spam folder if the validation email didn't immediately come through). There are always great discussions going on in our huge message board community. We hope you'll get involved. It's free to register if you're not already a member. Here are some of the hot topics this month:

Paranormal Group Links
http://www.ghostvillage.com/ghostcommunity/index.php?showtopic=10931
A compilation of paranormal groups listed by state/country/area in order to make finding groups very easy.

The Devil Baby of Hull House
http://www.ghostvillage.com/ghostcommunity/index.php?showtopic=11122
Examining the hows and whys of this famous Chicago legend.

Soul Mates
http://www.ghostvillage.com/ghostcommunity/index.php?showtopic=11088
Do you have one?

The Bermuda Triangle and Flight 19
http://www.ghostvillage.com/ghostcommunity/index.php?showtopic=8649
What happened to flight 19 and are there similar incidents happening in other parts of the world?

Spirit Guides
http://www.ghostvillage.com/ghostcommunity/index.php?showtopic=11183
What has your spirit guide told you?

Ghosts in the News
http://www.ghostvillage.com/ghostcommunity/index.php?showtopic=11207
Security Guard fired... why?

Does anybody else get peeved at this?
http://www.ghostvillage.com/ghostcommunity/index.php?showtopic=11103
Well, what do you call it?

Life's unanswerable questions
http://www.ghostvillage.com/ghostcommunity/index.php?showtopic=11002
What are yours?

Screen Name
http://www.ghostvillage.com/ghostcommunity/index.php?showtopic=10866
Make up a sentence with your screen name.


In the last month, the following people have joined our ghostly community. Please welcome:

led454, aquiere, touchedbyspirits, krazieklown, Kailen, etower, Heathe5831, missy05mg, gm1james, goingtohell8771, ProbablyWouldntBeThisWay, JessicaAnn21, DejaVu1031, lupe, Blue Water, Feyray, SnowRabbit, laffoon18, leaflove, rebecca&chris4ever, sonjigent, DaStinkyFeesh, pocohontas, brendaprevo, looneytunes1, she_ina83, Chedwick, Nwest, Jaclyn4238, catloverspizza, petitestar, grannyb84412@yahoo.com, Sagittarian Ghost, chunter, dro192, mitchellcrum, bethanne68, white_noise, tokono, kevkev, Spinal Tap's Roadie, angiesbubble82, shona, ghostreader, livingtragedy487, ghostaltna12, Ghost_Zilla, idisi, tokishedo, Fanaticat, wolfdog, adithya, daveyboy, Rachel_mourning, bamagirl850, Bella7, Irla-Marlow, wczirr, aarwhit, mourningblonde, AcademyCaveman, hpygoluky, babyk22g, TeresaFaye, gowd_delamorte, Jane Emperador, cheerleaderfan, butch20, cheriblossoms, kathybeth1970, gennapbx, eternalspirit15, mysticgreeneyes, beautifulbabe711, xXxSpOoKyGiRl108XxX, honeybear0215, rie, kasandra_rae, TheThirdAngel, Zephyr, Greg_853@hotmailcom, isabel, loveisagun, jasondbm, sadgirl284, spiritwriter426, ScarlettLake, hunybshay, ChibiProwl, jyoung73, littleghosthunter, Ethelmertz, JactheRipper, jonix, Erytte, fishwife, nc_cpl_4_fun12, November Guest, Who-ligan, ranger18, rieraci, Niwan, PragmaticVisitor, bobbi, AmethystDragon, hema, 2 many ghosts, Mist, Summer1978, boopalicious, Mysticorb, noonie68, evad_83647, katatak1313, icthem2, maxj28, x-testers, wifeyrj, mikesgirl3205, VikkiD, lilreddeviljl, wendyp, zappaghost, T.C.Wolf, punk1812004@yahoo.com, dolphinoracle, yanet, agnes, chelle_07, spookman, Frequency, urs2luv637, tetsugoddess@yahoo.com, chazzi, wvghosthunters, jeremy ragsdale, fowleschris07, Seia, renee34, Mrs.nakama boo, tiggereed, KimKelly, rich.labombard, Mississippi_Gurl, bayoux, eRicA_FyR69, anna, norly anonuevo, debonias, iluvkitties, gitrdun05, imaghostghostghost, leeg, Tatiana1987, jdsindy72, lollylollylolly, DeadTenantsTV, piner123, rdnkduck, NWChicagoGH, frogfet, Richard&Lori, sharimoore, rollinthundr, Dark One, new_ghost_hunter, vanavydoc, lil_red_ridinghood_1020, BAILEYSMOMMA04, AnnaMarie67, jesus, laurel, TROUBLE1964, ghosthunter182003, kristiebellkes, gmercer, terrylar, fireflyest, Secret_Delight, ClEldridge, shelli282, WWW, Nibs, xcenzorred, pigtails, tabby, yvengurlekar, DLUNA, kemarj, wormwood, johna93010, SkyOne, imlilbuggy, cat357, stlghosts, MARYANN, curiousKat, toastycrakr420, leon.hess, baldyloxx, lookin4ghosts, carlotta, brandyballard, Welly427, rayshel30, scoobydee39, HauntedWebby, bill1572, lil annie, cpcigal, willow_goddess, bali_05, yanknrebel, tytatum, thobystry10, mshutch, sleepyhallowman, Darone, marymcd, deathseeker, kittyb, angelfirehawk, paul csmith, impy, KYGhostHunter, rsjs1224, Nicky, mslifer, ddebart49, loopyloobylou, darkprince, kathleenhandson, Nikki1, granma, babygirleve, archbishop, Crimble, GhostWatcher300, CreepyCT, vernon, Phatcat22, Itso, mistywaters, Tim_05, Ramblinfarms, lalalacanthearu, amy7tyhunter, LadyIrish, Deanna55810, Dreusilla63, Black, kandi281972, paula108, Cthulhu, mandyland020, bradpaisley41228, hexum62, rememberyourmama, britbrat18, britbrat718, wxbiz, SecretRapture, Stev86, Dsghosts, Reformatorygal13, ShadowStorm, Dissolved Girl, benno1965, scottjohnsey, vane_531, sefie01, lighthearted, poetboy1077, Sorveena, cool_scorpians2000, lauralee74216, iseethem, kp37, kwsteve2005, asegovia1, samsams, David M, LouAnn, carolelucas, aldre, x100blacksunsx, ispoke, andy5567, rickilynn78, michellelkeogh@yahoo.co.uk, daveadd, bondagebagpuss, Rickyhandson2002, bellra, ultramancool, scorpio27, sethnoonan, schultz, jojosis, irishwitch, janisfontaine, thegelbs, jojomia, Aja, Judy Randall, skizix2005, volcumstone00, golf, daphnethecat, MrsT1981, kassandra32, squirrelnuts, tinago, slynch24, abbyjofo, pjkinne, LILMIS, hydrargyrum_6, LauraB, kevhaley, StefaniePreMD, mowens, ghosthunter6490, mikeb12653, CATRINA382, cloverleaf, daniellegreer, marshak, Zetsumei Ryu, aireschick, Lachel, rocker man, perryeh, kbruzenak_21, quimmer12, courts143, Selena, "C,P76", nnyprs, galefarr, richmaryo, THEGHOSTOFJIM, dannylee'sgirl, Get Fighted, m3861370, shewrote, jaimeramos, the tank, lauralicoffeebean, LadySurgeon, bodythiefbloodhunter, ukuser, miriavas, cutedragon1975, lassair, margoth, podunkwolf, der_5, Lane, lisa912, bealsabubbette, Arcanum, chick4u2env, Rosemary Campbell, Vennessa, mcc02124, armyman7284, vampslayer, countrydave, amishnewdist, crazytmacy, barb29615, enzeth, canuck, Marshelle, TamiJo, DenaDay, CwbyHokie, goddesshands78, eeyore21gurl, bienko1968, coyote_toe, mayur, lxclee, SouthernCelt, izzyblu, jackson602, myersgg, greywolf130, Lindy, Aneesha, phigardner100, lhair, blakeoh, Jamzina, cloudy, linturner2, dhanna, nmiller, entropypu232, dhowells, jcfreak63, MomaSuzy, scott82vette, LISAB, magik, phyllis hord, michael messenger, jessies girl, Racin24woowoo, tbrock, phenomenon, jinxers, Amanda, Grim Undertakings, dartndan2, Onetrustsno1, JRamirez, gregthesaiyan, csmith, CaleS, cstillsmokin, csillag, yogibear, ldshelton, nursejan59, monkey, spooker, aminal43, kkc, anthonyprice123, pickle, goatlady, timbo, @m@nd@, rainbowbritecyellow, ednamay911, sundown1320, CLKneeland, frenchy3368, layC, sammi_79, dbbopp, sandi, dejavue, indianfreak05, Thumper, bunny_b0iler, gdragon, joy33f, sammygal52, OldWaterburyKid, JoJoWright, shortyguist, HelenaZ29, truckertaz3, gravedigger37, owlerj2510, minicarn1, happycamper6604, psychobeauty, bettyboop34@comcast.net, shane_n_tina, imusedtoit229, BeWitched, kyrie_mitsuko@yahoo.com, kyles, sincityhaunt, shiva, HoopDee3B, diannelester, Allison, KENNY RUBLE, lowkeymelody, coopernut, rubycolombo, danielle7127, tomv9, luz, Face & Ghost, beccaboo19, lmarie1, jimwashburn2004, jewelson2000, shadowchaser, dolphen, david.mottram@blueyonder.co.uk, maverick1628, chasany_moore_09, jackie, pgore62, TranceofSevens, jimboqa, ouijaboy, prophounds, birdsongx2, XxRedBullAddictxX, yahweeh2001, yahweeh2002, Maggs, bk2y_03, rosemarygray, jeanbug, DavidWSchrader, Hanuted Girl, fate222, DocGrimm, samio, eleanor24, carmel, sinth, darje, donnabhain, moebee, nettalkuk, Teraearth, FairyGoddess, Miss_Lady_Louise, Fairie, VickieHart, donafrio13, EcKo, Phantom8, amy02, SacredHeart, chopsuey, crazy_people_of_mn, lilanbunny, Jackie Morris, rory, ilvuparis@yahoo.com, yammer59701, dwalp, ART123, Tim1681, puglady, DearMisty, watever, erutanie__, duongb100, Franklinton, GHOSTCATCHER, Elvira, wdbbos, robbie, Nightwatch, sybutchlover, NaplesGirl26, StarAngelica, zainzook, hauntwalker, chazmena39, seniorff, Nigel's*Kitten, seeker122, OrdMandell, Dragonqueen, kirasaurus, southernstar7, ehurtin, evergreen, and Debbie1675.



Ghostvillage.com Quick Stats:

158,842 Messages in the Town Square Message Boards
9,408 Members in the Town Square
427 "Personal Encounters" published on Ghostvillage.com
388 Paranormal Web sites in the Ghost Links directory
17,507 Subscribers to this newsletter
5,471,271 total Web site "hits" for Ghostvillage.com in October


Ghostvillage.com is the Web's largest supernatural community, the central place where people come to share their experiences, thoughts, and research. Please help us continue to grow by buying a copy of The World's Most Haunted Places: From the Secret Files of Ghostvillage.com, Communicating With the Dead: Reach Beyond the Grave, The Encyclopedia of Haunted Places, shopping, or by buying a Ghostvillage.com t-shirt. Every little bit helps run our servers and helps the site get bigger and better! Please also click on our banner ads and support our advertisers -- when you do business with someone who advertises with Ghostvillage.com, let them know you saw their ad with us and thank them for the support.

Please email us anytime at info@ghostvillage.com. Your comments, questions, and feedback are always welcomed.


---
All material is © 2005 Ghostvillage.com
REMOVAL INSTRUCTIONS: To be removed from the mailing list, please go to www.ghostvillage.com/subscribe.shtml.