November 15, 2005
Bide One's Time
Clairvoyance, Ghosts, and Music
By
Lee Prosser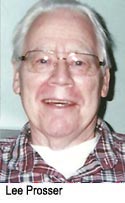 Recently I was visiting with an old friend who can see ghosts. We fell into an easy, mellow conversation about clairvoyance, and its importance in paranormal studies. We discussed the ongoing importance of keeping a journal about ghostly encounters for future reference.
I discussed my idea that certain ghosts are attracted at times to certain music forms. Whereas a situation may invoke certain memories in a human, it may also invoke certain reactions in the ghostly realm. The sounds of music produced in our human sphere certainly has effect and affect in other worldly spheres.
Suppose I am having a nice hot cup of green tea and an oatmeal cookie. I find myself sitting peacefully in my favorite chair meditating, and also listening to some pleasant classical music. A ghostly presence is felt. I allow that ghostly presence to manifest in a friendly manner. It does. It may become visible for a time, or it may not. The music ends. I thank the presence for the visit and bid it goodbye.
Now, have you ever thought what type of ghosts you might attract with certain kinds of music? Think about it a moment!
Given the proper atmosphere, what ghosts might you attract with music by the following composers:
The Beatles
The Beach Boys
Cole Porter
George Gershwin
Jerome Kern
Barry Manilow
The Rolling Stones
Chopin
Beethoven
Lizst
Roger Miller
Aerosmith
Of course, you could make your own list of composers. And you could make your own list of performers performing their best remembered songs! I am sure there are ghosts who enjoy the sounds of rock n' roll singers, and vocalists such as Johnny Mathis, Nat King Cole, Frank Sinatra, Tony Bennett, and Usher. I am sure there are ghosts who love the sounds of such country western singers as George Strait, Alan Jackson, Martina McBride, Gretchen Wilson, LeAnn Rimes, Patsy Cline, Keith Urban, among many others. Choice and selections are endless, and open to personal taste.
Let me know if you come across a ghost on walkabout who likes Barry Manilow and Aerosmith. I think it would make for an intriguing experience. It would make for a memorable entry into your personal paranormal journal.
You need to ask yourself, what type of music might attract what type of visitors from the other side? What type of encounter are you looking forward to experiencing? Consider the many possibilities.
One more thing. Remember to keep a journal of your ghostly encounters!
Lee Prosser
is Ghostvillage.com's book reviewer and a regular contributor. "Bide One's Time" is Prosser's twice-monthly column on his supernatural musings.