GHOSTVILLAGE.COM NEWSLETTER #37
September 15, 2004

Shop at Ghostvillage.com | Support Ghostvillage.com | The World's Most Haunted Places

Be sure to forward this on to your friends who are interested in the supernatural!

---
You are receiving this email because you or a friend signed you up at http://www.ghostvillage.com. If you would like to be removed from this mailing list, please see the instructions at the bottom.
View this newsletter online at: http://www.ghostvillage.com/newsletters/Sep15_04.htm
---
Dear Ghostvillagers,

Has anyone else noticed that the older you get, the faster time goes? I swear I just hit "send" on the August newsletter and here I am putting together September's. This past month has been a whirlwind -- but in a good way. My book, The World's Most Haunted Places, is now out in bookstores everywhere. I can't tell you what a thrill it was to walk into my local bookstore and see my book on the shelves next to so many people that I've admired over the years. Of course I mean that my book was next to their books, not the actual people. If my book was wedged between Hans Holzer and Troy Taylor, they would probably be kicked out of the store for standing on the bookshelves.

I want to thank everyone who has already bought the book and sent me such great feedback. For those who haven't picked up the book yet, my mom wants me to ask you what you're waiting for. Ha! You think I'm kidding? Seriously, this is a great way to support the growth of our ghost community and I'd appreciate your support.

And speaking of community, our message boards and chat room went through a complete overhaul this month. Remember all those jokes I've made over the years about things being held together with bubble gum and duck tape? Well, they weren't jokes. The old message board system was starting to spring leaks. I'd sit down to log in to the server and parts were literally flying out from under the hood and it was making this horrible ka-chunk, ka-chunk, ka-chunk noise. Our new system is a database-driven message board that will accommodate our incredible rate of growth. We were able to transfer all of the members and posts from the old boards, though we did lose any stored instant messages from the old system. If you're looking for your old messages, you can email me your username and I can look them up for you. Also check out our incredible new chat room when you get the chance. You can read all about the chat's features here. If you haven't registered for our message board community, now is a great time to give this baby a test drive!

The Halloween rush is beginning; it's a time when things are going to get very busy in our village. Please be welcoming when these visitors come by. I also have several events and radio shows coming up in the next month. If you're nearby, please stop by and say hello!

Supernaturally yours,

Jeff Belanger
info@ghostvillage.com
Mayor of Ghostvillage.com

Congratulations to Dusty Nordstrom of Hendersonville, North Carolina! Dusty was last month's winner of an autographed copy of Jeff Belanger's new book, The World's Most Haunted Places: From the Secret Files of Ghostvillage.com!



The "winner" icon on the left has been hidden somewhere on Ghostvillage.com. If you're the first to find it, email us with the page it's on, and you win this month's prize. The graphic could be on any page on the Web site (except in the message boards) -- maybe at the top of the page, maybe the bottom, etc. Once we have a winner, we will announce it on our home page as soon as possible. By clicking on the "winner" icon within Ghostvillage.com, it should launch your email with the appropriate subject. If not, email info@ghostvillage.com, and in the subject or body, put the URL of the page you found the icon on. Good luck! (Only Ghostvillagers who have not won a prize from us in the last year are eligible.)



This month's prize: we're giving away another autographed copy of the newly-released, The World's Most Haunted Places: From the Secret Files of Ghostvillage.com!


Didn't win? Want to buy a copy? Click on the graphic.




The Supernatural Calendar is the place where thousands will learn about your events of interest to the supernatural world. The service is only available to registered members of the message boards, and it's free! Here's some of the conferences, happenings, and meetings going on in September/October:

September 18: Rhode Island Pagan Pride Day
Mothman Festival - Point Pleasant, West Virginia
September 25: Ghostvillage Campout - Gettysburg, Pennsylvania
Pacific Northwest Ghost Hunters
The ARC 2004 ~ Alternate Realities Conference
October 7: A.R.E. Annual Ancient Mysteries Conference
October 13: Jeff Belanger on Cable Radio Network
October 16: Newport Bus Trip
October 17: Jeff Belanger Book Signing - Bellingham, Massachusetts
October 21: Jeff Belanger on Magick Mind Radio
October 24: Jeff Belanger Book Signing - Danbury, Connecticut
Russell White on Ghostly Talk Radio
October 26: Jeff Belanger - Woonsocket, Rhode Island Library
October 29: Jeff Belanger on 94.5 3WS in Pittsburgh, Pennsylvania
October 31: SAMHAIN/HALLOWEEN 2004!




Ghostvillage.com Haunted Campout!

The Ghostvillage.com Haunted Campout is just a few days away! Saturday, September 25, 2004 we'll be rolling into Granite Hill Campground in the Berger Hill section of the campground, 3340 Fairfield Road, Gettysburg, PA 17325.

Check-in time is 3 PM. We're going to begin with tent setup then a meet-and-greet. We'll be cooking out, then heading off for an early evening ghost investigation of some of the hot spots in the battlefields. We'll return to our camp sites for some ghost stories around the fire then it's off to bed (provided we can sleep bwaaahahahahaha). We have more events planned for Sunday before things wrap up at 2 PM check out. Many people are getting to the site earlier and some are staying past Sunday. You're of course welcome to do so! If you want to let others know that you'll be checking in early, please do so in our message boards: HERE.

If you're interested in going, please email info@ghostvillage.com for more details. For more information, you can also visit: http://www.ghostvillage.com/hauntedcampout.shtml.

We hope you can join us for our first get-together!




Who's Who in the Town Square?

Get to know some of your fellow Ghostvillagers.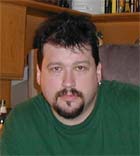 >>ohhorror<< - member since December 16, 2002

What is your name?
Coby Baldauf

How old are you?
38

Where are you from?
Groton, Connecticut

What do you do for a living?
Senior Buyer.

What got you interested in the supernatural?
I guess you could say I was born into it. My family home in New Jersey is very haunted and always has been. It is an old 1861 farmhouse that my family has owned since the 40's and still does. I lived all of my childhood and teenage years with a ghost; it was commonplace to hear someone banging on your door, or the wall, and footsteps walking down the hall. We also have seen a shadow moving across the room, and heard inexplicable noises like tools being used and glass breaking in the middle of the night when no sign of broken glass can be found anywhere. I even posted an EVP I got one night while visiting for Easter. Our family ghost is a friendly one, though. He has never done anything harmful or negative and only has tried to get our attention over the years; it is like having a roommate that we just could not see. As a result of growing up around a ghost, I am not scared at all by them and I am always calm in the most haunted of places.

I studied and read about ghosts while growing up to try and understand what was happening in our home. I moved up to Connecticut about eight years ago and was fascinated by its rich ghost stories and history and decided to join a group called Entity Seekers Paranormal Investigators. Our founder turned over the group to me this year, so now I am running it. I am also the Connecticut representative for the American Ghost Society and an active member of the American Association of Electronic Voice Phenomena. I have been on numerous investigations including an investigation of Gettysburg with Southern Ghosts, who did the show on the Discovery Channel "Real Ghost Hunters". It was a very exciting investigation and it was cool to meet and investigate with someone you have seen on TV.

How long have you been a ghost investigator?
Officially, since 2001.

What piece of equipment do you think is most important in a ghost investigation?
Wow, that is a tough one for me, since I am considered the tech guy of our group and I have a ton of equipment. I think a reliable EMF meter and knowing how to use it is the best piece of equipment, used with a 35mm camera. Second would be an infrared video camera; I have gotten some amazing video footage using infrared.


Ghostvillage.com's book reviewer, Lee Prosser, has brought us several new book reviews and an author interview since our last newsletter. Have you read one of these books? Want to add your own review? Click >>here<<.

This past month's Library additions:

The Montauk Project by Preston B. Nichols with Peter Moon

Your Magickal Name by Phyllis Vega and Debra Vega

Llewellyn's 2005 Starview Almanac by Llewellyn Publications

Don't Call Them Ghosts by Kathleen McConnell

The World's Most Haunted Places by Jeff Belanger [interview]

The House of the Hidden Places and the Book of the Master by W. Marsham Adams


We receive personal encounters from all over the world. Many are scary, some are touching, but they are always profound. If you would like to share your own experience, please click >>here<<. Since our last newsletter, we added the following new encounters:

Thomas Edison Museum Orb - Ft. Myers, Florida [pic]

The Old Hag Who Lifted Me - Oklahoma City, Oklahoma

The Ghosts of Fort Pulaski - Savannah, Georgia [pic]

The Blithe Spirit - Portland, Maine

Paco from Chichen Itza - Atlanta, Georgia

Footsteps in the Forest - Hooks, Texas

The Phantom Maid of Melville - Melville Hotel, Saskatchewan, Canada

Grandfather's House Full of Family Spirits - Cheektowaga, New York

The Spirit of Anne - Norfolk, Virginia

The Shadow Man's Hand - Verden, Germany

Murderous Mirror Message - Jefferson, Texas


Our "Resources" section is a place for editorials, research articles, open letters to our readers, press releases, and other content of interest to Ghostvillagers. If you have a topic on your mind, agree or disagree with something you read recently, we want to hear from you! For guidelines, click here.

New articles since our last newsletter:

The Ghost of Aldous Huxley by Lee Prosser - September 9, 2004

New Page Books and Ghostvillage.com Announce The World's Most Haunted Places - August 24, 2004


In the last month, the following people have joined our ghostly community. Please welcome:
Ice, cbreck, We_are_Legion, maui, jamesbond_x3, rorriel, cerealspy4034, perrygroupies, J.C, mommiescrew4, rubyrose, gedphilips, psycho_firechick, beccaluvsghostsntexas, potatoeheadprincess, seldomseen, habeebnet, sara_18, mccollumbd, tutam, iowhippy, sassy girl, charize_cute, jill_ws, Regine, Jeff, Shadow Walker, fauxgoddess, jensghosts, leslea, BrideOfFrankenstein0982, michelle80, nightshiftboy, jhrockers, chick.p., vlad, ZomBabe, zappaman, PariahPeace, paul_martinez, ATHF27, VivianLeighe, noman, KathiSantini, paw, mjclions, evileyes_e3, ghost faker, lucyrose67, pinkgirl685, angie_delores, randomflax, tancornelison, Cowser, leland, Duinea01, FloridaGhostChapter, scooby_cyn, blue_angle, LeTgO, Scythe, Lilacgirl, mitchele, kenb, November Wallace, scary2b, ShyningStarr20, Malachi, SpidrWire, ciena_princess_of_darkness, willowwitch, robot_devil, wendylove, Superstar74, mrgrey24, woodlandhaunting, yuna_takamiya07, hettie1863, naturesbeauty457, tkite, wicket, darkside, Buxom66, #666#, ChcknWings1030, freakedout, thatnewguy, TheSecretPoetess, Scorch, Jekka, thetester, lmrentz, ronna_quinia, cnthings, laura_elliott, zxdragonflyzx, SouthernSpirits80, antenna, TNMoon, rd3fan, ysa, olorin, deadon, ReBoRn_SouL_09, cola, bollenbm, Dakotahs_Girl, ghost_of__manila, Scary_Mary, foxxybabe4487, morgana, glittersno, multo, Bongobabe, Bongababe, ScreaminBanshee, unseenjane22, Kellen_Illamay, uScared, mhibbard, tyyjk, fdjhdfj, adam_loves_benji, DivaSpeak, angel_cristina1501, angelic101, Cristina_Angel1501, crissie, innocentsleep, dyan, cutie, SMILEE3283, limweis, LWeyenberg, gaildavey77, dukeofamesbury, Vanilla, armyangel, Blueangels12118, ladyworeblack, Dwayne_G, Spiritwatcher35, nickho, jmonacelli, NOS4A2, Luvableleo35, jessiepunk13, ladybird, aah, Montshannon, Deghostlady, dark_quincy23, sublime, sunbee, aset, angelinayorke, mizzieredd, mandaxo, lesdus04, hlf2001, julzz, lovebunny0602, sidevernon, WishingStar, spookette, ghostbusterz7889, bald_daddy1965, TabloidJunkie, khepura, mariannegb, fathergraywolf, ghoshraja, Mysticspirit, MADMIKE, Nephlim, PsychicPearl, vincentzeus69, AlwaysWatching, DublinSky, AThousandLies, CHIEFSFAN1, CHIEFSFAN, gabs_2, RAVIKANTH, SeaSiren, swank20, RONINPENNSYLVANIA, Harmony1215, Nini_XXI, Randomhero716, CECE40, llyre1664, llyre1, Izzebella, foxxyJ, Dysturbed_90dx_4dr, ghostdude1984565, vitalas, witcheyes419, BooBooKitty, Pilar, ENCHANTED_ORACLE, cead3831, mjune, BABES, Hurrgyrl6977, cutekc0911, tallulah, kat62563, toxicmeow, elveoqn, sonya42680, guitarking12, krissy7, paigethree, netdude5, craigieboy, Lillen, ripbiz, Caz300, apple, spookykaren42, lcskylc, Peg, Chaama5, shadowstalker, maryanne, Steve D, Paladar, blue-willow, dmanheim, and fiannagirl.



Ghostvillage.com Quick Stats:

68,168 Messages in the Town Square Message Boards
5,246 Members in the Town Square
75 "Encounters" listed in 2004 so far
171 Paranormal Web sites in the Ghost Search directory
10,169 Subscribers to this newsletter
2,649,333 total Web site "hits" for Ghostvillage.com in July


Ghostvillage.com just keeps growing and growing. We're the Web's largest supernatural community, the central place where people come to share their experiences, thoughts, and research. Please help us continue to grow by donating, buying a copy of the new book, The World's Most Haunted Places: From the Secret Files of Ghostvillage.com, shopping, or by buying a Ghostvillage.com t-shirt -- new designs are finally up! Every little bit helps run our servers and helps the site get bigger and better!

Please email us anytime at info@ghostvillage.com. Your comments, questions, and feedback are always welcomed.


---
All material is © 2004 Ghostvillage.com
REMOVAL INSTRUCTIONS: To be removed from the mailing list, please go to www.ghostvillage.com/subscribe.shtml.

SUPERNATURAL WEB HOSTING! Check out Emerging Market Web Design and tell them Ghostvillage.com sent you! http://www.emwd.com