GHOSTVILLAGE.COM NEWSLETTER #67 - March 15, 2007

Buy Books by Jeff Belanger | Jeff Belanger's Official Web site | Go to the Ghost World Conference 2007 Web site

Be sure to forward this on to your friends who are interested in the supernatural!


Investigators. Professionals. Mediums. Those are just three reasons to join us at the 2007 Supernatural Summit. Does the opportunity to speak with world-renowned specialists make you salivate? Countless professionals will be on hand to speak with you about your experiences, data, and interests!
http://www.SUPERNATURALSUMMIT.com/
---
You are receiving this email because you or a friend signed you up at http://www.ghostvillage.com. If you would like to be removed from this mailing list, please see the instructions at the bottom.
View this newsletter online at: http://www.ghostvillage.com/newsletters/Mar15_07.htm
---
Dear Ghostvillagers,

It's been a big month for Ghostvillage and for me personally. First, in early March we launched Ghostvillage University. This is the place to attend live, interactive online Webinars. You'll see the speakers via a Web cam, hear their voices coming through your computer speakers, and watch their multimedia presentations -- all in real-time. Got questions? Type them in, and the presenters will respond. This is an opportunity for the entire paranormal community to come together and share information from some of the leading names in the field. Already we have lectures scheduled with Vince Wilson, Ursula Bielski, Todd Bates, and myself. And we'll be announcing new lectures shortly. Keep your eye on the new Ghostvillage U. You just may learn something. Seating is limited, so get your tickets early!

On a personal note, I also have big news, but I think I'll let the Ghostvillager profile interview below fill you in on that...

This month we're going to explore the topic of Voodoo a little deeper. No matter how you spell it (Vodou, Vodoun, Vudu, or Vudun), the concept often calls up images of witch doctors and dolls with pins sticking out of them. Originating in West Africa, the religion and practice spread to the Caribbean, then on to North and South America via the slave trade. Today the system is going through a bit of a renaissance as a myriad of books are being published on the topic and new peoples are taking up the belief system.

People who practice Voodoo believe the religion can not only help explain the forces of the universe, but the practitioner can influence those forces by their intent. People who practice this faith do so to honor both multiple deities and their ancestors. If you've had experience with Voodoo, definitely share your thoughts, theories, and opinions in our message board of the month.

I hope to see you in some of our great upcoming lectures at Ghostvillage University. Enjoy the rest of the newsletter below.

Supernaturally yours,

Jeff Belanger
Mayor of Ghostvillage.com


Congratulations to Tracy Grondin of Lewiston, Maine, who was last month's winner of an autographed copy of Jeff Belanger's book, Our Haunted Lives: True Life Ghost Encounters, a Ghostvillage.com window sticker, and a Ghostvillage.com t-shirt!

This month, we're doing the contest again, but we ask that you first click this link: http://www.ghostvillage.com/index.shtml#winner. If it says, "The search is on" then we don't have a winner yet and go ahead and send in your answer. If you see today's date and "We have a winner!" that means you weren't the first to email us. Sorry, please try again next month.

On to this month's question: This question can be answered by reading a page on Ghostvillage.com. The first person to reply to this email with the correct answer will win this month's prize.

What is Loyd Auerbach's favorite type of chocolate bar?

Once we have our winner, we will announce them on our home page as soon as possible. Good luck! (Only Ghostvillagers who have not won a prize from us in the last year are eligible.)



This month's prize: We're giving away an autographed copy of Jeff Belanger's book, The World's Most Haunted Places: From the Secret Files of Ghostvillage.com, a free pass to an online lecture at Ghostvillage University, a Ghostvillage.com window sticker, and a Ghostvillage.com t-shirt!


Didn't win? Want to buy a copy? Click on the graphic.



Ghostvillage University is the place to attend live, interactive, multimedia lectures from the comfort of your own home. Ever wanted to attend a ghost conference, but you were too far away? Not anymore. Ghostvillage.com is bringing some of the biggest names in the paranormal right to you. Ready to increase your expertise and learn from some of the best? Below is a list of upcoming lectures. We'll be adding more constantly.

March 20, 2007: Introduction to Ghost Hunting with Vince Wilson

March 27, 2007: Our Haunted Lives with Jeff Belanger

April 3, 2007: Children and the Paranormal with Ursula Bielski

April 11, 2007: Searching for the Silent Voice with Todd Bates


The Supernatural Calendar is the place where thousands will learn about your events of interest to the supernatural world. The service is only available to registered members of the message boards, and it's free! Ghostvillage.com now syndicates our calendar of events so other Web sites can also display these supernatural happenings at no charge! To learn more about installing our calendar of events RSS feed, please visit our syndication page. Adding your own local events to our calendar is more important than ever!

March 16: Jeff Belanger on The Maury Show
March 17: Jeff Belanger on Speaking of Strange Radio
March 20: Ghost Hunting 101 - Vince Wilson - Ghostvillage U.
March 27: Our Haunted Lives - Jeff Belanger - Ghostvillage U
April 3: Children & Paranormal - Ursula Bielski - Ghostvillage U.
April 11: EVP Basics - Todd Bates - Ghostvillage U.
April 13: Western New York Supernatural Ghost Hunter Conference and Psychic Fair
April 28: Paraquest Paranormal Conference - England
May 11: Ghost Hunters Conference - Ventura, California



Who's Who in the Town Square?

Get to know some of your fellow Ghostvillagers.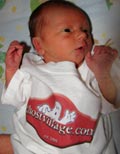 >>sophiejane<< - member since March 8, 2007

What is your name?
Sophie Jane Belanger

How old are you?
1 week. I was born March 8th. I showed up four weeks early because I wanted to get this show on the road!

How much do you weigh?
You're really not supposed to ask a girl that, but okay... I weighed five pounds, five ounces at birth.

Where do you live?
I live in Massachusetts with my parents.

What do you do for a living?
I'm a princess. I sleep, eat, and get many diapers changed throughout the day.

What first got you interested in the supernatural?
This is actually a funny story... you could say I was born into it. I remember the day after I was born my dad was on a radio talk show as a call-in guest from our hospital room, and he was talking about one of his books. Plus, each night, my dad reads to me from his book, The World's Most Haunted Places. Other kids get to hear See Spot Run, but not me.

Have you ever seen a ghost?
I'm not sure. At my age I can't see much past six inches in front of my face. Everything is kind of blurry. But for the sake of the newsletter... I can honestly say that I can't be totally sure that some of those blurry, shadowy figures weren't my great-grandparents coming to check me out.

Is that a Ghostvillage.com onesie you're wearing in your picture? What's it like being a corporate shill at such a young age?
Is that what this onesie says? Man, I better be getting paid for this... seriously. I think now I'll have to shoot for an Ivy League college to get my daddy back for this one.

What do you want to be when you grow up?
Not afraid of ghosts. But my daddy has already promised to tell me all about everything he knows. He said I don't have to be afraid of anything as long as he's around.

Any requests for your new parents that you'd like to share with the Ghostvillagers?
Yes. I'd like a pony.

No.

*Note: In the interest of full disclosure, Sophie Jane is obviously too young to talk. Which is why we placed a computer keyboard in front of her so she could type out her answers to the questions above. It takes a 'Village, folks. A Ghostvillage...



Last Month's Theme - Featured Content

Our last month's theme was Spirit Photography. Here's what you missed if you haven't checked in since last month:

Discussion: Children's Hospital Picture
From the Archives: Back Porch Woman - Greensboro, North Carolina
From the Ghostvillage Radio Archives: How to Photograph the Paranormal
From the Archives: Apparition at Senator Bard's Mansion - Ventura, California
From the Archives: The Dollhouse Grave - Medina, Tennessee
From the Archives: Some Thoughts on Orbs by Bruce Stirling, San Diego, California
From the Archives: Ghost Photography: Orbs by Robbin Van Pelt
Feature Article: Spiritography by Jim DeCaro


Ghostvillage.com's book reviewer, Lee Prosser and the staff have brought you several new book reviews and author interviews since our last newsletter.


This past month's Library additions:

When the Impossible Happens by Stanislav Grof

A Paranormal Casebook by Loyd Auerbach [Author Interview]

Opus Mago-cabbalisticum Et Theosophicum by George Von Welling

The Mind Chronicles by Barbara Hand Clow

Yoga and Sound by Dick de Ruiter and Reiki and Sound by Simone Drenkelfort and Rainer Tillman [CD Review]

Living Wisdom with His Holiness The Dalai Lama by Don Farber and The Dalai Lama [DVD Review]

Gargoyles by Susan Moonwriter Pesznecker

How to Practice Mayan Astrology by Bruce Scofield and Barry C. Orr




Ghostvillage.com Advertising Opportunities

Each month Ghostvillage.com reaches tens of thousands of people interested in the paranormal. We offer the most effective and best-valued advertising and sponsorship packages of any paranormal media outlet. We now also offer audio ads on Ghostvillage Radio, please visit: http://www.ghostvillage.com/advertising.htm for details.

If you're ready to put Ghostvillage.com to work for your company or organization, send us an email to get started.

We receive personal encounters from all over the world. Many are scary, some are touching, but they are always profound. If you would like to share your own experience, please click >>here<<. Since our last newsletter, we added the following new encounters:

Boy from the 70s - Newark, Illinois

The Torso That Walked By - Mesquite, Texas

Haunted El Centro Bungalow - Hollywood, California

Disembodied Ghungroo Sounds - Kolkata, India

The Hooded Figure - Rockwood, Michigan

Grandmotherly Visitor - Cudahy, Wisconsin

Little Girl in My Aunt's House - Lawndale, California

Orbs in Haunted San Diego - San Diego, California [PIC]

Ghost in the Car - Newburyport, Massachusetts

The Man By the Window - Sunnyvale, California



This is the place to find press releases and news items on paranormal happenings around the world. If you have a news item you'd like to submit, please see our guidelines.

WANT THESE HEADLINES ON YOUR SITE FOR FREE? Syndicate our news! If you have a Web site or blog, you can syndicate our news feeds to your site for free. Check it out by visiting our syndication page.

Ghost Hunters in Search for 100% Proof Spirit at the Bar Scotland on Sunday Glasgow, Scotland - March 11, 2007 [EXTERNAL NEWS]

"Spooky Southcoast" is Going to Jail to Benefit Muscular Dystrophy Research

Near-Death Experiences Group Holds First Meeting Pioneer Press St. Paul, Minnesota - March 4, 2007 [EXTERNAL NEWS]

Parapsychology and the Paranormal Global Politician Brooklyn, New York - March 1, 2007 [EXTERNAL NEWS]

Ouija Believe It? The Paranormal is Pretty Mundane The Times Online London, England - February 26, 2007 [EXTERNAL NEWS]

Church With Mysterious Orbs Sees New Miracle CBS 11 TV Dallas, Texas - February 23, 2007 [EXTERNAL NEWS]

Restaurant to Go Soup-ernatural... This Is Lancashire Lancashire, England - February 22, 2007 [EXTERNAL NEWS]

Casting Call for a Paranormal Episode of ABC Television's Show Wife Swap

Join The Ghosthunter, John Kachuba, on the Paranormal Cruise to the Bahamas, October 16-21, 2007

Paraquest Paranormal Conference 2007 - Manchester, UK [CONFERENCE WATCH]



Our "Features" section is a place for editorials, research articles, open letters to our readers, and other content of interest to Ghostvillagers. If you have a topic on your mind, agree or disagree with something you read recently, we want to hear from you! For guidelines, click here.

New features added since our last newsletter:

The Ghost Investigator: Linda Zimmermann - Ghost Chronicles - March 14, 2007 [PODCAST]

Exploring the Tarot Cards - Ghost Chronicles - March 8, 2007 [PODCAST]

Part Seven of Belle Gunness: McClung Road and the Blood Farm Horror - by Marcus Foxglove Griffin
March 5, 2007 [COLUMN]

Vodou - by Lee Prosser - March 2, 2007 [COLUMN]

The Ghost Bride: Lydia Carver - Ghost Chronicles
February 28, 2007 [PODCAST]

Skeptical Learning by Rick Hayes - February 23, 2007

The Myrtles Plantation - Ghost Chronicles - February 21, 2007 [PODCAST]

The Ghosts of the Reyes Adobe by Richard Senate - February 16, 2007





Jeff Belanger's Upcoming Events

This is the place to find out where author and Ghostvillage.com founder Jeff Belanger will be speaking on the subject of the supernatural. If you're interested in booking Jeff for a conference or other event, please email us for more information.

Events Scheduled:

Ghostvillage University Webinar - (attend from any Internet connection) - March 27, 2007, 8:30 PM (EST)

Cape Cod Community College - Barnstable, Massachusetts - February 23, 2007

2007 Mid-Atlantic Paranormal Conference - Moundsville, West Virginia - June 8-9, 2007

2007 Haunted America Conference - Decatur, Illinois - June 22-23, 2007

Ghost World Conference - Gettysburg, Pennsylvania - July 20-22, 2007





Ghost World Conference 2007 - Meet Your Fellow Ghostvillagers!

The Ghost World Conference is going to be the paranormal event of the year! Definitely click on the Web site and get your tickets and reservations early to save money on our early bird discount (early bird only available until April 15th). Also make your hotel reservations at the Wyndham early because getting a hotel in Gettysburg in July is tricky. Ghostvillage.com is proud to help organize this giant paranormal conference, tradeshow, and symposium for July 20-22, 2007 in one of the most haunted places on earth: Gettysburg, Pennsylvania. Tickets and booth space are already going fast and space is limited. Be sure to visit the conference Web site for more information or to sign up:


http://www.ghostworldconference.com/


There's only one place where you can tune in to the leading paranormal radio programs available online, and that's right here on Ghostvillage.com's Paranormal Radio: http://www.ghostvillage.com/resources/ghostradio.shtml

Tune in to: A.P.S.R. Talk Radio, Darkness on the Edge of Town Radio, Exploring Unexplained Phenomena, The Ghost Chronicles, The Ghostman & Demon Hunter Show, Ghostly Talk Radio, The Graveyard Shift, Magick Mind Radio, Nightwatch, Weird Stuff Happens, and The 'X' Zone Radio Show.




Hot Threads and the Ghostvillage.com Community

In the past month, over 1,400 new people registered for free to join our supernatural discussion! Have you?

If you have registered for our message boards but haven't validated your account yet, it's simple to do! Look for the email that was automatically sent to you when you registered and click on the account activation link in the email (note: some bulkmail filters may block this email, so you'll need to check your bulkmail folder if the validation email didn't immediately come through). There are always great discussions going on in our huge message board community. We hope you'll get involved. It's free to register if you're not already a member. Here are some of the hot topics this month:

Haunted Music
http://www.ghostvillage.com/ghostcommunity/index.php?showtopic=18308
Can music be haunted too?

Very Superstitious
http://www.ghostvillage.com/ghostcommunity/index.php?showtopic=2621
Are you superstitious?

Haunted Places
http://www.ghostvillage.com/ghostcommunity/index.php?showtopic=630
What's your favorite all-time haunt?

Spiritography
http://www.ghostvillage.com/ghostcommunity/index.php?showtopic=18577
What pictures are your friends sending you?

EVP
http://www.ghostvillage.com/ghostcommunity/index.php?showtopic=18505
Sanatorium EVP - "Are you here with us now?"

Spirit Video
http://www.ghostvillage.com/ghostcommunity/index.php?showtopic=18446
Weird scratches - a video documentation.


Board of the Month -- Voodoo
http://www.ghostvillage.com/ghostcommunity/index.php?showforum=27
Discuss the voodoo that you do so well.



Ghostvillage.com Quick Stats:

221,826 Messages in the Town Square Message Boards
15,925 Members in the Town Square
610 "Personal Encounters" published on Ghostvillage.com
705 Paranormal Web sites in the Ghost Links directory
29,775 Subscribers to this newsletter
6,059,922 total Web site "hits" for Ghostvillage.com in February


Ghostvillage.com is the Web's largest supernatural community, the central place where people come to share their experiences, thoughts, and research. Please help us continue to grow by buying a copy of The World's Most Haunted Places, Communicating With the Dead, The Encyclopedia of Haunted Places, The Nightmare Encyclopedia, Our Haunted Lives, Ghosts of War, or shopping in Ghost-Mart. Every little bit helps run our servers and helps the site get bigger and better! Please also click on our banner ads and support our advertisers -- when you do business with someone who advertises with Ghostvillage.com, let them know you saw their ad with us and thank them for the support.

Please email us anytime at info@ghostvillage.com. Your comments, questions, and feedback are always welcomed.


---
All material is © 2007 Ghostvillage.com
REMOVAL INSTRUCTIONS: To be removed from the mailing list, please go to www.ghostvillage.com/subscribe.shtml.