GHOSTVILLAGE.COM NEWSLETTER #86 - October 16, 2008

Buy Books by Jeff Belanger | Jeff Belanger's Official Web site | Visit UFOvillage.com | Visit us on MySpace | Paranormal for Kids | Meet the Staff

Be sure to forward this on to your friends who are interested in the supernatural!

Paranormal Books & Curiosities is dedicated to the Paranormal Enthusiast. More of an event than a shop, it has something for everyone. We offer rare and difficult to find titles about paranormal subjects as well as regional independent books about ghostly lore. Here the enthusiast can indulge his or her passion for this study, including the historical, the allegorical, and the scientific. And the more casual fan can browse interesting and fun titles not found elsewhere. Don't sit on the sidelines watching and wondering. Join the hunt. PB&C will take you into the dark haunted recesses. Paranormal Investigations Monthly and open to the public. Check our Web site for a schedule of events. http://www.paranormalbooksnj.com/
---
You are receiving this email because you or a friend signed you up at http://www.ghostvillage.com. If you would like to be removed from this mailing list, please see the instructions at the bottom.
View this newsletter online at: http://www.ghostvillage.com/newsletters/Oct16_08.htm
---
Dear Ghostvillagers,

(With apologies to Edgar Allan Poe.)

Once upon a midnight dreary, on a ghost hunt weak and weary,
Stepping over many a quaint and curious pile with strange odor.
While I slipped, nearly falling, and my EMF came a-calling,
I heard some gentle rapping, rapping on the buildingís door.
ďTis the police,Ē I muttered, ďor maybe security tapping at the buildingís door --
Only this, and nothing more.Ē

Ah, distinctly I remember it was in the bleak October,
Of 1999 that Ghostvillage.com was born.
While upon that investigation, searching for ghosts throughout the nation,
I came home to write up notes in HTML code.
Just a scant few Web pages that I created while in my abode --
Legends, ancient houses, and abandoned roads.

As the site grew in size, specters folks have seen with their eyes,
Were shared with Ghostvillagers from around the world.
Not just stories, and old folklore, but photos, videos, and EVP,
All have graced our pages as the new evidence was unfurled --
Sometimes thrilling, sometimes chilling every boy and girl --
All throughout the world.

Now itís Halloween time again, call it Samhain for our Witchy friends,
And nine years have passed since smelling that strange odor.
Thank you all for your insight, which at times caused quite a fright,
Please know of your articles, emails, and evidence, we want more --
For Ghostvillage.com will haunt the Web evermore!

Sorry, Edgar Allan Poe, the mood of the season struck me. Itís October, which means the Village is hopping like something out of Tim Burtonís Nightmare Before Christmas Halloween Town. I invite you to lurk through our streets and alleys to check out all of the great new content weíve added since last month. Get involved in some of the many discussions happening in our forums, and get out there and enjoy my favorite time of year.

For a lot of us, Halloween is about trick-or-treating and the kids. If you havenít checked out Ghostvillage.comís newest section for kids, parents, and educators, click on over to http://Kids.Ghostvillage.com and have a look!

Over the next month Iíll be offering several lectures and doing a bunch of media appearances. If youíre nearby, please do come say hello. Have a great Halloween season -- I'll see you next month when the orange and black dust settles.

Enjoy the rest of the newsletter below!

Supernaturally yours,

Jeff Belanger
Mayor of Ghostvillage.com
MySpace: www.myspace.com/ghostvillager


Congratulations to Tina Allen of Highland Heights, Kentucky, who was last month's winner of an autographed copy of Jeff Belanger's new book, Who's Haunting the White House?, a Ghostvillage.com window sticker, and a Ghostvillage.com t-shirt!

How to win: Entries will be accepted up until 5:00 PM (eastern time) today (October 16, 2008). At 5:00 PM, we will draw a winner at random from the correct entries that have been received. You no longer have to be the first, but you only have until 5:00 PM to get your answer in. If you click on this link: http://www.ghostvillage.com/index.shtml#winner, you see today's date, and "We have a winner!" that means the contest has ended. Sorry, please try again next month. To submit your entry, simply reply to this email with the correct answer.

On to this month's question: This question can be answered by reading a page on Ghostvillage.com. Remember, reply by 5:00 PM today to be eligible to win.

What kind of car does author L'Aura Hladik drive?

At 5:00 PM, we will announce the winner on our home page. Good luck! (Only Ghostvillagers who have not won a prize from us in the last year are eligible.)



This month's prize: We're giving away an autographed copy of Jeff Belanger's new book, Who's Haunting the White House?, a Ghostvillage.com window sticker, and a Ghostvillage.com t-shirt!


Didn't win? Want to buy a copy? Click on the graphic.





It Takes a Village - Charity of the Month

Be they your pets, family members, or -- for the Witches out there -- your familiars, letís not forget that our furry, feathered, and equine friends need help, too.

The American Society for the Prevention of Cruelty to Animals (ASPCA), created in 1866, exists to alleviate the injustices that animals face. Whether itís saving a pet who has been accidentally poisoned, fighting to pass humane laws, rescuing animals from abuse, or sharing resources with shelters across the United States, the ASPCA works toward a time when no animal will live in fear or in pain, and they seek to fulfill their mission through nonviolent approaches.

To donate money online, click here.

Other ways to help the ASPCA:

1. Grassroots fundraising. Are you interested in hosting a fundraiser for the ASPCA? For more information regarding grassroots fundraising, such as parties, special events, bake sales, lemonade stands, book sales, dog walks, dog washes, and more, please contact Melissa Treuman at melissat@aspca.org.

2. Gifts of stock. Donating a highly appreciated asset to the ASPCA may allow you to avoid a significant portion of your tax liability while still receiving a charitable contribution deduction. Please contact Katie McNally at kmcnally@aspca.org or call (212) 876-7700, ext. 4518 for more information.

3. Create a ďfurry friendsĒ Web page. Your cute pets can help, too! Through the ASPCA, you can set up a special fundraising page featuring your favorite furry friend. Then use their email tools and a personalized web address to spread the word. You can send emails to your friends or post the link on your blog, Web site, or MySpace/Facebook profile for people to donate through. The ASPCA will alert you when a gift has been given and generate a thank-you email for you to send to your donors. Learn more here


The Supernatural Calendar is the place where thousands will learn about your events of interest to the supernatural world. The service is only available to registered members of the message boards, and it's free! Ghostvillage.com now syndicates our calendar of events so other Web sites can also display these supernatural happenings at no charge! To learn more about installing our calendar of events RSS feed, please visit our syndication page. Adding your own local events to our calendar is more important than ever!

October 16: Jeff Belanger -Pollard Memorial Library- Lowell, MA
October 17: 2008 Allegan Paranormal Conference - Michigan, Gabriel's Inn Ghost Dinner
October 19: The Unexplained World - Internet Radio Broadcast, Jeff Belanger on Something Planet Radio
October 21: Jeff Belanger U.S. Radio Tour
October 22: Jeff Belanger on KNOX in Grand Forks, ND
October 23: Jeff Belanger on Voices in the NYGHT Radio
October 24: Jeff Belanger on Portal Paranormal Talk Radio, Gabriel's Inn Ghost Dinner
October 25: Jeff Belanger at the Luna Gallery - N. Conway, NH, Gabriel's Inn Haunted Halloween, All Hallow's Eve Event - Haunted Location / Psychics
October 27: Jeff Belanger at the Tewksbury, MA Public Library, Jeff Belanger on NECN TV
October 28: Jeff Belanger at the Bellingham Public Library, Fright Nights
October 29: Jeff Belanger at Millbury Historical Society, Jeff Belanger on Coast to Coast AM w/ George Noory
October 30: Jeff Belanger on FOX & Friends
October 31: Vortex Conference in Burlington, WI, Gabriel's Inn Ghost Dinner
November 1: Houghton Night With the Spirits - North Adams, MA - Jeff Belanger is speaking at this event
November 9: Stanley Hotel Paranormal Retreat
November 14: Spirit Investigation -- Haunted Gabriel's Inn
November 15: Jeff Belanger on Ghostology Radio
November 20: Jeff Belanger Book Signing - Walpole, Massachusetts
December 7: The Haunted Queen Mary Conference





Who's Who in the Village?

Get to know some of your fellow Ghostvillagers.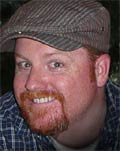 >>YankeePyrate<< - member since October 24, 2003

What is your name?
Josh Fisher

How old are you?
34

Where do you live?
Coastal Maine

What do you do for a living?
Iím an Art Director for an Experiential Marketing Agency.

What got you interest in the paranormal?
Iíve been fascinated by it my whole life. Growing up in coastal Maine youíre surrounded by legends and lore; from ghost ships and phantom sea captains to haunted woods and witches. Living next to an old cemetery may have helped too, but it was a series of strong personal experiences several years ago that fueled a desire to begin actively researching and investigating for myself.

Tell us about Sarah Haskell's ghost.
I believe that from time to time, spirits can reach out to those of us who will listen to them. For reasons Iím still trying to figure out, she got my attention. Iíve been researching her life and attempting to collect evidence for about a year now. The amount of information thatís come forward is amazing. Itís reassuring to see just how much you can learn about a normal, everyday person 160 years after their death!

I thought it might be fun to blog the experience both as a way to keep track of my notes as well as sharing investigative techniques and ideas with paranormal newcomers.

Do you have any Halloween traditions?
Definitely! Itís our favorite time of year. We like to spend an afternoon together carving jack oí lanterns and toasting pumpkin seeds before the big night. We always do at least one haunted hayride, and enjoy revisiting our favorite horror flicks.

What's your favorite Halloween candy?
Anything in the chocolate family, mostly the peanut butter cups!




Last Month's Theme - Featured Content

Our last month's theme was ghosts of the White House. Here's what you missed if you haven't checked in since last month:

Discussion: Abe Lincoln and the Paranormal
Library: Soul Journey from Lincoln to Lindbergh By Richard Salva
Features: When the Spirits Held Sway at the White House by Richard Senate
Discussion: President Bush Saw Ghost at White House




Shopping at Ghostvillage.com

Have you checked out our Ghost-Mart and Ghostvillage U.?

Ghostvillage U.: "Professor Paranormal" Loyd Auerbach and the HCH Institute's Distance Learning Certificate Course on Parapsychological Studies is now available through Ghostvillage.com. Ready to take paranormal investigation to the next level? Check out the online courses.

Ghost-Mart:
Digital Voice Recorders: Going for EVP? Think DVR.
Paranormal Books: Ghost-Mart has many of the leading paranormal titles.
EMF Meters: Check out our line of EMF meters from cell sensors to tri-field.
Closed Circuit TV: From inexpensive to the high end, we have them all.


Ghostvillage.com's book reviewer, Lee Prosser and the staff have brought you several new book reviews and author interviews since our last newsletter.

This past month's Library additions:

My Life as a Psychic by Gavin Cromwell
Lore of the Ghost by Brian Haughton
Ghosts and Haunted Places by Rosemary Ellen Guiley [AUTHOR INTERVIEW]
The Secret Language of Tarot by Ruth Ann and Wald Amberstone
Ghosthunting New Jersey by L'Aura Hladik [AUTHOR INTERVIEW]
Ghosts of Colorado by Dennis Baker [AUTHOR INTERVIEW]




Ghostvillage.com Advertising Opportunities

Each month Ghostvillage.com reaches tens of thousands of people interested in the paranormal. We offer the most effective and best-valued advertising and sponsorship packages of any paranormal media outlet. Please visit: http://www.ghostvillage.com/advertising.htm for details.

If you're ready to put Ghostvillage.com to work for your company or organization, send us an email to get started.


We receive personal encounters from all over the world. Many are scary, some are touching, but they are always profound. If you would like to share your own experience, please click >>here<<. Since our last newsletter, we added the following new encounters:

Ghost Cat Presence - Novat, California
Psychic Impressions at a Victorian Home - Peoria, Illinois
A Disappearing Car - Duluth, Minnesota
Black Mass Filmed During Investigation - Northern California [VID]
Mildred's Ghost - Licking, Missouri
Glowing Figure on the Porch - Niles, Ohio
Tag Aboard the Star of India - San Diego, California
Ghostly Image Caught at Gym - Overland Park, Kansas [VID]
My Floating Sister - Leavenworth, Kansas
My Aunt's Spirit at Meling School - BÝmlo, Hordaland, Norway
A Scary Sleepover - Billings, Montana
Socks Back From the Grave - Kellogg, Idaho


This is the place to find news items on paranormal happenings around the world. If you have a news item you'd like to submit, please see our guidelines.

From the Desk of Christopher Balzano, Ghostvillage.com News Editor:
Didnít you know your town was haunted?

Eleven months out of the year, the paranormal is much like politics and religion. Polite company doesnít touch the subject. Then magically, come Fall, your town becomes famous for its hauntings and youíre invited to strap on your shoes, grab a camera, and see all the little out-of-the-way places in your neighborhood where there has ever been the whisper of a spirit.

Walking tours spring from nowhere this time of year and make the local papers like Halloween candy found sometime around Christmas. Not much new is said, and often the tours offer little more than rehashed urban legends with a local twist. It all makes for excellent filler in event calendars and special interest pieces, but there is something to be said for these brief ventures into the unknown. All towns have a haunted history, often times the smaller the darker, so it is much like a breath of fresh air to learn about the ghosts you share the street with but never hear about. There is such a tight connection between the paranormal and history that they often become the best way to learn about the place you live. They are also a great way to meet people who may be into those activities most consider deviant every other month of the year.

Donít try and get any kind of ghostly evidence on them. There is nothing like twenty people taking pictures of Robert Frostís grave to make those brilliant orbs appear. Instead, enjoy them for what they are. For a short time you step back in history, maybe touch the other side, and arrive where you started, ready to get back to the real world.

Let this weekend be about the ghosts of the past. The election can wait until November.

The rest of this monthís headlines are below:

Ghostvillage.com Launches New Ghost Web Site for Kids, Parents, and Educators
Exploring the Shadows of the Paranormal: An Interview with Dr. Robert M. Schoch Vision Magazine - San Diego, California-October 4, 2008 [EXTERNAL NEWS]
New Children's Book Explores the Ghosts of the White House
Lorraine Warren to speak in Southbury about the paranormal The News Times - Southbury, Connecticut-October 3, 2008 [EXTERNAL NEWS]
Ghost of nun photographed at Wepre Park Ė HAVE YOUR SAY The Evening Leader - Wrexham, Wales - September 30, 2008 [EXTERNAL NEWS]
Ghostly Image Caught in Gym CNN - Overland Park, Kansas-September 25, 2008 [EXTERNAL NEWS]
New details on bizarre and violent exorcism in the Valley azFamily.com - Phoenix, Arizona - September 25, 2008 [EXTERNAL NEWS]
Go for the flowers, stay for the phantoms The New Tribune - Tacoma, Washington-September 23, 2008 [EXTERNAL NEWS]
New Travel Website Asks for Paranormal Submissions, Debunkings Beachconnection.net - Portland, Oregon-September 18, 2008 [EXTERNAL NEWS]
The Religious Pressure to Not Believe
Guardian Angels Are Here, Say Most Americans Time Magazine -Tampa, Florida-September 18, 2008 [EXTERNAL NEWS]
For $30M: A Local Mansion. The Catch? May Come With Ghosts The Hoya - Georgetown, Washington DC-September 16, 2008 [EXTERNAL NEWS]
Ghosts, Goals, and Political Unrest
This could only happen in Massachusetts, believe it or not The Boston Globe - Boston, Massachusetts - September 7, 2008 [EXTERNAL NEWS]


WANT THESE HEADLINES ON YOUR SITE FOR FREE? Syndicate our news! If you have a Web site or blog, you can syndicate our news feeds to your site for free. Join the growing list of Web sites who carry our news by visiting our syndication page.


Our "Features" section is a place for editorials, research articles, open letters to our readers, and other content of interest to Ghostvillagers. If you have a topic on your mind, agree or disagree with something you read recently, we want to hear from you! For guidelines, click here.

New features added since our last newsletter:

Most Famous Phenomenon by Jeff Belanger - October 8, 2008
Haunted House Diary - Ghost Chronicles - October 1, 2008 [PODCAST]
Paranormal Journaling: A First Step by Jeff Belanger - September 30, 2008
More Horrific Predictions - by Lee Prosser - September 26, 2008 [COLUMN]
Francis Thompson (1859 - 1907) - by Lee Prosser - September 18, 2008 [COLUMN]




Jeff Belanger's Upcoming Events

This is the place to find out where author and Ghostvillage.com founder Jeff Belanger will be speaking on the subject of the supernatural. If you're interested in booking Jeff for a conference or other event, please email us for more information.

Events Scheduled:

A Weird (Massachusetts) Evening with Jeff Belanger at the Pollard Memorial Library - Lowell, Massachusetts - 7:00 PM - October 16, 2008

MASS Monster Mash - Watertown, Massachusetts - October 18, 2008

A Supernatural Evening with Jeff Belanger at the Luna Gallery - North Conway, New Hampshire - 7:00 PM - October 25, 2008

A Supernatural Evening with Jeff Belanger at the Tewksbury Public Library - Tewksbury, Massachusetts - 6:30 PM - October 27, 2008

A Supernatural Evening with Jeff Belanger at the Bellingham Public Library - Bellingham, Massachusetts - 7:00 PM - October 28, 2008

A Weird (Massachusetts) Evening with Jeff Belanger at the Millbury Historical Society - Millbury, Massachusetts - 7:00 PM - October 29, 2008

Houghton Night With the Spirits - North Adams, Massachusetts - November 1, 2008

Stanley Hotel Paranormal Retreat - Estes Park, Colorado - November 9-12, 2008

Queen Mary Conference - Long Beach, California - December 7-10, 2008

Beyond Reality Events: The Mount Washington Hotel Conference - Bretton Woods, New Hampshire - April 24-26, 2009

PARACON Canadian-American Paranormal Conference - Sarnia, Ontario, Canada - August 6-7, 2009





Hot Threads and the Ghostvillage.com Community

In the past month, hundreds of new people registered for free to join our supernatural discussion! Have you?

If you have registered for our message boards but haven't validated your account yet, it's simple to do! Look for the email that was automatically sent to you when you registered and click on the account activation link in the email (note: some bulkmail filters may block this email, so you'll need to check your bulkmail folder if the validation email didn't immediately come through). There are always great discussions going on in our huge message board community. We hope you'll get involved. It's free to register if you're not already a member. Here are some of the hot topics this month:

Haunted Dolls
http://www.ghostvillage.com/ghostcommunity/index.php?showtopic=25181
What lurks in your toy chest?

Fundraisers
http://www.ghostvillage.com/ghostcommunity/index.php?showtopic=25361
What does your paranormal group do to raise money?

Spiritography
http://www.ghostvillage.com/ghostcommunity/index.php?showtopic=25410
Ghosthunt turns freaky.

EVP
http://www.ghostvillage.com/ghostcommunity/index.php?showtopic=25164
A little girl spirit in our home.

Spirit Video
http://www.ghostvillage.com/ghostcommunity/index.php?showtopic=20187
Ghost at the top of the stairs.

Ghosts in the News
http://www.ghostvillage.com/ghostcommunity/index.php?showtopic=25494
Horsham Teenager's Poltergeist.

Paranormal Books
http://www.ghostvillage.com/ghostcommunity/index.php?showtopic=25419
Handbook for the amateur paranormal investigator.

Paranormal Movies
http://www.ghostvillage.com/ghostcommunity/index.php?showtopic=25572
Quarantine

Help With Embracing One's Gift of Mediumship
http://www.ghostvillage.com/ghostcommunity/index.php?showtopic=25246
Ways and means to come to terms with and develop one's blossoming communication abilities.

Infrared Thermometers
http://www.ghostvillage.com/ghostcommunity/index.php?showtopic=24834
What are the uses and limitations of infrared thermometers?

Haunted Dwellings
http://www.ghostvillage.com/ghostcommunity/index.php?showtopic=834
Hoffman's Mansion

Personal Encounters
http://www.ghostvillage.com/ghostcommunity/index.php?showtopic=25272
"There's something in our house."


Board of the Month -- Halloween/Samhain 2008
http://www.ghostvillage.com/ghostcommunity/index.php?showforum=27
Discuss your memories, traditions, and plans for this Halloween/Samhain.




Ghostvillage.com Quick Stats:

274,244 Messages in the Town Square Message Boards
22,701 Members in the Town Square
812 "Personal Encounters" published on Ghostvillage.com
1,101 Paranormal Web sites in the Ghost Links directory
27,067 Subscribers to this newsletter
7,350,971 Total Web site "hits" for Ghostvillage.com in September


Ghostvillage.com is the Web's largest supernatural community, the central place where people come to share their experiences, thoughts, and research. Please help us continue to grow by buying a copy of The World's Most Haunted Places, Communicating With the Dead, The Encyclopedia of Haunted Places, The Nightmare Encyclopedia, Our Haunted Lives, Ghosts of War, The Ghost Files, Weird Massachusetts, Who's Haunting the White House?, or shopping in Ghost-Mart. Every little bit helps run our servers and helps the site get bigger and better! Please also click on our banner ads and support our advertisers -- when you do business with someone who advertises with Ghostvillage.com, let them know you saw their ad with us and thank them for the support.

Please email us anytime at info@ghostvillage.com. Your comments, questions, and feedback are always welcomed.


---
All material is © 2008 Ghostvillage.com
REMOVAL INSTRUCTIONS: To be removed from the mailing list, please go to www.ghostvillage.com/subscribe.shtml or click on the link below.