GHOSTVILLAGE.COM NEWSLETTER #44
April 15, 2005

Shop at Ghostvillage.com | Support Ghostvillage.com | The World's Most Haunted Places | Communicating With the Dead

Be sure to forward this on to your friends who are interested in the supernatural!
---
You are receiving this email because you or a friend signed you up at http://www.ghostvillage.com. If you would like to be removed from this mailing list, please see the instructions at the bottom.
View this newsletter online at: http://www.ghostvillage.com/newsletters/Apr15_05.htm
---
Dear Ghostvillagers,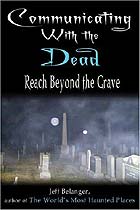 For millennia man has been trying to communicate with the dead -- on March 31, 1848, the dead spoke back.

Whether you accept the belief system behind Spiritualism or not, the movement launched ideas, concepts, and even products that have seeped into our subculture, pop culture, and collective psyches. The Spiritualists were certainly not the first to try and communicate with spirits, but they offered a loud collective voice that was heard by millions, and the ripples they threw into our societal pond can still be seen today.

For the last year, I've been researching the history and use of some of the devices and methods people use to communicate with the spirit world: talking boards (better known as Ouija boards), tarot cards, spirit photography, Electronic Voice Phenomena (EVP), Instrumental Transcommunication (ITC), Runes, mirror gazing, dowsing, and automatic writing. I've explored the true history, the folklore, the stigmas, and the results people are getting using these practices. I spoke with experts in each of these fields, scientists, skeptics, clergy, and people who incorporate these practices into their own spirituality. It was an amazing journey for me -- full of surprises and full of spirit contact. My findings are presented in my new book: Communicating With the Dead: Reach Beyond the Grave.

Today marks the launch of this book -- consider yourselves among the very first to know. You've all been very supportive of my first book, The World's Most Haunted Places, and of Ghostvillage.com. I hope you'll continue to support me and my work and consider purchasing Communicating With the Dead. If you click on the book cover, or on the links to the book in this text, you'll see a new section of Ghostvillage.com where you can read more about what's in the book, find links to buy it online (depending on what country you're in), and see the endorsement quote given by Dr. Hans Holzer. There's also a chapter-by-chapter companion for the book -- if you see an image or audio clip mentioned in the book, you'll find a link to experience it for yourself on the Web pages.

This month is absolutely huge for Ghostvillage. Not only is there a new book out, but we just posted an interview I did with George Lutz -- the man who owned the Amityville house in Long Island back in 1975. It's his and his family's story that's been portrayed (and often misportrayed) in the books and movies over the years. Now you can read what happened from the man who experienced everything first-hand. And one more surprise is coming in the next few weeks -- Ghostvillage.com is getting some new duds. We're doing a complete redesign of the site, adding new sections, and making your Web experience here even better. Also, if any Ghostvillagers are going to be at the Ghost Trackers conference in San Diego, California, April 22-24, be sure to say hello -- I'll be speaking at the event. Enjoy the rest of the newsletter below.

Supernaturally yours,

Jeff Belanger
info@ghostvillage.com
Mayor of Ghostvillage.com


Congratulations to Paul Willison of Kentwood, Michigan, who was last month's winner of an autographed copy of Jeff Belanger's book, The World's Most Haunted Places: From the Secret Files of Ghostvillage.com!

This month, we're doing the contest again, but we ask that you first click this link: http://www.ghostvillage.com/index.shtml#winner. If it says, "The search is on" then we don't have a winner yet and go ahead and send in your answer. If you see today's date and "We have a winner!" that means you weren't the first to email us. Sorry, please try again next month.

On to this month's question: This question can be answered by reading a page on Ghostvillage.com. The first person to reply to this email with the correct answer will win this month's prize.

Who was Father Ralph Pecoraro better known as to George Lutz and his family?

Once we have a winner, we will announce it on our home page as soon as possible. Good luck! (Only Ghostvillagers who have not won a prize from us in the last year are eligible.)



This month's prize: we're giving away an autographed copy of Jeff Belanger's new book, Communicating With the Dead: Reach Beyond the Grave and a Ghostvillage.com t-shirt!


Didn't win? Want to buy a copy? Click on the graphic.



The Supernatural Calendar is the place where thousands will learn about your events of interest to the supernatural world. The service is only available to registered members of the message boards, and it's free! We'd like your help filling our calendar in -- so add your events for thousands of Ghostvillagers to see. Here's some of the conferences, happenings, and meetings going on in the next two months:

April 16: "Cape Encounters" Book Signing
April 20: Jeff Belanger on X-Zone Radio
April 21: Jeff Belanger on Magick Mind Radio
April 22: 2005 California Ghost Hunters Conference - Jeff Belanger will be speaking at this event
April 23: History & Hauntings Tours Extended
April 29: Jeff Belanger on Ghost Chronicles Radio
April 30: NJ Ghost Conference 2005
May 7: History & Hauntings Tours Spring/Summer, Vallisca Ax Murder House
May 13: Haunted Decatur Spooktacular Tour
May 14: History & Hauntings Tours Spring/Summer
May 21: History & Hauntings Tours Extended
June 4: History & Hauntings Tours Spring/Summer
June 11: History & Hauntings Tours Spring/Summer, Mansfield Reformatory Overnight




Who's Who in the Town Square?

Get to know some of your fellow Ghostvillagers.



>>dodi<< - member since January 30, 2003

What is your name?
Dodie Claar

How old are you?
46

Where do you live?
Salem, Massachusetts

What do you do for a living?
Overnight Supervisor at a large drugstore chain (CVS).

When and how did you get interested in the supernatural?
As a child, my mom used to tell us -- my brothers and sisters and myself; there were 8 of us -- stories about the supernatural all the time.

Do you think society is becoming more open to the discussion of the supernatural?
Yes I think it is, I think it's becoming much more accepted in the sciences than it ever has been in the past.

What's your favorite junk food?
Right now I would have to say Cadbury Mini Eggs, but check back with me in a week or so. It changes often!


Ghostvillage.com's book reviewer, Lee Prosser, has brought us many new book reviews since our last newsletter.


This past month's Library additions:

Occult Investigator by Bob Johnson

The Celestial Key to the Vedas by B. G. Sidharth

The Secret Teachings of Plants by Stephen Harrod Buhner

High Magick by Frater U.:D.:

The Fourth Book of Occult Philosophy by Henry Cornelius Agrippa

A Wiccan Formulary and Herbal by A. J. Drew

Keys to the Kingdom by Migene Gonzalez-Wippler

The Pagan Dream of the Renaissance by Joscelyn Godwin

The Myths and Gods of India by Alain Daniélou

Magic Of The Celtic Gods And Goddesses by Carl McColman and Kathryn Hinds

People Who Don't Know They're Dead by Gary Leon Hill

Kaili's Odiyya, Kali, and Eternally Bad (three reviews)

Gnosis of the Cosmic Christ by Tau Malachi


We receive personal encounters from all over the world. Many are scary, some are touching, but they are always profound. If you would like to share your own experience, please click >>here<<. Since our last newsletter, we added the following new encounters:

The Evil Eyes - Northern Ireland

Sleeping by Camp Letterman - Gettysburg, Pennsylvania

Living With Spirits - Philadelphia, Pennsylvania

Cozy... Haunted, But Cozy - Warrensburg, Missouri

My Grandmother Walked By - Glace Bay, Nova Scotia, Canada

Entities at a Prayer Meeting - Salem, Illinois [PIC]

The Foreboding House - North Shields, Tyne & Wear, UK

Waverly Hall Cemetery Anomalies - Waverly Hall, Georgia [PIC]

The Island Ghost That Follows - Wrentham, Massachusetts

The 4:05 AM Banshee - Suffolk, Virginia

My Cousin's Ghost - Bronx, New York

Do Orbs Mean a Haunting? - Newton, Iowa

A Guardian Angel and Haunted Home - Massachusetts


Our "Resources" section is a place for editorials, research articles, open letters to our readers, press releases, and other content of interest to Ghostvillagers. If you have a topic on your mind, agree or disagree with something you read recently, we want to hear from you! For guidelines, click here.

New articles/news since our last newsletter:

Smoking Gun Research Agency to Host ParaCon '05 in Stratford, Connecticut [CONFERENCE WATCH]

Paraquest Paranormal Conference 2005 [CONFERENCE WATCH]

A Weekend in St. Augustine [CONFERENCE WATCH]




Jeff Belanger's Upcoming Events

This is the place to find out where author and Ghostvillage.com founder Jeff Belanger will be speaking on the subject of the supernatural. If you're interested in booking Jeff for a conference or other event, please email us for more information. Two new conferences were added since our last newsletter.

Events Scheduled in 2005 so far:

2005 California Ghost Hunters Conference in San Diego, California - April 22-24

SGRA Summer Paranormal Conference in Stratford, Connecticut - June 17-18

New England Ghost Project's Berkshire Paranormal Conference in North Adams, Massachusetts - July 15-17

Adsagsona Paranormal Society GhostFest '05 in Red Boiling Springs, Tennessee - August 5-7

Ghost Convention International 2005 on the Queen Mary in Long Beach, California - September 9-11




Hot Threads in the Community

There are always great discussions going on in our huge message board community. We hope you'll get involved. It's free to register if you're not already a member. Here are some of the hot topics this month:

Mansfield Reformatory Ghost Hunt
http://www.ghostvillage.com/ghostcommunity/index.php?showtopic=7583
If you intend to go and still haven't made your reservation, you are running out of time. Join your fellow Ghostvillagers.

Conspiracy Theories
http://www.ghostvillage.com/ghostcommunity/index.php?showtopic=7243
Discussing a variety of conspiracy theories over time.

Dreams
http://www.ghostvillage.com/ghostcommunity/index.php?showtopic=7173
Do people who pass on visit their loved ones in dreams?

"Cloud Busting"
http://www.ghostvillage.com/ghostcommunity/index.php?showtopic=7144
Okay, okay, so Uri Geller couldn't really bend spoons with his mind. But, is it possible to manipulate clouds by sheer brain power? Find out for yourself by reading villagers' discussions and experiences. Get ready to charge your frontal lobes and take the "cloud buster" test.

Is there a girl in the mirror?
http://www.ghostvillage.com/ghostcommunity/index.php?showtopic=7437
Check out this picture from a recent SPI investigation.

Bone-Chilling Class A EVP!
http://www.ghostvillage.com/ghostcommunity/index.php?showtopic=1376
Here what this ghost had to say about being bound to the property.

Workers Unearth Civil War Coffin
http://www.ghostvillage.com/ghostcommunity/index.php?showtopic=7670
Finding a body in D.C? Not news normally, but it is when the body is a buried Civil War soldier!

Well, now...that was just cool!
http://www.ghostvillage.com/ghostcommunity/index.php?showtopic=7238
Share little paranormal pieces of your life. A few words can say so much!

What an experience!, Our trip from Gettysburg!
http://www.ghostvillage.com/ghostcommunity/index.php?showtopic=7682
Gettysburg is one of the most haunted sites in the country. Read about a recent visit made by two of our members!

Are You Afraid?
http://www.ghostvillage.com/ghostcommunity/index.php?showtopic=7722
There is nothing to fear from a ghost. Or is there?


In the last month, the following people have joined our ghostly community. Please welcome:

Tess, liverpool ghost club, kentuckyghosthunter, xlupex20000, Dixiegal3072, colin1484, nathan_g, ~JJ~, xmorphine_tearsx, jburd18, tammyjo1117@aol.com, Matzbabygirl2018, nioki77, jmackie99, TLiddell, danielle, J-bot92, Summer-Sky, intimidator409, ever, moonflower, ereinion, emma, Valkerie, linebull, Hit and Myth, Pennsyannie, Zombietroll, ian stuart, cjbatks, misty, scrat_lee2003, unwanted, maple, grrlzilla, lilshortie6427, Roslyn, Claud827, joniee, marcimcbride, rainee leigh, angelshine, tendra, lilpenny, beanca, magpie401, shadowlady, J dog, haha, carnikis, Calicodreams, BradGoins, newghosthunter, Hauntress, ghosthunter2000, JourneysLady, TarotMeister, Angelic_Depression, darkbannanna, holmeschic, Foxmore, paranormalky, olywa25, grailknight, SpiritSue, LuckyCharmsGurl, WhereTheSkyIsBlack, Morbid Vampire, TriciaPage, DAWG101, cablejockey, ptownsexyshorti, Faint, patricia, lal777, am0rvincit0mnia, sher, chgogirl, artcafe, lousapphire2001, dave13, flip133, joker_77, mee, goodnightmyangel, Shark, amethystwillow, beckieboo, cliffordvaldoz, InaviaJade, XJIMBEAMX, tammy01, alwysalone1, palewoman, Erica456, phantasmal, Babyblue8277, LiTtLeGhOsTbUsTeR, anne, nick UK, mongeek, priscilla2486, Caoillainn, stefan, ii1chuck8ii, cyrille, theemosfina, trupkar, Venusmoon71, reader, Bog O, Patti1515, WeirdOldWoman, angeluv101, jowauchek, spiritmedium, kengelbert, 401farnsworth, hauntedheart, amh1514, starchild, angelnight, ghostshunter101, fallenfrmgrace, orangewarlok222, Looby, nedward, benwoodring, Peanutbutter, faeryprincess, lottie1995, caper, ScOrPiO91, gmims7, pipesmoker, djbmk, GhoststalkersofWT, yssa, TheWordsFollowing..., Dark_desire, elaine_1119, Erinc0323, Loujoh, Darth Koolaid, Elaine35, Brand21, Randalots, xnoelanix, jkseeker, Are_we_dead_yet?, Ladywithafan, saliesh, deathangel, mikeburing, fatalbert, jeremy73, Kikitimes, exedir, Connor.Teal, Drakoth, wolves_shadow121, breathlessbodybag, Sharris319, Skitzzo, ghostenthusiast_76, Sapphire, Beagly, Ran Ashura, real_scarry, idle_hands, Hot_Chocolate, steven, kissy, Lossoul, Terelda, ryan, mikayla, roisin, lynn714, epic5000, lynnzboss, kithrox, atp182, xo Jessa McCracken xo, Rip318, laernst, Ten301, jackal, rhaigne_11, kizzy 3000, ALittleFreaked, Jean Lock, gocartromance, alexleigh, ghostclubuk, CoreySH13, raydon12, aprilclare, Messiah, sherilynne, yolo79, HAMIDREZA KHOSRAVI, claudia, Jen22w, Corinth, imjustlying, cephrona_slayer, CHEESEMAN6989, sinpaman123, luvly_brittany_82, minxnsquiz, sexybabe2xx, Sherry_Scribes, ghostbuster13, Zeb, bluefish, PseudonymAlias, felixcleo, Darkguitar14, highlander, SolaceBeauty, sneakysnake52, Ghostlyone, crayzee1973, snowhitetann, BooBug, aya&aki, sonia1629, Vampire_Spirit_God, forever, Spicyg, r0bin015, freedom9, casper22, casper23, MystyWingDancer, damian321uk, Minch, chrisw53, ghostpoet, andrie_08, karunamadan, r_u _dre, babydollberetta, ScaryMissMary, helsin, chellegirl127, silvercloud602, Hairy_Scary!, skanker419, purpletiger811, ladywraith, katgurl_13, Wasapo, etenn19, wildfire, Kevin Bozard, bunnifer229, nevaehnikole, nhallows, michelleandmelissa, burgz, yogi, theholyangel, Khost, scordrag, racer_sammie05, jizosh444, lostpsycho11, hanyeluz, BMonster, Alice_in_Darkland, lil_ghost_spotter, kiro2, xx_vibe_xx, wiccan32, swtgrl24, loopylin, lily90n34p3, emmy521, Nightshade, Taarna, chitownp21, jurish, drusilla_shadow, foamycaramel, Diablo7806, sd4812000, Harley~Gal13, spiritmovesme, Reb13, exsamclay, windman, ghosthunterjames, Kandi, bruce wayne, lauran, blkhmster, kelsey_nichole, chriskiku, stevepm, suerev, morggy37, wing-2, montrose, nikko111, albasremix, ob_genius, sassi, and tonysgirl294.



Ghostvillage.com Quick Stats:

116,768 Messages in the Town Square Message Boards
7,828 Members in the Town Square
345 "Personal Encounters" published on Ghostvillage.com
256 Paranormal Web sites in the Ghost Search directory
14,198 Subscribers to this newsletter
4,497,331 total Web site "hits" for Ghostvillage.com in March


Ghostvillage.com is the Web's largest supernatural community, the central place where people come to share their experiences, thoughts, and research. Please help us continue to grow by donating, buying a copy of The World's Most Haunted Places: From the Secret Files of Ghostvillage.com, Communicating With the Dead: Reach Beyond the Grave shopping, or by buying a Ghostvillage.com t-shirt. Every little bit helps run our servers and helps the site get bigger and better! Please also click on our banner ads and support our advertisers -- when you do buisness with someone who advertises with Ghostvillage.com, let them know you saw their ad with us and thank them for the support.

Please email us anytime at info@ghostvillage.com. Your comments, questions, and feedback are always welcomed.


---
All material is © 2005 Ghostvillage.com
REMOVAL INSTRUCTIONS: To be removed from the mailing list, please go to www.ghostvillage.com/subscribe.shtml.

SUPERNATURAL WEB HOSTING! Check out Emerging Market Web Design and tell them Ghostvillage.com sent you! http://www.emwd.com