GHOSTVILLAGE.COM NEWSLETTER #38
October 15, 2004

Shop at Ghostvillage.com | Support Ghostvillage.com | The World's Most Haunted Places

Be sure to forward this on to your friends who are interested in the supernatural!
---
You are receiving this email because you or a friend signed you up at http://www.ghostvillage.com. If you would like to be removed from this mailing list, please see the instructions at the bottom.
View this newsletter online at: http://www.ghostvillage.com/newsletters/Oct15_04.htm
---
Dear Ghostvillagers,

I've been having one very supernatural month. It all started with a Haunted campout in Gettysburg with some fellow Ghostvillagers. I can't believe how close I was to my first real ghost sighting! We were walking through the battlefields at Devil's Den, and part of the group saw a figure walking through the field and then it disappeared. The people who saw this apparition didn't call our attention to it because they first thought it was another supernatural tourist who was walking into the field to take pictures. Not until this person disappeared did they realize what it might have been.

A few days after Gettysburg, my wife and I went to London, and we had the opportunity to visit the Tower of London after hours as a guest of Yeoman Warder Sgt. Phil Wilson. Phil was the Yeoman Warder I interviewed in my book, and he took us around to some of the "hot spots" of the fortress. We went through St. Thomas More's cell in the Bloody Tower, the site of the block where several nobles lost their heads, the Chapel of St. Peter, and the Beauchamp Tower. We stayed for the changing of the keys ceremony, an event that has taken place every single night for the last 700 years! I also had the opportunity to hear even more ghost stories from other Yeoman Warders and staff who live and work at the Tower. It was amazing; everyone there has some tale to tell. If you get over to London, definitely make the Tower of London one of your stops. You can see some pictures from my Tower of London trip here.

This month I've also had the opportunity to be on a lot of radio shows and speak with many different people who have had their own brush with the supernatural. I'm always astounded at how many people have a ghost experience to talk about. I'm thankful that so many of you have shared your encounters with me either through Ghostvillage.com, on the radio, or in person. You can see in the calendar below that I have several events coming up the rest of this month. If you have the chance to get to any of them, please do come up and introduce yourself as a Ghostvillager. It's a thrill to be able to meet you great folks in person -- plus it gives me the opportunity to teach you the secret handshake.

Have a fantastic and ghostly Halloween / Samhain!

Supernaturally yours,

Jeff Belanger
info@ghostvillage.com
Mayor of Ghostvillage.com

Congratulations to Lise Beals of Hillsboro, Oregon! Lise was last month's winner of an autographed copy of Jeff Belanger's new book, The World's Most Haunted Places: From the Secret Files of Ghostvillage.com!



The "winner" icon on the left has been hidden somewhere on Ghostvillage.com. If you're the first to find it, email us with the page it's on, and you win this month's prize. The graphic could be on any page on the Web site (except in the message boards) -- maybe at the top of the page, maybe the bottom, etc. Once we have a winner, we will announce it on our home page as soon as possible. By clicking on the "winner" icon within Ghostvillage.com, it should launch your email with the appropriate subject. If not, email info@ghostvillage.com, and in the subject or body, put the URL of the page you found the icon on. Good luck! (Only Ghostvillagers who have not won a prize from us in the last year are eligible.)



This month's prize: because it's October, we're actually giving away three prizes! The first person to find the "winner" ghost will receive a copy of the new GHOST! Magazine -- For the Ghost Hunting Enthusiast and an autographed copy of The World's Most Haunted Places: From the Secret Files of Ghostvillage.com! The second and third people to find the "winner" ghost will receive a copy of GHOST! magazine.


Didn't win? Want to buy a copy? Click on the graphic.



The Supernatural Calendar is the place where thousands will learn about your events of interest to the supernatural world. The service is only available to registered members of the message boards, and it's free! Here's some of the conferences, happenings, and meetings going on in October/November:

October 16: Newport Bus Trip, Jeff Belanger on KPNW Eugene, Oregon
October 17: Jeff Belanger Book Signing - Bellingham, Massachusetts
October 18: Jeff Belanger on KMKT 93.1 FM in Texas
October 21: Jeff Belanger on Magick Mind Radio
October 24: Russell White on Ghostly Talk Radio, Jeff Belanger Book Signing - Danbury, Connecticut
October 26: Jeff Belanger - Woonsocket, Rhode Island Library
October 27: Jeff Belanger on KIX 101.1 FM Iowa
October 28: Jeff Belanger on WLEV in Allentown, Pennsylvania
October 29: Jeff Belanger on 94.5 3WS in Pittsburgh
October 30: Jeff Belanger at America's Stonehenge New Hampshire
October 31: Ghostvillage Halloween/Samhain Chat!
November 3: Ghosts of Baltimore: History and Mystery




Ghostvillage.com Haunted Campout!

On Saturday, September 25, 2004, a bunch of Ghostvillagers got together for our first ever convention. We all had a great time meeting each other, enjoying some incredible Cajun cooking from our own Cajunknight, and a very cool tour of some of the battlefields with our own Rockhauler2k1. It was great to finally meet some fellow Ghostvillagers face-to-face!

If you'd like to see some of the pictures and read more about our campout, you can see it all here.




Who's Who in the Town Square?

Get to know some of your fellow Ghostvillagers.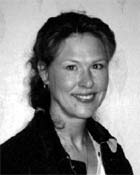 >>hawkerdriver<< - member since September 12, 2003

What is your name?
Christine Brown

How old are you?
Now, are you supposed to ask a lady her age?!? If you reply: "I don't see no lady" I'm gonna smack you! 40.

Where do you live?
Dallas/Ft. Worth, Texas area.

What do you do for a living?
I am a corporate pilot. I fly large size business jets now. I'm type rated (Captain qualified) on two: the Challenger 601 and Hawker 125.

Have you ever seen a ghost?
Yes and no. When I was a kid, I was deathly afraid of seeing an apparition because I could "sense something" there. But because of my fear, I think I blocked out being able to see them. As I got older, I starting to detect unexplained movements in my peripheral vision. Beginning in my thirties, I have had very brief encounters in which I have seen explicit details. These are very rare. There'll be long periods of time when I experience nothing.

Do you believe a certain time of year is more prone to ghost activity than others?
No.

Does your Catholic upbringing affect your belief or disbelief in the supernatural?
Yes it has. In fact, I think my Catholic upbringing has been the cause for my belief in the supernatural. I remember one priest who said, "If you think about it, my profession is the supernatural. It's what I do for a vocation."

What keeps you coming back to Ghostvillage?
It's the people for sure. It's like frequenting a pub where everybody knows me but I don't have to leave my house!


Ghostvillage.com's book reviewer, Lee Prosser, has brought us several new book reviews and an author interview since our last newsletter. Have you read one of these books? Want to add your own review? Click >>here<<.

This past month's Library additions:

The New Hermetics by Jason Augustus Newcomb

Charm Spells by Ileana Abrev

Gaia Eros by Jesse Wolf Hardin

Twilight Language of the Nagual by Merilyn Tunneshende

Tarot of the Dead by Monica Knighton

Tree of Sapphires by David Goddard

If You Want to Be a Witch by Edain McCoy


We receive personal encounters from all over the world. Many are scary, some are touching, but they are always profound. If you would like to share your own experience, please click >>here<<. Since our last newsletter, we added the following new encounters:

Stephanie in the Window - Painesville, Ohio [pic]

Phantom Funeral Pyre - Nagaland, India

The Visiting Nun - Des Plaines, Illinois

The Nazi Belt - Georgia

Forest Park Cemetery Chase - Troy, New York

Sarah's Nightly Visits - Lawrence, Kansas

My Sixth Sense - Chicago, Illinois

The Old Prisoner - Indianapolis, Indiana [pic]

Fast Food Victorian Ghost - Guthrie, Oklahoma

Camarillo State Mental Hospital "Pipes" - Camarillo, California [pic]

The Insistent Spirit - Litchfield, New Hampshire

Disembodied Voices Speak - Flubdun Township, Pennsylvania


Our "Resources" section is a place for editorials, research articles, open letters to our readers, press releases, and other content of interest to Ghostvillagers. If you have a topic on your mind, agree or disagree with something you read recently, we want to hear from you! For guidelines, click here.

New articles since our last newsletter:

Waiting for God by Lee Prosser - October 4, 2004

An Evening of Supernatural Legends at America's Stonehenge with Jeff Belanger - September 23, 2004


In the last month, the following people have joined our ghostly community. Please welcome:
katrine, cutee, Audryna, twistedfate, Fox, madscribbler, BrianandangieJ, lab, bcamissourigirl, caramia, wuldnimpf, THURMAN450, rolbates, intaglio, sexyghost3, rat8519, durrnik, sleepyBme, ecat602, HockeyGurl37, oldestsoul, drill sgt james, mehnock69, CelloStrings, sadakko_trisha, yuma_no_ame, Todd Bates, naudia, ghostlytaz10802004, jigz, lindsey, jennmarie_69, Lisa Whitham, mystic encounters, SIMON, agp83, ghost_hunter_3000, insane_at_eloise, glittermoon3515, thegreatgazoo, JackDCrow, judevenn, trash3635, ladyx, wayne, khimmiguel, BECKIE, MARKHGGRD, Bashful, Anatole, Del_Silverfox, curtbat, tmravik, Em7827, AroraRavenWood, phoenix in red magma, raziel, Prussian, SUSPICION, risanak_11090, dark_demon666, auburnbrat19, akashaheart, liskel, tmmak, nikki_punk_rock, Lady Grim, jjasminee, jayem, alemapeam17, jeffsneighbor, Ren, bonzille, Night Walker, norseman77, joedirtesays, ghosthunter78, MansionFan, Mr. Nothing, Pip, GreenDragonWitch, leosun, yellow_ghost_man, mandy7441, apachedove, thunderhead, trish, amandajsimmons, reaperofsorrow, venkman, lucki, bookerto, marianne labreck, Avongrado, Kal, oceangrl, Lyzz, feusurlaneige, rivertiger, ye_eve82, pigeontizz, kyalami_hunter, queen, jimmyrose, nuts11, MickiB, McSquare, jsm6022, Jessie6500, sharafa, blackcatpackrat, applescotia, Larissa, dominic, bren, fsjmd, ccghs, lively_child, arghosthunter_bm, txpatti, sheshe258, orfos, San-d, knikki_d03, Omobolasire, irresistahbol_me, luci, Jazhara23, calma, aloysius, Merlin892, lvghost, black003, Bradk5377, megz, Wittnessofgod, DIRRAEHUBERT, chiqui, stunts, tinkerbell49, MRSPFLAUM, olivenm1571, DrawnToTheShadows, m_e_927, PinkHatsumi, sara kraemer, mareoun, groundskeeper willie, ajbird, adrianluvr, rondy`, fire, mystsoftime, diamondlil, Chrislovghost, WickedJester86, bytorandsnowdog, sumofire, diw222, ghostgrl1990, MistressofMagick, biggunsterry, patrick, BigMike0831, ghosthunterdan, tebyen, pf557003, sacredsteps, redneckrebel04, Cobey, AndrewsGirl2084, evian882, Paula, GLG27, CrazyDru, ellenjhill, Flashbang, silverdiamond29, quiet_ghost, babuki, Serpent-Wind, Tbabyg369, widowedwalker, spooky23, katrina5522, tracymac_kulet, tom7, marysol2103, wella, careykid66, spooky13witchy13, carebearkarri, heyitsjessie, lulaboo, Waltz1982, TDB, randazzoghosthunters, nicamel_21, TimeLords_cassie, emramz, kalexandrakis, savvyone, The inverted image, rossdf, mudgirl13, Heather76, karlo, jek, , lbsbaby, BethCarroll, cagroot, Ghost Horse, huntleymm, harleysalen, scartstoriesluver072490, knucklecracker81, emymn, Assassin_joy, raiderbabe, maggierags, killer x, Rand514, duh!, xicob, gagafunky, mallee, rmc6911, martha, EverElusiveEnigma, nikki, tofutiklien, kaky5799, witchjen, ange1eyez030, spookycat, michaelangelo, bluesteelboy, Ardeagold, jhessa19, Blaze, susanlong52, Rhea, EastSide04, bluetravel04, SLOW POKE, karloff, panthermomma, vampirendarkness, Rayon, joesol, Whispers, BozOKeefe, bloomeysgirl, anile8, Ocean, lakeybrake626, Tamiele, Cree4Creepy, rain666, theguywholovesashley, wadey, spollyesther, sheila, gingarell, rainethea, KATTEBERY, kasper3636, sstevens68, Ombra, kjlk;, flow_of_life, Coventina, gyl, mila, LadyDarkness1985, rockstar, merle, spiritlady, cassie21484, saint_helens, bubbaworldplayers, issues0007, butchk, fendergirl, cerfe, mixtapeofmistake, doppleganger, juhi, Litlamsterdam23, handlowich, Alessia, rebelsk8er113, Tamara, paulhanne, ceRisse_Anne01, tomfoy123, f8_hawk, slightlyscared, scream11, LynneD, tiffshel, ghostlyroger, spooked_s-o-t, mattski, Sam-hawk, frither, puyo, mama, jayd, dj_tonyc, witchiepoo, Blue glen mallari, irishprincess777, Zen, jeaks, ecchretien, frelibra23, prego_ace, dmama, dancingwind, ghostofyournightmares, Bettyboopgirl, johnmcarr, Cayen, paglayas kamo to mga wala huya, sk8dogIOWA69, Ghostiegurl, critterdoc, angeline, ghostvillagerocksthehouse!, zrid_bcecsrocks!, alexandre, boowhoo, JolMarl, kcoomcf, greenshadow, slow316, OpinkhatsumiO, ghostwriter, utherp, PVE _ 04, gothic_vamp13, Jumperlikebutter, MidGaParanormal, Friskits, Phoebea3, Sarahmckeown, cher54, tlynn, babygirl421, ADRIAN, spooky_lady, Cannonball, TerraX, bignob, ken33, JenniferGinFL, bat.t, 962, shields, Wesley, donna lee, lilspirit392, Talktotia, mystmaiden, Daemien, BloodRayne, lil_girlygurl_21, purpleladymom, AlabamaHaunted, solmaya, misshell, dawn78, cole0561020, TraceyFJ, golden, furiosa, HauntedAsylum, crunkcorts2, goodwitch11, ChicagoHeathen, starvinmarvin, Blackie, ACop2CuffU, jimmierose, mpowers, signorini, mindog02, hd73flh, anastasia_1, retnuh76, RadicalFlower, Xp0is0n0usHe4rtX, jerseydevil, cdarkside, CookieMonster, xdarkestday201x, lin, lou, uranium_gurl, foxzzzyyy, buffalowoman, delchay, cuttie_kc, gheneviev's apparition, Stonecipher, shelley5917, nightmare009, findingmanyghost, ghostwitch, witch2004, Gaffanon, Bouncer666, spirit lad, jee35, Akthra, coolsmiley, wildgeese61, salemswitch, TxCookie, boobookitti, renee44127, amydoug, MorganaShadows, raven007, MrsMac, little_bunny_bum_knee, JaeWalker, neveralone, pinky_babe666, angelaz, douglowe, asapp, cquinn, captainmarga, katyroserosck, shurf, silverhawk319, gorgeouspinkpanther, polpokpoy, geraldus31, rollin99, Dan76, Tanuki, mjwtx, and mystars.



Ghostvillage.com Quick Stats:

74,531 Messages in the Town Square Message Boards
5,695 Members in the Town Square
87 "Encounters" listed in 2004 so far
181 Paranormal Web sites in the Ghost Search directory
10,779 Subscribers to this newsletter
2,981,810 total Web site "hits" for Ghostvillage.com in September


Ghostvillage.com just keeps growing and growing. We're the Web's largest supernatural community, the central place where people come to share their experiences, thoughts, and research. Please help us continue to grow by donating, buying a copy of the new book, The World's Most Haunted Places: From the Secret Files of Ghostvillage.com, shopping, or by buying a Ghostvillage.com t-shirt -- new designs are finally up! Every little bit helps run our servers and helps the site get bigger and better!

Please email us anytime at info@ghostvillage.com. Your comments, questions, and feedback are always welcomed.


---
All material is © 2004 Ghostvillage.com
REMOVAL INSTRUCTIONS: To be removed from the mailing list, please go to www.ghostvillage.com/subscribe.shtml.

SUPERNATURAL WEB HOSTING! Check out Emerging Market Web Design and tell them Ghostvillage.com sent you! http://www.emwd.com