January 3, 2011
Bide One's Time
Marjorie Myrene Hart
By
Lee Prosser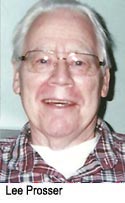 With the passage of time, people move right along with it toward death, and following death there is the opening of a new door into another setting. So it is, with my mother Marjorie Myrene Firestone who became Marjorie Myrene Prosser who became Marjorie Myrene Hart, and who survived two husbands. Mom lived an interesting, creative life.
Mom was a fighter and although only four foot ten inches in height, she could jump high, play soccer, and liked to dance and swim. She taught me to play checkers as a child, took me to Santa Monica Beach in California and let me explore the ocean waves as a child, and as a child I witnessed my first UFO with her in Missouri. She always had a positive smile and was fun to be with.
My 66th birthday came on December 31, 2010. Mom had promised me: "I will be with you on your birthday, and I am here. I love you. I wish you many happy birthdays forever." My wife Debra and I visited her at her hospital bed in the hospital where she was recovering from surgery and other medical problems on the morning of my birthday. It was enjoyable being with her. During the evening of the same day at 9:00 PM, the on-duty nurse telephoned me to say my Mother had died, passing away at that time.
An active, participating member of the Vedanta Society of St. Louis, Missouri, she had no fear of death. When Death came, she knew it would come with some excuse because Death always comes with some excuse. Mom planned to surprise Death and ask for a menu that had cheeseburgers on the list! I am sure she did. I am sure Mom and Death had a humorous exchange as they made their way to her new home.
Following her wishes, feelings, and will, death will be followed with a simple, straight-forward cremation. Her ashes will then be spread at the convergence of the Mississippi and Missouri Rivers. She did not want a write-up in the newspaper, nor any flowers. She suggested a donation be made to the Vedanta Society of St. Louis, 205 South Skinker Blvd., St. Louis, MO 63105. Care of: Chetanananda.
Mom was born on May 5, 1922. Among her many adventures was when she was a teenager putting pins inside live grenades during World War II when she worked in an ammunitions factory in California. A direct woman, she became actively interested in the Hindu concepts of reincarnation, karma, dharma, and other related topics. She followed her intuition and spiritual beliefs and became a member of the Vedanta Society of St. Louis in January, 1988. In fact, we both joined the society at the same time, although I had been associated with Vedanta teachings through Willard David Firestone and Christopher Isherwood since the early1960s. I made the decision to join the Society at the same time as my mother joined. Over the years, we did discuss many things. Her mornings started at 6:00 AM with a time set aside for personal meditation and spiritual readings in the privacy of her bedroom.
On January 1, 2011, my mother came to me while I was sleeping. I awoke to her presence as she was looking over me, smiling. I said, thinking, "Mom!" She smiled down at me, nodded, and then disappeared. That is all I recall of her spirit visiting me. We may have talked together briefly, but that is not clear, so I share with you what I do remember.
I believe my mother will return often to visit with me and those she loved while she was living. I look forward to visiting with the ghost of my mother whenever she comes by.
Like my mom, when death arrives with its excuse for coming for me, I will probably respond with: "Take me to the same place my Mom got the cheeseburger. I know she will be there waiting for me. By the way, how is the green tea where I am going to meet Mom?"
Thank you, for sharing this personal memory with me. Thank you.
Lee Prosser
January 2, 2011
Lee Prosser
is Ghostvillage.com's book reviewer and a regular contributor. He is also the author of
Missouri Hauntings
. among other books. "Bide One's Time" is Prosser's column on his supernatural musings.