February 1, 2006
Creature Beyond
Rate this encounter:
Spirits on the Land, Milton, Florida, December 27, 2005
Click on picture for larger view in a pop-up window.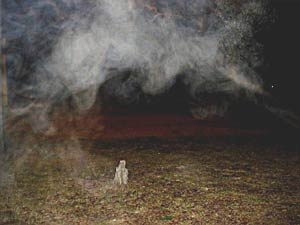 We live on an old slave cemetery from the early 1800's. Of course the property has been haunted from the day one that we bought it. We have experience some fantastic encounters here.
I am a spirit photographer. I have taken thousands of spirit photos over the last five years. And everyone that I have taken is as unusual as what you see here. This picture was taken December 27, 2005. It was around 37 degrees, and a clear, crisp night. No one was smoking. I don't smoke, nor do I let anyone come on the property smoking. And there was no fog in the air -- that's the only way I take pictures.
This picture was taken by the old tree stump. There has been a lot of paranormal activity that goes on here.
This is very unusual photo, I call this one "Creature Beyond." The camera that I use here was a Sony Cybershot 5.1 mega pixel and the lens was made by Carl Zeiss Vario-Tessar.