April 28, 2006
More Spirits on the Land
Rate this encounter:
Spirits on the Land, Milton, Florida, December 24, 2002
Click on picture for larger view in a pop-up window.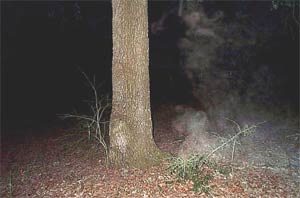 This picture was taken by me on our property December 24, 2002.
We have lived here for the last 15 years and just about every night and day something will go wrong here so I started to take pictures and found out that I am a spirit photographer.
This is why I get the weirdest and strangest pictures on my camera. Our property was once a slave cemetery, the headstones were removed but not the graves. The cemetery goes back before the Civil War era.
Just entering through our gates, if you are sensitive at all you can feel the heaviness and sadness here on our property. If I invite anyone at all to come out to take pictures, I always tell them they need to protect themselves in some way, for their own good.
We had a paranormal group from Pensacola Florida come out for to investigate our property. Well they came out, they did protect themselves -- it was during the day to see the layout of the land. One lady from the group was a medium -- she just walked right through the gates to the area where the other group members were standing which was between two large oak trees. All of sudden she became light headed and got very dizzy and almost fainted so some of the group members walked with her back to her car through the gates.
She later said that the energy was stronger than she though and she didn't protect herself in any way. So now on anyone that enters into the gates, I personal tell them to protect themselves. I had other people out and they laugh at me, and they don't get in either -- always protect yourself!
Where the medium was standing at these two trees -- one tree is call "The Monkey Tree" because at the base of this tree at night, the face of a monkey appears in your picture every time you take a picture of this tree. During the day, it's not even there.
The other tree is call "The Spirit Tree." At this tree a lot of activity goes on here at night.
The energy between these two trees is unbelievable. When standing between these trees nothing will work: cameras, cell phone, watches, any electronics at all. Once you move away about five feet or so, everything is back to normal, except the batteries are dead in cell phones or cameras. The medium didn't except the energy on the property would be that strong
during the day.
On the night I took this picture, I was out around 11 PM. I went to "The Monkey Tree" and was talking to the spirits and asking them if they can they show me what happen here at this tree.
All of sudden this blast of frigid cold air came from nowhere, and I started to snap pictures. This is what I caught on my Kodak Digital DC 280, Zoom camera.
This picture was published last year in Jeff Belanger's book of
The Encyclopedia of Haunted Places: Ghostly Locales from Around The World
. The picture was in the book on page 84, Nichols Creek Road, Milton Florida.
This picture that I caught on my camera, I think it is an apparition of a slave hanging by her neck. The original picture (shown here) is in color, the picture that was in the book was black and white. I thought it didn't show up very well, so I would like everyone to see what I caught. Look at the picture and you can see the woman hanging by her neck and there looks like someone is laying below her feet on the ground. Also look at the monkey face on the base of the tree.
Spirits on The Land !