Added October 1, 2002
Bedroom Wall Entity
Rate this encounter:
Lisa Atkins, Tellico Plains, Tennessee, August 1990, noonie37385@yahoo.com
Click on picture for larger view.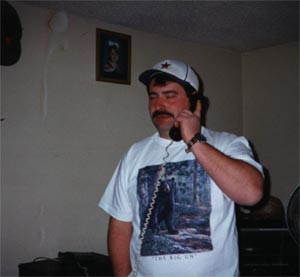 My husband hates having his picture taken, but when I got the photo back there was this shape in it. It is transparent and is to the left of the photo. I was trying to use up the last six pictures on the roll and all of them were taken within minutes of each other. No other photos had this "entity" in them.

I took this particular picture in our home in Tellico Plains, Tennessee in one of our bedrooms. It was taken in August of 1990. I used my 35 mm camera and 200 speed film with an automatic flash. I have paranormal experiences in this house all the time, (i.e. something/someone walking up the stairs, whispering) and I am alone in the house when this happens. Also things get moved around. My house was built in the 1800's and I am still doing research on it.