Added April 28, 2003
Greyhound Orbs
Rate this encounter:
KC Lynch, Canastota, New York, September & October 2002, KCLPN@aol.com
Click on picture for larger view.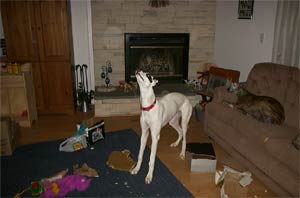 This photo (October 2002) shows several orbs around my greyhound puppy, Caerlin. We built the house ourselves and know it is not on property that has any known history. We often see orbs around our animals and us in photos taken with only my digital camera. I believe they are "Guardian Angels" watching over us.
Click on picture for larger view.

Here is another picture (September 2002) taken of my puppy, Caerlin. This orb is huge and very clear. He was stressed out as I was trying to get him to practice his "stack" for the show ring he was going into that day.

Photos taken with my Kodak DC 3800 digital camera.