November 18, 2009
Laugarvatn Cave Anomaly
Rate this encounter:
Deb - Laugarvatn Cave, Iceland - September 2008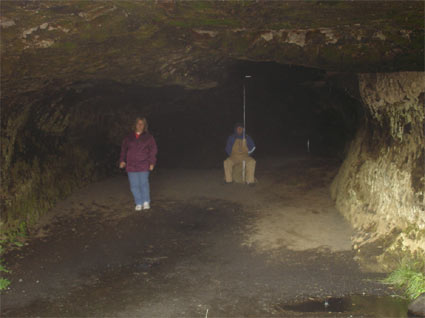 My family from the States were visiting me last September and I took them to the Laugarvatn cave on our way to Geysir and Gullfoss, here in Iceland. It was early afternoon and the sky was overcast. There are many areas in Iceland that are rumored to be haunted and this is one of them. I, myself, had been to this cave previously and had taken pictures but got nothing like this one. My sister and my daughter's boyfriend were in the cave when he sat on a rock in the middle of the cave. I took this picture with my Kodak Easyshare digital camera and when I uploaded them to my computer, this is what showed up. There is an obvious white streak from the top to the floor or the cave and a smaller one at the back. The only opening was the front of the cave and no openings in the ceiling. If you look closely, there is no wet spot on the floor in front of the guy on the rock, so no water. There are no support poles or anything in this cave.