November 25, 2009
Evil-Looking Apparition
Rate this encounter:
Carmen Feuer - Eagle Lake, Texas - September 2008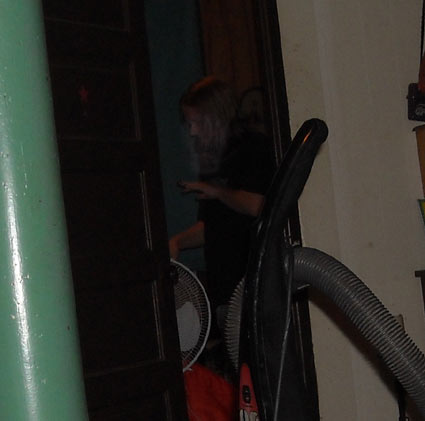 You all think you caught a ghost on your camera? Get a load of this ghoul looking right at the camera. I always knew something was here in this house that was built in 1915. My family and I have had a lot of strange things happen, but this takes the cake. I had just got done painting my daughters nails black (of all colors), when I picked up the camera and snapped this thing standing in front of my daughter. It looks like he's touching her arm. I think I invited this in when I had tried doing EVPs.
As far as catching evidence, this is awesome! I have to admit this freaked me out. I started reading psalms very loudly. I demanded that it leave in Jesus' name to get the hell out. I also blessed my house shortly after. I love the paranormal, but not this in my house near my kid. I do have other pictures of what looks like the wheelchair-bound lady that used to live her. I heard her moan too. That was awesome since I heard her with my natural ear. Also something growled at me in my bathroom one night. I think something is still around, but it doesn't bother us or cause bad feelings. I do believe in life after you die. Wild!